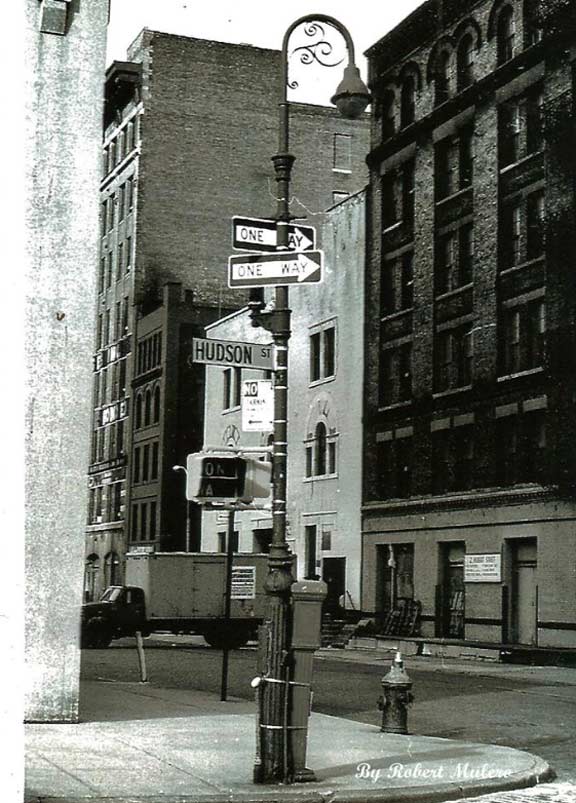 This lamppost, which was at Hudson and Hubert Streets in Tribeca for about 6 decades before its removal in 1979, is undoubtedly a Bishop Crook, but at the same time, you can tell it's a different type of Crook. The base and shaft are much narrower than the Crooks and retro-Crooks you typically see around town, and the scrollwork at the apex is much simpler.
Before Type 24 BCs, which became standard issue in the 1920s, NYC experimented with different models. This one, the Type 6 BC, was used in Lower Manhattan where the sidewalks and streets were generally narrower.
Here's another example formerly on West 3rd and Mercer Streets, also taken around 1979. The ladder rest, a tribute to the gaslight era, is also seen on Type 1 BC Bishop Crooks, also from the 1910s.
Above photos: Robert Mulero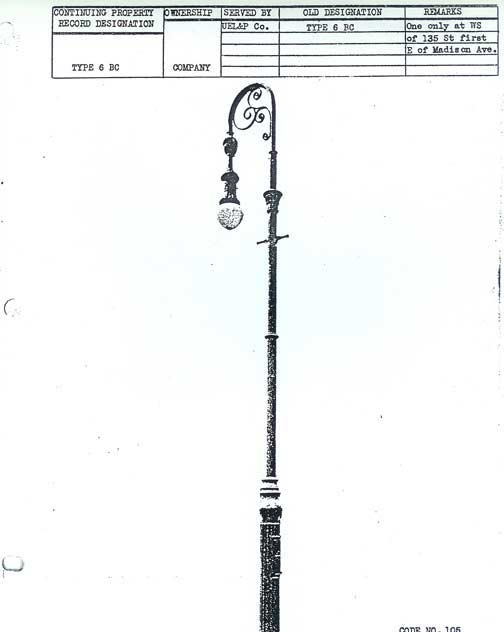 This page from a 1938 catalog of NYC street lamps depicts the Type 6 BC with a pendant-style luminaire used in the 1910s and 1920s.
Today, only one complete Type 6 BC remains standing at a park marking the former corner of Broome and Sheriff Streets on the Lower East Side, and even that one is missing the scrollwork, which seemed to fall off fairly readily. Parts of Type 6 BC lamps can be found at Charles and West 4th Street in the Village and also on Warren Street between Greenwich and West Streets.
"Comment…as you see fit."
4/12/17