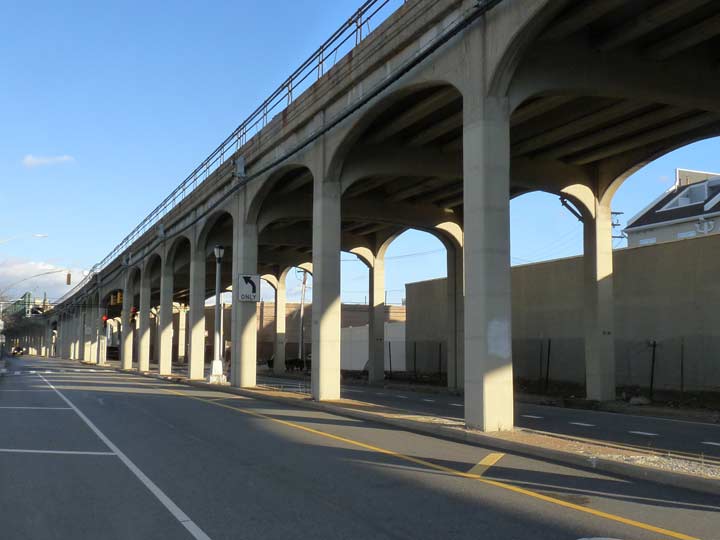 The term "freeway" is commonly used in Southern California in the Los Angeles metropolitan area to designate an expressway without tolls. In New York City, there's one and only one freeway and it came to be because of a railroad.
Before 1942, the Long Island Railroad ran at grade, at level with auto roadways, on the Rockaway Peninsula between Rockaway Park and Far Rockaway, which connected with the main line through the Five Towns. That year, with auto traffic becoming common, the LIRR decided to eliminate the grade crossings and placed the railroad on a concrete-clad trestle. The railroad crossed the bay, while the Far Rock and Rock Park branches connected through a wye.
In 1950 the LIRR ended service across Jamaica Bay when a fire destroyed an ancient wood trestle. The LIRR sold the cross bay tracks to the NYC Transit Authority, which commenced service across the bay to Rock Park and Far Rock in 1956. Soon after, the connection to the main branch of the LIRR was severed, with LIRR service nosing into Queens at Far Rockway, but no further.
Meanwhile, a new roadway was constructed beneath the concrete trestle and christened Rockaway Freeway. In some spots there are lengthy stretches between stoplights and it can be a speedway as well as a freeway. When I first encountered it on a bike ride from Bay Ridge in the 1970s, the Freeway was illuminated by Belt Parkway-style "Woodie" lamps, but these were replaced by standard posts in the 1980s. Rockaway Freeway begains and ends at Beach Channel Drive between Beach 32nd and just east of Beach 116th Streets.
"Comment…as you see fit."
5/4/17