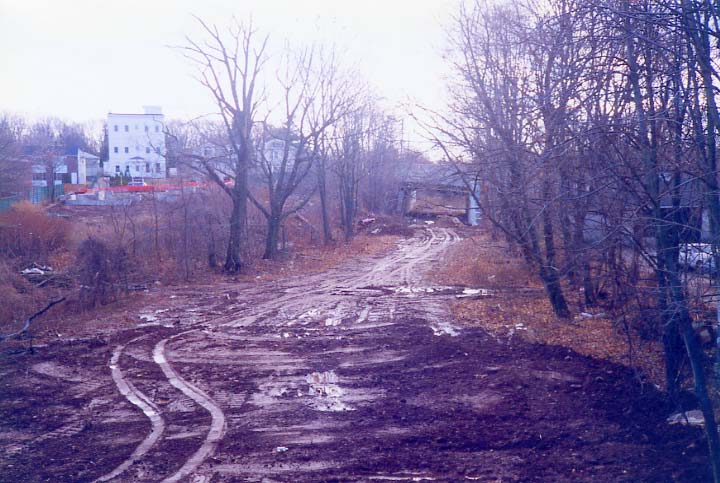 I was wandering on Fingerboard Road near Tompkins Avenue in 1999, looking for traces of the old Staten Island Railway (Staten Island Rapid Transit) right of way, when I saw this tract that had been cleared out for new housing.
The South Shore SIRT branch left the main line in Clifton and served the communities of Rosebank, Arrochar and South Beach before its abandonment in 1953, along with the North Branch along the Kill Van Kull that parallelled Richmond Terrace. Staten Island needs more mass transit these days, so this act seems shortsighted, but in 1953 the Verrazano Bridge was an idle fancy in the brain of Robert Moses, the island was still underpopulated in many areas compared to today, and the Baltimore and Ohio Railroad, which operated the SIRT then, wanted to trim away unprofitable lines.
In 1936, several grade crossings on the SIRT were eliminated. Here, the line went in an open cut trench and Fingerboard Road was bridged over it. (Some grade crossings on the main line stayed in place until the mid-1960s.)
Note the 3-story brick building on Lyman Avenue on the left. It is still there, but the white paint has been stripped off in favor of a buff brick surfacing.
By 2000 the new housing project was in place and the scene now looks nothing like it did 14 short years before.
For more on the SIRT, see FNY's page on its abandoned North Shore stations and musician Gary Owen's excellent pages.
"Comment…as you see fit."
5/9/17