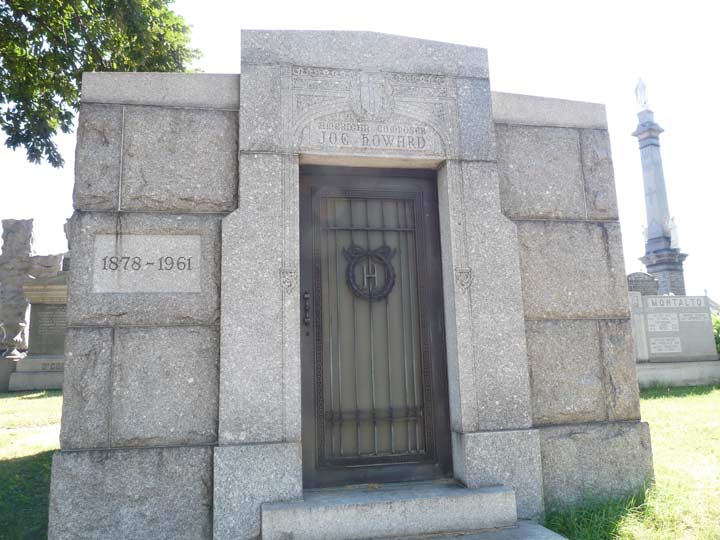 Joe Howard (1878-1961) was a prolific songwriter in the late 19th and early 20th Century. While he didn't rise to the heights of an Irving Berlin or Oscar Hammerstein, he appeared in vaudeville as early as age 11 and wrote dozens of hits and songs in Broadway musicals.
Cartoon fans will recognize Michigan J. Frog's rendition of Howard's 1899 "Hello Ma' Baby."
And Joe Howard's "I Wonder Who's Kissing Her Now," written in 1909, has been heard in dozens of versions, like Billy Murray's original hit 1910 recording. The song was revived in the late 1940s by Perry Como and Ted Weems, and Dean Martin included it in his shows.
Other names from showbiz interred in Calvary Cemetery include Tess Gardella, who played the first Aunt Jemima in 1920s productions of Show Boat, even though she was white; actress/nightclub owner Texas Guinan, whose catchphrase was "Hello suckers!"; Whoopi Goldberg's 10 Forward proprietress on Star Trek was named for her) prolific character actors Arthur O'Connell and Joe Spinell, who were in hundreds of TV shows and feature flicks; and Una O'Connor, who screeched and screamed in the James Whale 1930s productions of Frankenstein and The Invisible Man.
Check out the ForgottenBook, take a look at the gift shop, and as always, "comment…as you see fit."
6/15/17