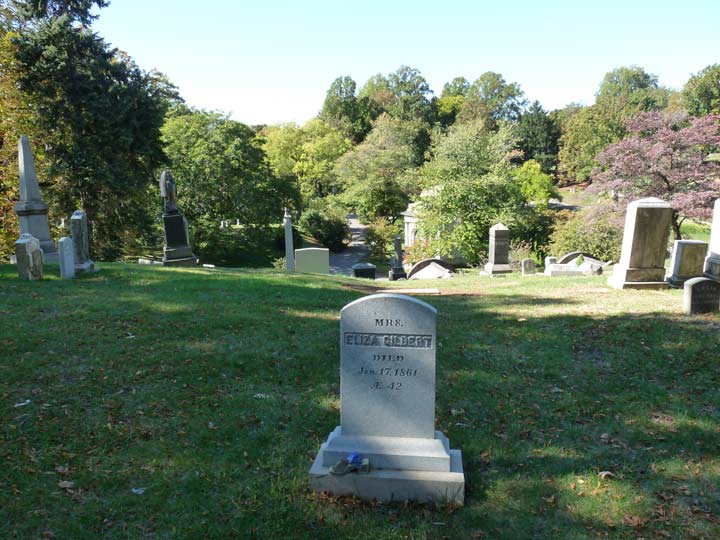 Marie Delores Eliza Rosanna Gilbert (1824-1861) was born in Limerick, Ireland, but was raised in Scotland, educated in Bath in England and in Paris, and gained fame as "Lola Montez, the Spanish dancer."
She first performed in Munich, Germany in a ballet troupe and enchanted King Ludwig of Bavaria, who built her a palace and anointed her Baroness of Rosenthal and Countess of Landesfeldt and made her one of his chief confidantes. A revolt against her influence forced Ludwig to abdicate and Gilbert to return to England and then travel to Spain, where she developed her famed "spider dance" in which she gyrated wildly around the stage, pretending to shake spiders out of her dress, and performed it onstage in North America and Australia. She was a companion of Walt Whitman and Commodore Vanderbilt and became one of the most well-known entertainers in the world in her era.
Gilbert, still using her Lola Montez stage name, became a lecturer and spiritualist beginning in 1856, touring Europe. She devoted the last years of her life to helping "outcast women." Never a great money manager, she died in poverty. Her monument at Green-wood uses a condensed version of her actual name and doesn't mention her career as Lola Montez, the Spanish dancer.
She was portrayed in a 1955 movie musical by Martine Carol; the cast also included Peter Ustinov, and by Yvonne DeCarlo in the 1948 movie Black Bart.
Check out the ForgottenBook, take a look at the gift shop, and as always, "comment…as you see fit."
6/16/17