Fire Patrol #2, on #84 West 3rd between Thompson and Sullivan, looks a great deal like New York City firehouses built in the early 20th Century and has embellishments like the head of the Roman god Mercury, symbolizing swiftness, above the front entrance, and a pair of terra cotta trumpets on the roofline along with the date of construction, 1906; firemen used to use similar trumpets to relay directions in the 19th and early 20th Century. There's a difference between this firehouse and other classic buildings of its type around town: this firehouse was never part of the Fire Department of New York, the FDNY. Instead it housed firefighters from a different entity, the New York Fire Patrol.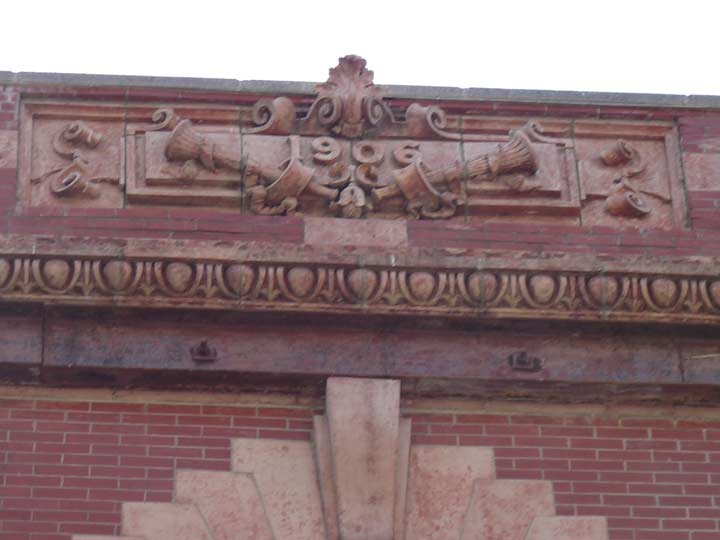 The NY Fire Patrol was created by the New York Board of Fire Underwriters and was in existence from 1839 to 2006. The Patrol was a salvage corps that responded to commercial fires, salvaging whatever was possible from those fires with the purpose of reducing fire damage as much as possible, but they would also respond to residential blazes when necessary.
Over the years, they grew adept at preventing water damage by immediately pumping out excess water from fire department hoses, at preventing computer and electronics damage by covering and removing equipment as soon as possible, and at preventing damage from the elements by covering broken windows and doors with tarps as soon as possible. The Patrol was also credited with saving hundreds of lives from burning buildings throughout the five boroughs over the course of two hundred years. wikipedia
Before the Patrol's disbandment in 2006, this was one of three such active Fire Patrol houses, the others being in Midtown and Cobble Hill, Brooklyn. This Patrol house lost one Patrolman, Keith M. Roma, on 9/11/01. In 2010, CNN newsman Anderson Cooper purchased this building.
For decades, the 6th Avenue El trundled over the building, as it ran on West 3rd between West Broadway, now LaGuardia Place, and 6th Avenue.
Daytonian in Manhattan has much more.
Check out the ForgottenBook, take a look at the gift shop, and as always, "comment…as you see fit."
7/19/17