I am posting about a pair of my favorite Midtown buildings today, one immediately endangered, the other not. I've known about each of them for quite awhile. Both are from an era in the first decade of the 20th Century that favored exuberance and ornamentation over facility, and were built in a style that few working architects would attempt these days. It's unwise to facilely say that these buildings are from any so-called golden era of architecture; no doubt in 2075 or 2100 or so, if NYC is still above water, that today's glass-walled exercises in blanditude will be looked upon as a golden era by those enduring the architecture stylings that'll be foisted on them by designers of that future era.
I'm an infrastructure fan and observer, not an architectural expert, and while I'm a fan of Frank Lloyd Wright-style streamlining, I suppose I can look at the Beaux-Arts and Art Nouveau structures built from about 1880 through 1925 as among my favorites, though I have some kind words for the Art Deco era that briefly followed it. As for the glassy International Style, now 70 years old but more dominant than ever, I can only say… meh…
Kaskel and Kaskel Building, 316 5th Avenue
Here's a dirty old Art Nouveau pile at the southwest corner of 5th Avenue and West 32nd, just a couple blocks south of the King of All Buildings. Its exterior is gray with over a century of auto exhaust, its metal bays are beginning to rust and its paint is beginning to peel. It's held down this corner since 1902, but its first owners had been in business since the Civil War.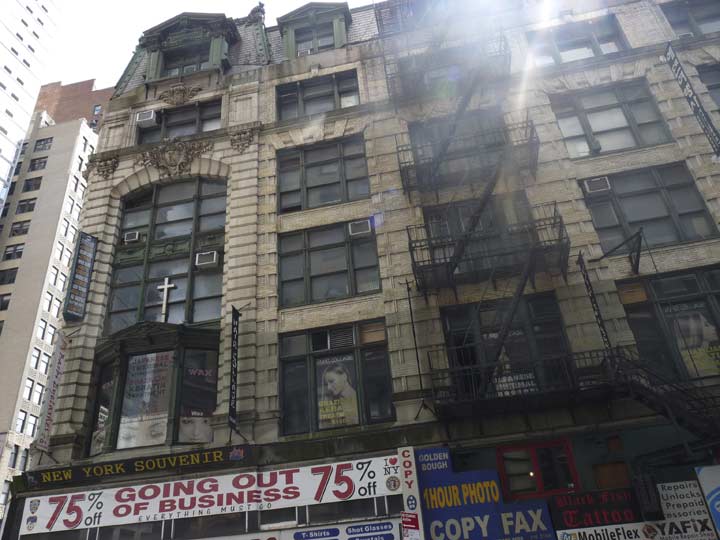 Some commentators have decried the condition of 5th Avenue south of its "sweet spot" on the blocks immediately north and south of St. Patrick's cathedral, with emporiums like Cartier, Bendel, Tiffany & Co and other high end retailers. They point to the souvenir joints, pizzerias, and occasional fast food palaces as signs of NYC's decline. How could such places take root on the Queen of Avenues?
316 5th is chockablock with life and big city activity. There's the New York Souvenir shop on the bottom floor, which will be going out of business soon (more on that later). The second floor features beauty shops offering skin waxing, hair straightening and various other treatments. However, notice the cross on the tall window on the left, just above the polygonal metal bay. The third floor is home to a branch of the Korean-language New York Garden Church; this is the west end of Koreatown, centered along West 32nd Street between 5th Avenue and Broadway, featuring a concentration of Korean businesses and restaurants. Korean immigrants began to live and work in the area beginning in the 1980s.
Elsewhere at 316, there are, or were, a 1 Hour Photo shop for people still using film, tattoo parlor, mobile phone repair shop, more beauty businesses and a psychic. All likely thrived at some point in the recent past.
316 5th Avenue was built for brothers Albert and Max Kaskel, haberdashers who had started out in what is now called NoHo in 1867, selling shirts, ties and other men's furnishings. In 1881 they moved to West 23rd Street near the Ladies' Mile area, many of whose vast emporia are still in evidence on 6th Avenue. It was there that the Kaskels' period of greatest success began as they became one of the city's foremost dealers in men's clothing, even outfitting Teddy Roosevelt at one point. In 1902, they commissioned Charles L. Berg to design their new headquarters and showrooms here on West 32nd and 5th. With its slanted roof punctuated by ornate dormers, it harked back to the French Second Empire style that had dominated architecture in the 1870s and 1880s. Kaskel & Kaskel was also praised for its use of electric lighting to highlight store window offerings, still a new and fresh innovation in 1902. The Kaskels also began offering women's outfits soon after the 5th Avenue move.
Welcome to 316 West 32nd Street
In 1946 the Kaskel business moved uptown to 5th Avenue and 46th Street for a bigger showroom space, and 316 5th Avenue became a mixed-use office building with various businesses renting the bottom floors. In June 2017, word came that the plot had been sold, and the never-landmarked building would be replaced by a 40-story residential tower.
I can't leave this corner without mentioning the sadly lost Type 24 Twin that had held forth here for decades. It disappeared around 2010 and was replaced with a mere stoplight. It was the only Twin featuring both a 1930s-era Bell luminaire as well as a 1940s Westinghouse AK-10 "cup" and by the time of its demise, it had a snapped-off fire alarm light bracket as well as rusted flag holder remnants; clusters of flags would be added to the posts for parades and celebrations. Sic transit, Gloria!
300 West 38th Street
Accompanied on both sides of 8th Avenue by high-rise office buildings built in the 1920s and 30s, #300 West 38th Street, on the southwest end of what was Times Square's sleaziest district holds forth bowed, perhaps bloodied over the years, but still intact, amazingly. It was constructed in 1903, one year after #316 5th.
#300 West 38th was built as a hotel catering exclusively to actors that appeared in the many Broadway theaters located on the blocks north and east of this corner. Its chief architect was Hungarian immigrant Emery Roth (1871-1848) who went on to become one of the pre-eminent architects of hotels and residences in NYC — among his later designs were the Warwick Hotel, where the Beatles stayed during their first NYC visit in February 1964, as well as the St. George Hotel in Brooklyn and the twin-towered San Remo and Normandy Apartments in Manhattan. The firm Emery Roth & Sons is still active today and has designed dozens of prominent NYC buildings including the Pan Am, now Met Life, Building and with Minoru Yamasaki, the first World Trade Center.
300 West 38th is full of architectural detailing; all the Classical-style ornamentation so prevalent in architecture prior to 1920 would be swept away by first Art Deco and then the streamlined Corbusian and International styles that took hold in the late 1940s and continued onto the Brutalist styles of a Paul Rudolph.
At first, I thought the carved brownstone details above the windows showed musical instruments — sometimes they do — but these are just intricate designs. They are repeated above the 3 windows on the 8th Avenue side and the 6 on the 38th Street side.
There are polygonal bay windows on the corner, and again at the west end of the building on West 38th. The ironwork features this design.
Meanwhile here's a closeup of the ironwork design on the parapet of the 8th Avenue end — there's only one of these.
I first took serious notice of the building when making my way up 8th Avenue approximately a decade ago. At that time the corner franchise sold lingerie, video and DVDs, with which you could have a pretty good weekend in Vegas. By 2017, one of NYC's ubiquitous dollar pizza slice shops had taken over, with the porn relegated, along with a Japanese noodle palace, to a minuscule entrance on the 8th Avenue side. Meanwhile, a sewing machine repair place occupies a small space next to the main entrance on West 38th.
The entrance is set off by a lion's head. The building is in no immediate danger from what I've heard, but given the current volatility of Manhattan development, I'd imagine it may not have several years to live.
The Shampan 8th Avenue office building wraps around #300 West 38th on both sides. There are classical-style terra cotta work on each side. The name comes from the Shampan & Shampan architects, who designed and built it in 1927.
Next door is #304 West 38th, a 1928 building designed by William I. Hohauser that appears to have a lizard on the heraldry within its ogive-shaped entrance. This is actually a stylized representation of a salamander. Real ones are small-to mid-sized amphibians which resemble lizards but are soft to the touch and spend some of their time in the water, like their amphibian cousins the frogs. In the medieval period, salamanders got the reputation of being able to survive fire and in fact, it was believed that they had the ability to extinguish fire. They became heavily represented on royal crests and other ornamentation, and Alwyn Court terra cotta carvers took license with the creatures, giving them claws and showing fire coming out of their mouths.
The Esposito Meat Market, serving locals and also the restaurants further north on 9th Avenue, has been in business since 1932, many of those years here on the SW corner of 9th Ave and West 38th. Its vinyl-lettered sign is in the colors of the Italian flag, red, light green and white. The signage features an "animal cannibal," a pig licking its chops.
Finally, I spotted the "Longo Bros. 1933" sign atop this building on the east side of 9th Avenue between West 36th and 37th Streets; I hadn't noticed this one before. The Longo brothers, Cristoforo (1900-1981) Joseph and Giacomo "Jack" (1905-1971) were the proprietors of the liquor store Metropolitan Wine and Liquor at this location between 1933 and 1979. A different liquor store occupies the space today.
Info: Atlas Obscura, Daytonian in Manhattan, and the Indispensable Walter Grutchfield at 14to42.
Check out the ForgottenBook, take a look at the gift shop, and as always, "comment…as you see fit."
7/30/17