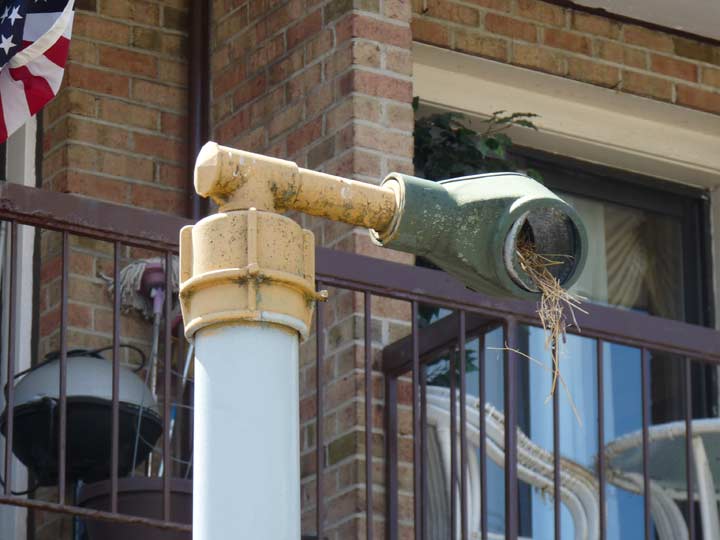 At one point in the 1970s it seemed that every corner in NYC controlled by traffic signals also had these devices (Mosholu Avenue and Fieldston Road), which were mounted on the same posts that the stoplights themselves were. Occasionally, they would be mounted to telephone poles and lampposts, and in midblocks, they would often be hooked up to the massive guy-wired posts that held stoplights on busier corners.
But what were they? These days, birds find them quite handy for nests.
Let Stephen Gembara ("New York City's Red and Green Lights: a Brief Look Back in Time") explain them:
It is an old traffic detector device manufactured by General Railway Signal, in which emitted invisible waves of energy (sonar technology) at vehicles to change traffic signals from red to green at cross streets. NYC used them to measure traffic flow on major thoroughfares in the boroughs to improve traffic signal timing.
From FNY's Kingsbridge Heights page:
I spotted this device on Giles Place near Sedgwick Avenue. They were rather frequent during the 1960s and 1970s, but I see very few these days. I believe it was a traffic counting device, though I could be wrong. The control box says "Electro-Matic Traffic control Automatic Signal Division." There seem to be several Electro-Matic companies these days, though none based in Norwalk, CT.
ForgottenFan John Simonetti: I remember my Dad telling me about these devices: more than just "counting devices", they were used on streets that only occasionally fed cars onto a major, busy thoroughfare.
They were some sort of electronic eye, that would sense when a car had approached the intersection, something akin to the "pressure bars" buried under the asphalt today that perform the same function.
The traffic light on the main road would either stay green or stay green longer than normal until the electronic eye sensed movement (a car approaching the corner). The device would then alert the signal box, which would change the light to allow the car to enter or cross the main intersection. That probably explains why the arm is so long, as it had to reach out over the street to sense the approach or movement of a vehicle.
Check out the ForgottenBook, take a look at the gift shop, and as always, "comment…as you see fit."
7/7/17