Back in the summer of 2012 I was wandering about in northern Riverdale at the Bronx-Westchester County city line. Hilly Spencer Avenue — named for Herbert Spencer, the British philosopher and sociologist who was a frequent guest at nearby Wave Hill when publisher William Appleton owned it — runs straight north from Mosholu Avenue to the city line at West 263rd Street, the highest of the numbered sequence of Manhattan-Bronx streets that begins with East 1st in the East Village.
In 2012 I found something quite interesting that was on the borderline–a rusting post that had two Yonkers street signs for Leighton Avenue and Spencer Place. This is an unusual spot because while Spencer Avenue becomes Leighton in Yonkers, Spencer Place runs east along the border until it turns south to a dead end called Spencer Terrace that is completely in the Bronx.
It's really a miracle that the signs and the post were still there in 2012.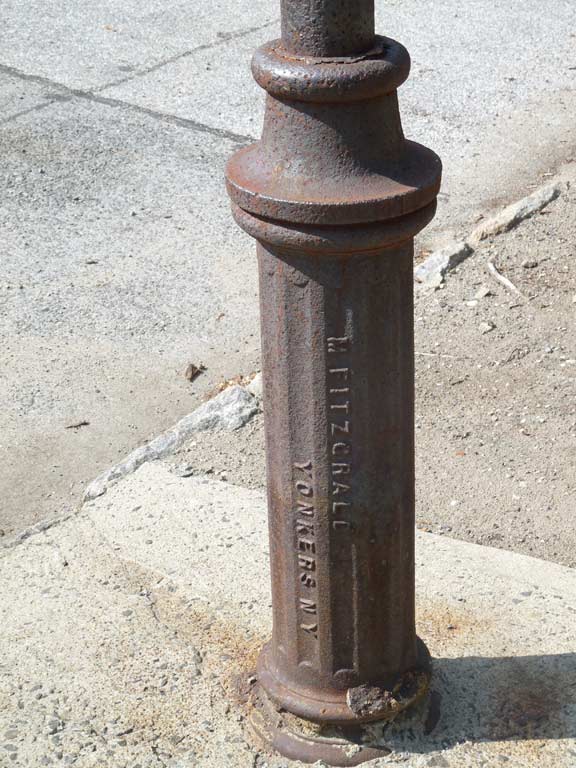 The name of the manufacturer or the foundry, M. Fitzgerald, is inscribed on the base.
I went back to Riverdale in July 2017 to scout a tour, and, of course, I sought out this post to see what had become of it. As it turns out there is good news and bad news.
I half expected what I saw. The signs are gone — either removed by the city of Yonkers (city management in many towns is manic about standardization) or perhaps a souvenir hunter got to them. However, the orphaned post is still there.
Yonkers also changed the NYC Department of Transportation Spencer Avenue sign to a Leighton Avenue sign.
Perhaps there are other signs around Yonkers of this type? It's a big city — third largest in NY State.
Check out the ForgottenBook, take a look at the gift shop, and as always, "comment…as you see fit."
8/9/17