Bedell Lane is a quiet side street in Canarsie, running from west to east from East 87th to East 92nd Streets, just south of Foster Avenue. I've been aware of its presence for decades. Beginning in 1974 I frequently bicycled from Bay Ridge directly east, through Bensonhurst. Midwood, Flatbush and around Paerdegat Basin and then into Canarsie. Sometimes I would press even further east into Ozone Park and Woodhaven, and even Valley Stream a few times. I continued to do this until moving to Queens in 1993.
When I would arrive in Canarsie, at least the first few times, it was like attaining Ultima Thule for me, a land charted but forever mysterious. To me it wasn't like the rest of Brooklyn in those days. There were dirt alleys between the main streets, some lit with old fashioned incandescent lamps. There were trolley rights-of-way, with the trolleys long gone but the trolley poles still there, stripped of their power wires. Empty lots and old churches abounded.
I never gave Bedell Lane much thought. It was an oddity, for sure, like Conklin Avenue and the other short roads found between the main east-west roads, Foster, Farragut, Glenwood, Flatlands, and the lettered avenues J through N.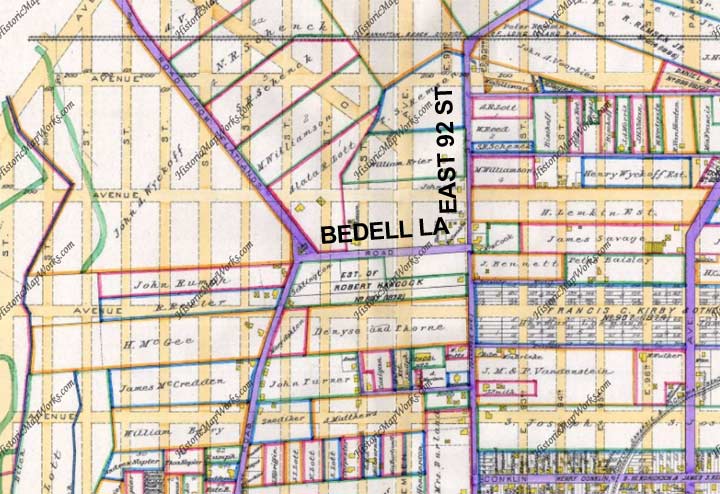 Then I consulted a Kings County atlas plate of Canarsie in 1890. Bear in mid when you look at this map that in general, only the roads colored purple were in existence in 1890. The roads in beige were still on developers' planning boards and not yet built. Thus, you can tell Bedell Lane was pretty important back then, as it was one of the few roads in Canarsie.
On the map, only Bedell Lane and East 92nd Street are in existence today. At its west end, Bedell Lane met the intersection of the Road from Flatlands to Canarsie and Varkens Hook Road. The former is an interesting case. Pieces of it still exist in East Flatbush, running from Holy Cross Cemetery southeast, past the Pieter Claesen Wyckoff House, through where the Brooklyn Terminal Market is now, and ending at this wye. Nothing remains in Canarsie, however.
Meanwhile, a short stretch of Varkens Hook Road still exists between Farragut and Glenwood, but most of it has been obliterated. "Varkens Hook" apparently derives from two Dutch words meaning "pigs" and "hook" or "corner" so, this road may originally have been the road going to a place where pigs were driven to market.
Much more on Canarsie here, and a more recent exploration of its odd alleys and lanes here.
Check out the ForgottenBook, take a look at the gift shop, and as always, "comment…as you see fit."
9/6/17