Unusual chill for April kept crowd numbers down for this lively tour of southern Prospect Park, but we were rewarded with an informative 2.5 hour walk circumnavigating the Prospect Park Lake and investigating historic artifacts in its near vicinity. We also got a batch of homemade cookies and punch from Prospect Park South neighbors Mike Walker and Brenda Becker.
In the title card, a pair of Ionic columned granite colonnades adorned with wisteria adorns the Park's southeast entrance here. It was completed in 1904 by famed architects McKim, Mead and White (who went on to design the old Penn Station).
In the park's southwest corner at Park Circle stands a pair of elaborate Beaux Arts rain shelters. Can you imagine such detail and care being included in the design of, say, a bus shelter today? Yet these twin structures flanking the Horse Tamers (below) were built as horsecar shelters by Stanford White in 1896. They feature marble benches and roof ironwork. Today they offer a cool respite from heat waves and shelter from showers.
The striking visual impact of the twin Horse Tamers sculptures by Frederick MacMonnies greets visitors on each side of the drive leading into the park from the Circle. The sculptures, dedicated in 1899, were originally called "The Triumph of Mind over Brute Force." Some reviewers compare it to Guillaume Coustou's Horses of Marly in the Place del la Concorde in Paris. Note that the tamer is using a curved dagger, known as a quint, to subdue the steeds.
Terrace Bridge was Calvert Vaux' final addition to the park when it opened in 1890 (check the dates on the approaches on either side). Other planned additions never materialized such as an adjacent terraced platform with seating and a stone tower that would have afforded views to Brooklyn neighborhoods beyond the park, and the Refectory, which was going to be an inn in the center of the park.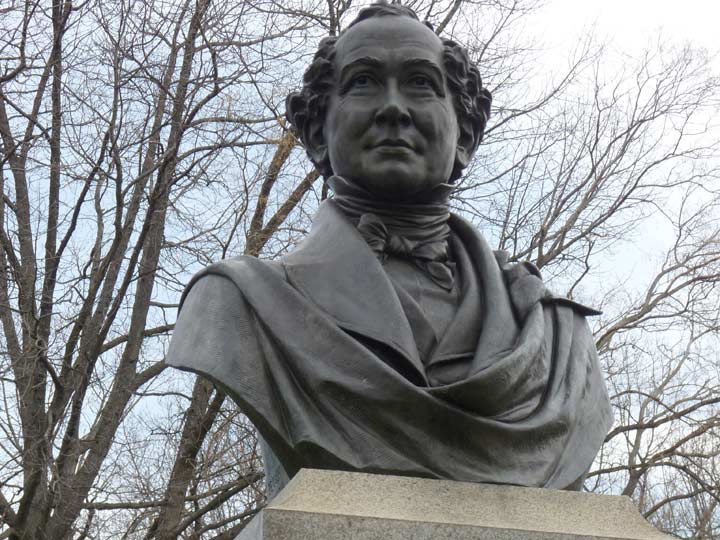 Concert Grove is a formal European-style garden designed to look out over a small island in Prospect Park Lake containing a performance stage where the popular bands of the day would play. There were large areas for carriages to park on each side of the Grove. It turned out that the acoustics weren't the best, and concerts moved to the Music Pagoda in the Nethermead, ultimately the Prospect Park Bandshell. The stage area was torn up, the island attached to the mainland by fill, and the Wollman Rink installed in its place.
The grove features busts of Beethoven (looking cranky as he usually does in his portraits), Edvard Grieg (Norwegian composer of the Peer Gynt Suites and "Hall of the Mountain King") Wolfgang Amadeus Mozart, and his cousin by marriage, Carl Maria von Weber, a composer, conductor and pianist, one of the founders of the Romantic style. Crashing the composer party is Irish writer Thomas Moore, who can also be found in Central Park; he was best known for writing "Minstrel Boy."
Check out the ForgottenBook, take a look at the gift shop, and as always, "comment…as you see fit."
10/31/17