I complain a lot about the Long Island Rail Road — its price scheme, for one thing. It costs $20.50 to ride to Manhattan from Little Neck daily in rush hours, unless you buy a monthly ticket, which, if your visits to Manhattan are sporadic, is still not very cost effective. You get what you pay for because the ride to Manhattan is just over a half hour. (I usually wind up paying $5.50 round trip for a ride on the bus and train, which involves a ride on both from one end of the line to the other.) For more occasional trips, though, which are usually off Peak, I'll get a ten trip Off Peak ticket, which has a modest discount. When I'm salaried, I spring for the monthly.
I moved to Queens in 1993 after getting work in Port Washington the year before. I originally settled in Flushing where I remained for 14 years before moving to Westmoreland Gardens in Little Neck, which is just two blocks from the Little Neck LIRR station. Initially in Queens, I used the Broadway station, which was in a decrepit state for about as long as I used it every day and had not received a substantial upgrade since it was built in 1913. Sure enough, as soon as I moved to Little Neck on 2007, Broadway got a state of the art makeover.
As early as 1995 I had my eye on Westmoreland Gardens in Little Neck and finally moved there in 2007, and thus became a daily customer at the Little Neck station. It too received modest repairs such as new sidewalks at the grade crossing (seen on this FNY page), as well as new railings and a new pedestrian crossover.
LIttle Neck has its very own, albeit smallish, station building, located on the south side, Port Washington bound side, an incongruous place for it; you would think that long-ago designers would have placed it on the Manhattan bound side. The LIRR deactivated most station ticket sellers awhile ago, though I believe the station house still opens up for a couple of hours in the morning, as it comes in handy during cold or rainy days.
During the spring of 2014 the railroad deigned to add a ticket machine on the Manhattan-bound side, meaning you could safely cross to Manhattan-bound tracks and purchase tickets there. The LIRR charges considerably for tickets purchased onboard.
These tracks have been an endless source of fascination for me — I live a block away from them. This is also the only active grade crossing in Queens — other than possibly Borden Avenue — in which trains taking power from a third rail cross a public street. (The rail is interrupted or there would be a great deal more fatalities here than there are already!)
At least once or twice per year, some brain-addled fool believes they can beat a train across the tracks and runs under the gates, only to get splattered. Since I've been here (2007) I have not heard of any cars being stuck on the tracks and plowed into.
Unfortunately both eastbound and westbound trains are scheduled to arrive just a couple of minutes apart each day in non-rush hours. I'm told that such an occurrence cannot be easily changed without causing other havoc along the length of the branch, which is reduced to one track east of Great Neck. Thus, there's always the chance that a 12-car unit will straddle the crosswalk, just at the very time a train you want to catch is on the other side. This doesn't happen to me a lot but it has happened.
Little Neck station is among the most suburban-looking mass transit stations in NYC.
I don't spend a lot of time inside the stationhouse — only to get a schedule when a new one comes out; they are changed subtly every few months. As stated earlier there is no longer a human ticket vendor as there had been in the AM Peak hours. Though some of the station history is affixed to the wall with some vintage photos which states there had once been a pot belly stove in the station, it now has central heating. There is one railroad classic waiting room bench here.
Though the Flushing and North Side Railroad reached Great Neck in 1866, it didn't gain a station at Little Neck until four years later. Today it remains the most rural of all Long Island Rail Road stations in NYC, and still boasts a grade crossing…many LIRR stations in Nassau and Suffolk, especially on the southern side of the Island, have long ago abandoned their grade crossings, which are quite dangerous in heavily populated areas.
Little Neck, tucked into the extreme northeast corner of Queens, is kind of sleepy in this section, and so creating an open cut or overpass here was considered unnecessary. Little Neck Parkway continues north for only a few blocks before petering out at the edge of Little Neck Bay at Udall's Cove.
The present station house was built in 1890.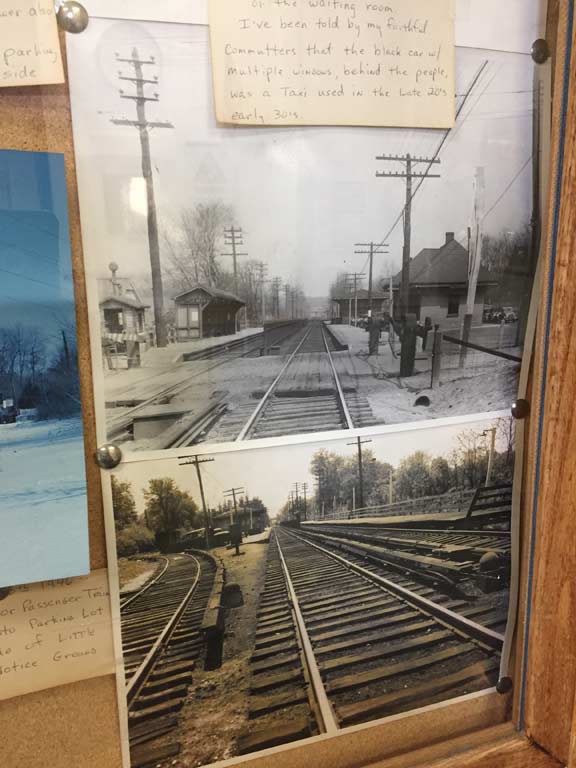 Here are a pair of images depicting Little Neck in the 1930s. I wish there were some earlier photos depicting the line in the 1870s, when the area was truly rural. As you can see there were a couple of wooden shelters on either side. Little Neck received new plexiglass shelters a couple of years ago.
On the bottom photo we see a layup track on the south side of the station. This was removed decades ago and a paid parking lot occupies that area today. A similar "pocket," which was lengthened a few years ago, remains at Great Neck, one stop east.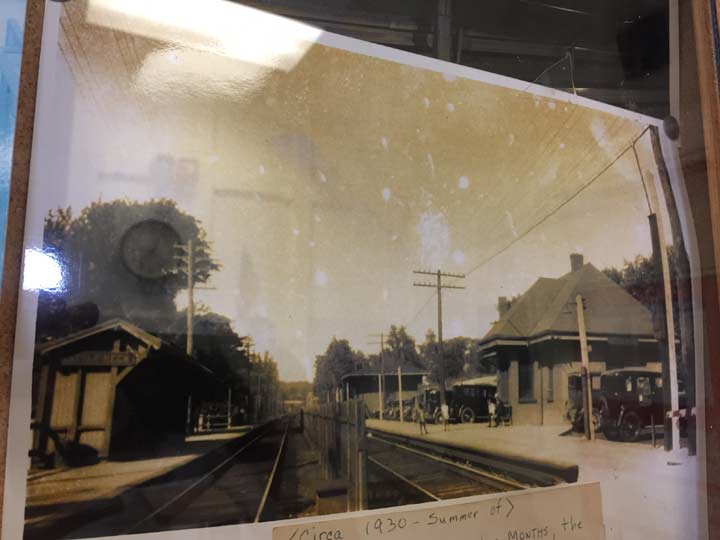 Another view from about 1930. Then as now, there was a cab service on the south side.
One interesting aspect of the station is that there's a small grocery/candy store on the north side of the tracks at Little Neck Parkway and the unmarked 39th Avenue. I have seen photos from the 1940s showing that that candy store used to be catercorner from the present one, across the tracks at Little Neck Parkway and 39th Road.
Finally, one ancient aspect of the 1890 stationhouse is its one remaining colored-pane glass window in the car service dispatching office. Other windows in the station had protective metal cages installed long ago.
Check out the ForgottenBook, take a look at the gift shop, and as always, "comment…as you see fit."
10/31/17