Forgotten NY's 107th tour, Sunday, July 24, 2016, was the third in this general area, following a DUMBO your in 2002 and DUMBO and Vinegar Hill in 2012. Once again, I slimmed down the routes to bring the tour in at an even three hours.
The Empire Stores complex was in transition in 2016. Its facade had recently been cleaned up and new shutters, echoic of the older ones that had been in disrepair for decades, had been installed. The Stores would soon be home to new retail shops as well as a business center and a branch of the Brooklyn Historical Society.
Yuban ("Yuletide Banquet" – produced from special beans used by coffee emperors Arbuckle Brothers during family holiday gatherings) had a vast advertisement on the exterior of 1870s-1880s-era warehouses along Water Street, known as the Empire Stores in the 1930s, memorialized in photographs by the famed Berenice Abbott.
The Bliss Machine Works building occupies the whole block between Plymouth, John, Adams and Pearl. Between 1879 and c. 1900, Eliphalet W, Bliss erected three buildings for the manufacture of a vast array of machinery, cans, and other metal products.
After service in the Civil War, Bliss settled in Brooklyn and in 1867 established a machine works which became the E. W. Bliss Company. In his DUMBO factories, Bliss manufactured machines, tools, presses, dies, and sheet metal. Bliss invented a machine for stamping out sheet-metal cans which were initially used for kerosene and paint. By the early twentieth century, the factory occupied 186,492 square feet and in 1912 employed 1,646 people in its DUMBO operations – 1,521 men and fifteen women. Later, the building was home to Waring Envelopes, whose painted sign can still be seen on the Plymouth Street side.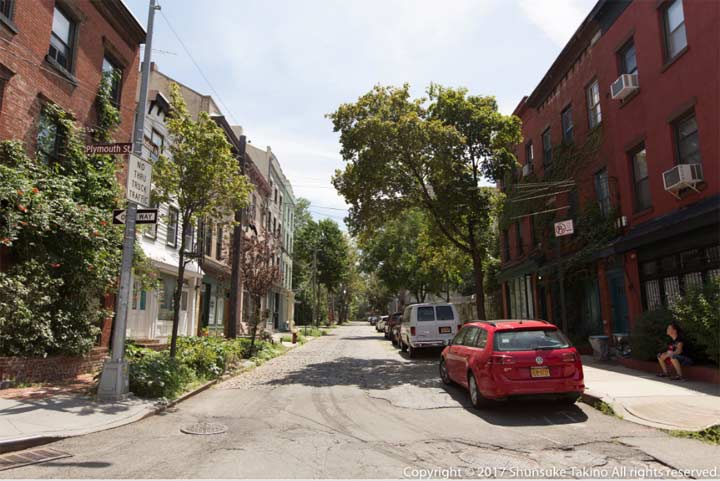 Hudson Avenue used to run from the East River in the obscure Vinegar Hill neighborhood continuously all the way south to Fulton Street, but only this brief 4-block stretch remains (and a one-block stretch way to the south between Dekalb Avenue and Fulton). Brooklyn's Fifth Avenue El also rumbled over Hudson Avenue before both the el and the avenue were obliterated and the Farragut Houses, the Brooklyn-Queens Expressway, the Raymond-Ingersoll Houses and Long Island University were constructed in their place.
Today Hudson Avenue facing north is overshadowed by an immense Con Edison smokestack; the Con Ed plant here is guarded like Fort Knox.
One of DUMBO's crown jewels, at Bridge and York Streets, is the Thomson Meter Building, designed by Beaux-Arts-schooled Louis Jallade in 1908. It represents one of Brooklyn's earliest examples of concrete construction, though its real claim to fame lies in its exuberant use of richly colored terra cotta along the roof. Look closely and you will see at the building's corners the remnants of stylized letters T and M (one corner on York Street preserves them intact). Thomson Meter later moved to headquarters on Washington Street, and Eskimo Pie moved in.
In February 2004, the Thomson Meter Building was designated a New York City landmark.
Photos by Shun Takino
Check out the ForgottenBook, take a look at the gift shop, and as always, "comment…as you see fit."
10/31/17