After a 2016 slump regarding attendance, it was good to have a substantial crowd back for FNY Tour #108, a brand new one in Ravenswood, Queens, on Sunday, August 7th, 2016.
This section of Queens just south of Astoria along the East River is dominated by the massive Con Ed "Big Allis" power plant and Ravenswood Houses, but a walk though its narrow streets reveals surprises like free-standing narrow mansions along 31st Drive between 12th and 14th streets. A Steinway competitor, Sohmer Piano, built the former Adirondack Building in 1887, a multilevel factory building –come-residence complete with clock tower. Leftover brownstones and rowhouses appear seemingly out of nowhere scattered among this now-highly industrialized area.
A group of impressive mansions was arrayed on Vernon Boulevard (neé Avenue) in the mid-1800s, none of which remain today. The area came into its own as a residential area in the 19th century but only after NYC had bought up land in the 1840s and proceeded to build orphan asylums and smallpox hospitals. In 1845, angry Astorians burnt the smallpox hospital to the ground, and the asylums found a home on Blackwell's Island.
Named in tribute to its proximity to Greek-flavored Astoria, this waterside area along Vernon Boulevard between Main Avenue and Broadway was a dumpsite until it was "rescued" in 1986 by a coalition of artists/activists headed by mark di Suvero. It now works both as an outdoor workshop for aspiring artists and as a waterside park.
Exhibits change frequently but a recent visit provided views of a wall filled by what looked like Delft pottery tiles screened with images of Colonel Sanders and Chairman Mao; the pediment from the top of one of the old brick buildings in the neighborhood detached and placed on the ground; what looked like plaster casts of human torsos and rear ends arranged around a pile of hay bales; a large group of human-sized plaid doughnuts; and other bizarre images. Lots of fun!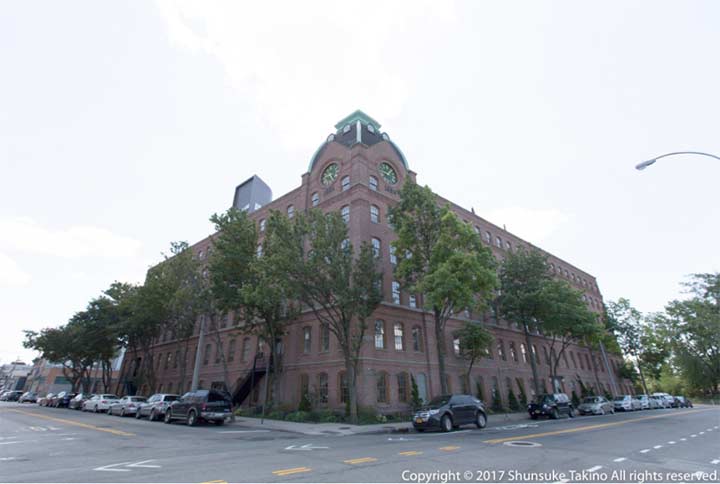 I first encountered this building, originally the Sohmer Piano Factory on Vernon Boulevard, several years ago when it was still occupied by the Adirondack Chair Company and spoke with John Pupa, Vice President of Operations for Adirondack. He said that Adirondack no longer heated the building with coal but it still maintained its old Hewes and Phillips coal-burning oven and took coal deliveries.
It's not the only piano factory converted to luxury in NYC of late — I was taken by surprise to discover that the fortress-like, hulking Steinway factory on Ditmars Boulevard and 45th Street in Astoria became the Pistilli Grand Manor, and the clock-towered Estey Piano building and its distinctive clock tower in the Bronx's Mott Haven became residential in the early 2000s. So this building has gone.
Sohmer pianos? They are now manufactured in Korea.
Rainey Park, with an expansive view of both Roosevelt Island and Manhattan, was named for a local resident who worked tirelessly for the construction of the Queensboro Bridge, Dr. Thomas Rainey (1824-1910), who supported an East River Bridge beginning in the 1870s. After the creation of Greater New York in 1898 the idea finally gained traction, and Rainey crossed the new Queensboro ion opening day in 1909 with Governor Charles Evans Hughes. Rainey Park in Ravenswood opened in 1912.
The New York Architectural Terra Cotta Works was established in 1886 by James Taylor, who was fresh off successes in the Boston firms Lewis and Wood and the Boston Terra Cotta Company. The New York works would go on to produce terra cotta for Carnegie Hall and the Ansonia Hotel. While Taylor died in 1898, his NYC terra cotta works would continue to thrive until 1928. Its small office/showroom building, built in 1892, still stands at 42-10 Vernon Boulevard, albeit a bit worse for wear after about 110 years. The little brick building has been landmarked, and in 2014-2016 it was restored by Silvercup Studios.
Photos by Shun Takino
Check out the ForgottenBook, take a look at the gift shop, and as always, "comment…as you see fit."
10/31/17