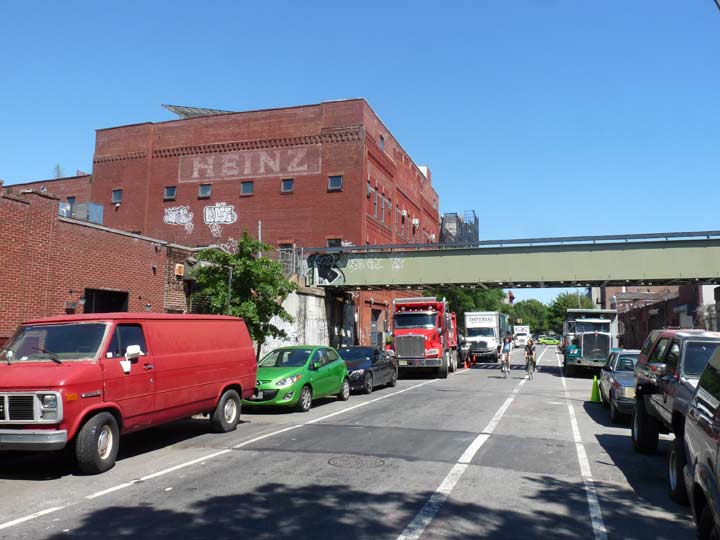 I took a couple of walks through Prospect Heights in mid-2017 and will expand on them in upcoming FNY pages, but I am always drawn like flies on sherbet to the ancient brick Heinz food processing factory on Bergen Street right next to the Franklin Shuttle elevated section.
The factory, on which the company slogan "57 Varieties" is clearly still in view, was built in the late 1800s as part of a large brewery complex that extended to Franklin Avenue and around the corner to Dean Street. After Heinz decamped its building became the Monti Moving & Storage Co., which in turn moved out in 2001. The buildings are used by artists and light manufacturers these days, with the ice house on Dean has been converted to residential.
In the colonial era, this was a Hessian Camp, German mercenaries allied with the British. By 1849, even before much of the street grid had appeared, the Liberger and Walter Brewing company was brewing here, between 1866 and 1883 it was the Bedford Brewery run by Christian Goetz. In 1883, William Brown purchased the brewery, renaming it the Budweiser Brewing Company. After a suit by Anheuser-Busch in St. Louis, Brown changed the name to the Nassau Brewing Co. in 1902, and it continued brewing until 1914. Heinz then purchased the westernmost building and turned it into a factory.
The Franklin Shuttle connects the IND Fulton Street Line with the Brighton Line at Prospect Park, and is all that remains of the northern end of the Brooklyn, Flatbush and Coney Island Railroad. In the 1970s and 1980s the city had no money for the line's upkeep, and it deteriorated to the point of collapse, but in the late 1990s the MTA found some money in the kitty and completely rebuilt the shuttle, closing the Dean Street station but adding a transfer to the IRT at Eastern Parkway.
Check out the ForgottenBook, take a look at the gift shop, and as always, "comment…as you see fit."
11/30/17