For the last three Sundays of 2017, my intention is to throttle back just a bit, and refrain from 100+ photo multipart extravanganzas, but fear not, in the New Year of 2018, I have hundreds of photos lined up from walks from Prospect Heights to Bed-Stuy and back to Sunset Park; Parkville to Brownsville; and Sunset Park to Maspeth (a walk that took seven hours and nearly 400 photos). Weather permitting, I'll also be doing new and hopefully lengthy walks in Staten Island and the Bronx, which always seem to be underrepresented. I am envious of my friends, who are my age or not too much younger, who can do 25 to 30 mile walks, and I would love to work my way up to that level.
Today I'm going to concentrate on the fruits from an October 1st ForgottenTour in Charleston, Staten Island, formerly referred to as Kreischerville. My friend, author Robert Mulero, was along as he usually is on all the tours, and he has become especially perceptive over the years and his photography has improved greatly. In the absence of Shun Takino, who is the photog for most of my tours, Bob steps in and has ably chronicled many of the walks. Of course, we have to wait for him to catch up with the rest of us sometimes!
All photos: Robert Mulero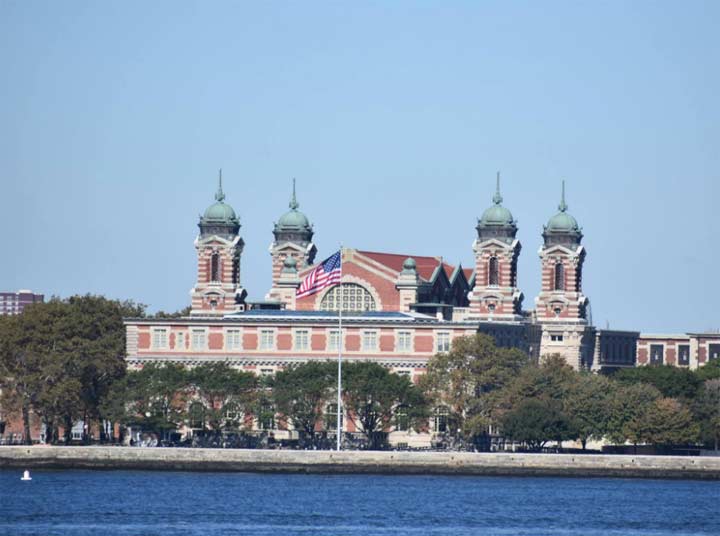 From the ferry: a view of the Ellis Island Immigration Station. The island, in Upper New York Bay near New Jersey, took over from Castle Garden and NYC's main immigration receiving center in 1892. Until 1951 this was the place where all immigrants sailing into New York city were processed and decisions were made on whether they were allowed to enter the USA or return to their original countries.
After a design competition the contract for the new building was awarded to New York firm of Boring & Tilton in 1907, and the French Renaissance style center opened the following year. Designed to process 500,000 people, the center was overwhelmed with double that total within just a few years.
Upon entering the building, immigrants mounted stairs leading to the second-floor Great Hall which served as the waiting and processing room. A room impressive for its size- – 189 feet long and 102 feet wide with a 60-foot-high vaulted ceiling- -and the abundance of large windows in the east and west walls. The stairs leading to the Great Hall served as a medical treadmill. Doctors waited at the top to check the breathing, posture, gait, and general physical fitness of people as they made the climb. For many the stairs took on a special meaning, for those feeble from sickness or old age could be marked for rejection at that point. [NYC Architecture, which has much more.]
The main building reopened after years of neglect as a museum and cultural center in 1990. I briefly met actor Elliott Gould on the island in 2008, as I was invited to participate in the release of Lorie Conway's Forgotten Ellis Island documentary, of which he served as the narrator.
The Robbins Reef Lighthouse, familiar to Staten Island Ferry riders as it sits at the confluence of Upper New York Bay and the Kill Van Kull, was originally built in 1839, with the present tower built in 1883. Though it looks small from the ferry, it is 46 feet high. The Robbins Reef is a sand bar located beneath the lighthouse at the entrance to Kill Van Kull, an important 'highway' for barges, container boats and attendant tugs.
The Lighthouse perhaps pales in NYC popular lore when compared to the Jeffries Hook, or "Little Red" Lighthouse, which sits in the shadow of the George Washington Bridge ion upper Manhattan and was the subject of a popular children's book, but Robbins Reef has, perhaps, an even more compelling history. Read about on this FNY page.
Kreischerville map circa 1900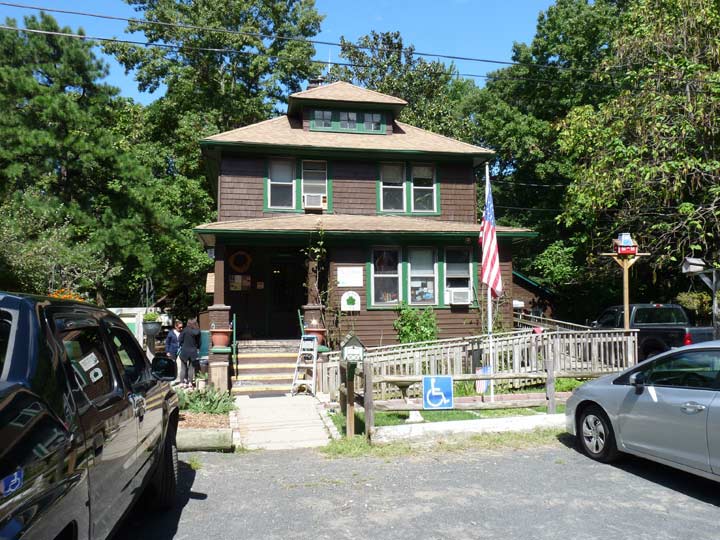 After taking the bus to Arthur Kill and Sharrotts Roads and meeting Staten Island tourgoers who met us there we headed to the Clay Pit Ponds state Reserve, whose offices are a former residence and the only address on dead-end Nielsen Avenue (we found an old-fashioned wood burning stove, fish tanks and a compost toilet that did not require flushing inside).
Clay Pit Ponds State Park Preserve is a 260-acre natural area near the southwest shore of Staten Island north and east of Kreischerville. Once the site of a clay-mining operation, the Park Preserve today contains a mixture of unique habitats such as wetlands, fields, sandy barrens, spring-fed streams and woodlands. As a terminal point for some northern & southern plant species, the area is rich with a variety of plant and animal life such as box turtles, kestrel hawks, butterflies, frogs and black racer snakes.
This was NYC's first State Park Preserve and it has managed to retain a unique ecology as well as provide educational and recreational opportunities: educational programming is offered year-round for families and individuals.
We didn't get the chance to visit the nearby Interpretive Center.
Public School 4, on Arthur Kill Road just north of Sharrotts Road, is probably the building with the highest concentration of Kreischer brick (see below) in the area. It is still used by special education students. It was constructed in 1890. There are still some 1960s-era parking lot signs in the adjacent lot.
There are three small cemeteries along Arthur Kill Road between Rossville Avenue and Sharrotts Road: Blazing Star Cemetery, founded about 1750; St. Luke's Cemetery at Zebra Place (formerly Winant Avenue; see below); and the West Baptist Cemetery in Charleston. All are inactive, and weeds tend to accumulate in West Baptist.
The cemetery was associated with the long-gone West Baptist Church, raised in 1847 but long disappeared. Some of the stones have inscriptions in German. Members of the Killmeyer family, of tavern and local produce store fame, are also here. The Storer family, whose name is on a local avenue, is also here.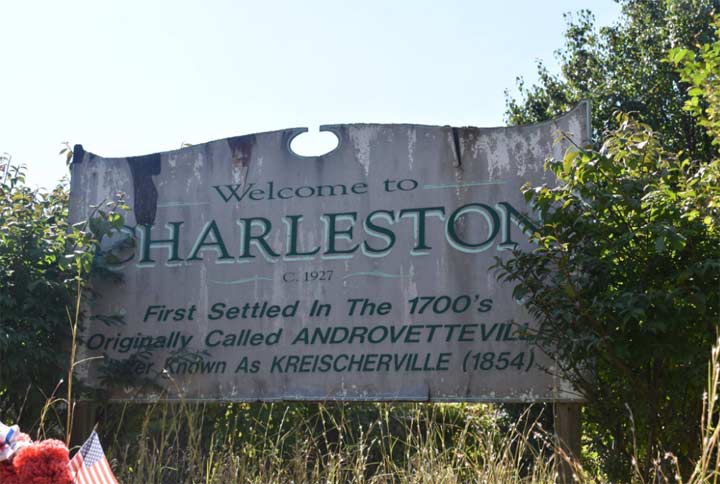 Unique among boroughs, Staten Island's neighborhoods are marked by signs at each respective area's borders. Though Charleston has had that name since the 1910s it has been called Androvetteville and Kreischerville in the past, for prominent families. The latter name fell out of favor when the USA entered World War I in 1917, though the sign says 1927.
On Arthur kill Road west of Sharrotts, we were surprised to find a long-abandoned house with a new mailbox next to it. This led to some research and the discovery of a heretofore unsuspected dead end, Winant Lane. The Winants had been a prominent family hereabouts in the colonial era.
At Arthur Kill Road and yet another street called Winant, Winant Place, is the former Killmeyer General Store.
This structure was built in the 1870s and still bears hallmarks of architectural trends of the decade including a slanted 'mansard' roof, fish scale slate shingles with decorative rosettes and brackets, and, of course, Kreischer brick chimneys. Until recently there was still a grocer operating on the ground floor. Killmeyer supplied much of the village with comestibles and also ran the roadhouse/hotel up the road a bit at Sharrotts and Arthur Kill Roads, discussed later.
On the north side of Winant Place at #25 between Kreischer Street and Arthur Kill Road is another landmarked structure, the Free Hungarian Reformed Church. This church was originally constructed by the Kreischers in 1883 for a Lutheran congregation, St. Peter's German Evangelical Lutheran Church. It partially burned down in 1890 but was reconstructed to look like the original structure. Since 1916, it has been the Free Magyar (Hungarian) Reformed Church. A piece of paper with an apparent handwritten signature of Balthazar Kreischer himself was recently uncovered in the church. It's one of the few spots outside the United Nations, and Little Hungary on East 82nd Street, where you'll see the Hungarian flag flying in NYC. Note Kreischer brick on gateposts and fences.
We took our tour "team photo" here.
Small cottage-like homes can be spotted along Winant Place and Kreischer Street. Speculation on my part but it's likely they were once lived in by managers at the nearby Kreischer brick plant; a similar situation occurs in Steinway Village in Astoria, Queens.
#122 Androvette Street west of Kreischer is a venerable structure that originally belonged to Peter Androvette, who became president of the Kreischer brick works and later resided in the now-demolished Edward Kreischer mansion.
The Knights of Columbus hall on the corner of Kreischer and Androvette Streets is also a relic of old Kreischerville. It has gotten a makeover since the old days, but its twin gables are still in place from when this was the Christian Neilsen Hotel, one of two roadhouses in the area catering to travelers passing through. The building dates to the 1890s and also served as the Kreischerville post office for a time.
On Kreischer Street is a series of modest, two-story dwellings, lining the east side of the street up to Androvette Street, with green sidings and white window sashes, and picket fences, some in disrepair. The houses were built around 1890 and leased to workers in the brick factory. Old maps indicate there were also similar homes on the west side of the street. I'm not sure when they acquired the green siding; underneath there may be Kreischer yellow brick.
Note that the sidewalks are made of Kreischer brick.
There are plenty of classic cars to be seen in Kreischerville. Unfortunately most of them are in decrepit condition.
The crown jewel of Kreischerville is its remaining mansion at Arthur Kill Road and Kreischer Street.
Before the brickworks arrived this was called Androvetteville after a landowning family. In 1850, there were only about thirty scattered dwellings. Balthazar Kreischer had arrived in the USA 1836 from Bavaria and was immediately tasked with rebuilding lower Manhattan, much of which had been destroyed in a December 1835 fire. Later, Kreischer was tipped off about the clay deposits in the region by fellow German immigrant Nicholas Killmeyer in 1850. Kreischer returned the favor and set up Killmeyer in the grocery business: his store is still in place at Winant Place and Arthur Kill Road
Balthazar's son Charles constructed this grand Stick-Style mansion on 4500 Arthur Kill Road just south of Englewood Avenue in 1885; his brother Edward's identical building was on the adjoining plot. In the 1990s, it was rumored that George Harrison, who was taking cancer treatments on the island, had expressed an interest in purchasing the mansion, but changed his mind when security concerns became a problem. In the early 2000s the house was completely renovated.
The chimneys are made of yellow Kreischer brick.
The mansion has a recent infamous reputation. It was a used as a mob-owned restaurant until 1996; in 2008 caretaker Joseph "Joe Black" Young, a hitman employed by the Bonanno crime family, was charged and convicted for the brutal murder of a mob associate in 2005.
Over a century earlier, Edward Kreischer committed suicide at the brick factory, and those who believe in ghosts say Edward can be seen roaming the halls of his brother's mansion.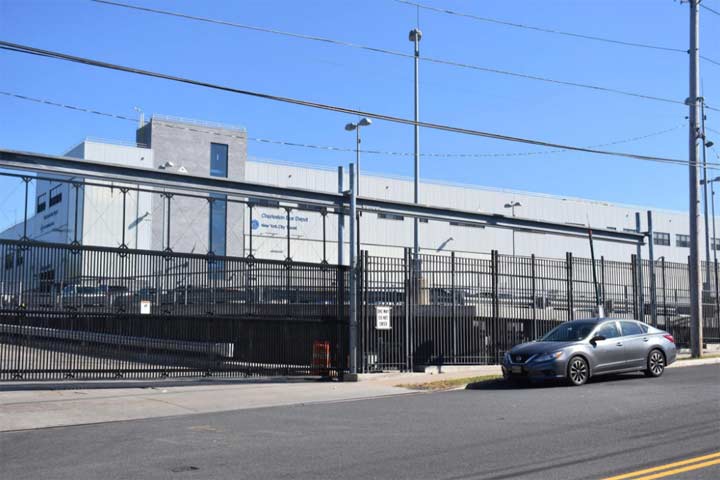 A relatively new addition to MTA operations in southern Staten Island is the Charleston Bus depot at 4700 Arthur Kill Road, built in 2010 (after 30 years in the planning stages) to relieve overcrowding at the Castleton and Yukon bus depots. The depot services up to 220 buses and serves all MTA local and express bus lines that run through the area.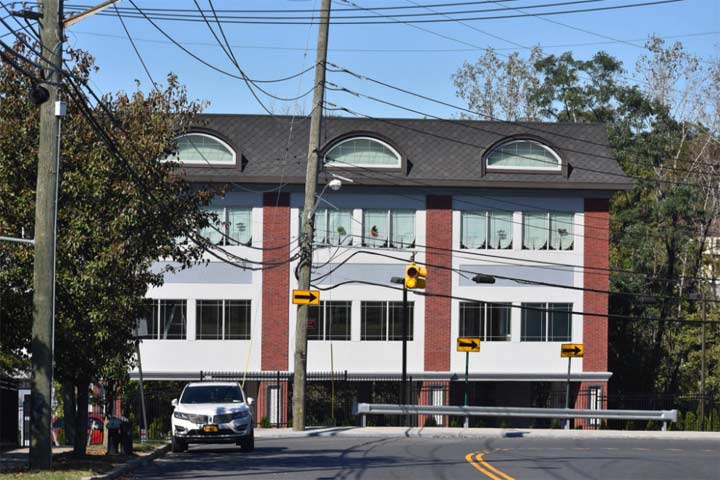 This multifamily dwelling constructed in 2013 stands across Kreischer Street from where the Kreischer brick works were located, in what are now woods on the left side of Kreischer Street to the left of the photo.
There's an Astoria Kreischer connection. Many of the yellow brick buildings constructed by developer Gustave X. Mathews on the streets of Astoria, Maspeth and Ridgewood used brick from Kreischer kilns, and in addition, one of Kreischer's daughters married one of Henry Steinway's sons. Mathews, however, wasn't Kreischer's only client: builders and architects such as McKim, Mead & White and Ernest Flagg (whose own estate is in Todt Hill), Carrere and Hastings and other still well-known names appear in a 1902 Kreischer catalog.
This vintage German-style beer garden at 4254 Arthur Kill Road at Sharrotts Road was built by Nicholas Killmeyer and used initially as a grocery and residence by John Batchelor in 1845. By the 1880s, an addition was built and it became a roadhouse and tavern called Killmeyer's Union Hotel. Now known as Killmeyer's Old Bavaria Inn, it boasts its original bar and pressed tin ceiling, a menu full of sauerbraten, braunschweiger and other sausage treats, and dozens of brands of German beer. Oompah and pop bands play on Sunday afternoons and rock bands play the beer garden in the back on summer evenings.
The gorgeous, intricate woodworked bar, built in 1890, is reason enough to visit although there's a wide beer selection and highly-rated German cuisine.
Imagined German names for Arthur Kill Road and Sharrotts Road.
Bob Mulero got a number of excellent shots of Killmeyer's interior, including these wagon-wheel ceiling lamps…
Oak bar with liquor and beer selection
Woodwork detailing
Carven history
Mounted wildlife
More bar detailing.
Robert Mulero is the webmaster of Street Lights of New York City and the co-author of The History and Design of New York City Streetlights, Past and Present (2016, Dorrance)
Check out the ForgottenBook, take a look at the gift shop, and as always, "comment…as you see fit."
12/17/17