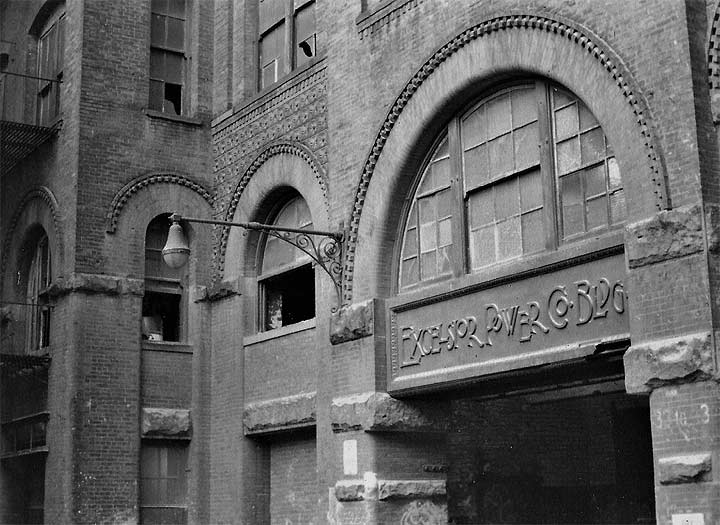 From the Bob Mulero archives comes this photo of the Excelsior Power Company Building, 33 Gold Street between Fulton and John Streets, where Gold meets the tiny Edens Alley. It has changed little since it was built from 1887-1888 and is one of my favorite buildings in town, not least for its Art Nouveau-lettered ID cast metal plaque — that lettering is positively joyous — and for its 1920s-era Type G bracket lamp by what used to be the front entrance. Unfortunately 33 Gold Street is pretty much invisible these days as scaffolding on Gold Street, a narrow path through tall towers, is now more or less permanent in spots.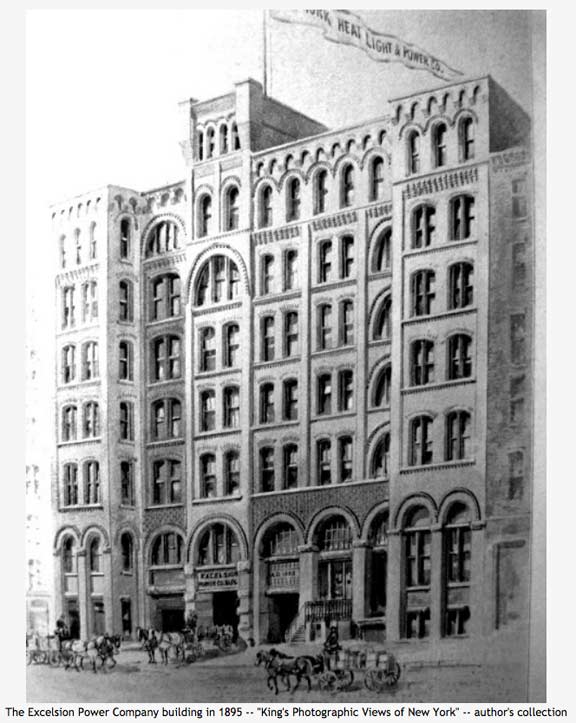 The reliable Daytonian in Manhattan explains that Excelsior was owned by designer/engineer Martin B. Brown and converted steam power into electricity. The headquaters were originally a bit uptown on Spring Street, but when Brown found a better space on Gold, he hired architect William Milne Grinnell to design the new powerhouse, and he came up with a massive brick Romanesque Revival building. The photo above shows that the building was originally easy to photograph, but Gold Street has sprouted megaliths since then.
As with most Romanesques and Queen Anne buildings of the 1880s, there are plenty of interesting touches like differently shaped windows and variegated brickwork that are feasts for the viewer. In addition to the powerhouse, Brown rented other parts of the building to printers and jewelry manufacturers.
By the 1990s, 33 Gold Street had been converted to residences — I would have bought in if I could have afforded it, but since scaffolds now shield the entrance, maybe I'm glad I didn't. The formr grand arched entrance was bricked in and filled by windows, with a smaller entrance built next to it.
As for the wall bracket lamp, it's still there with its Junior Bell lamp, though the glass reflector bowl fell out years ago. There is still an incandescent bulb in it, but who knows the last time it worked.
A look north on Gold, just south of the Excelsior. The scaffold has been there for so long, ads are now placed on it.
Robert Mulero is the webmaster of Street Lights of New York City and the co-author of The History and Design of New York City Streetlights, Past and Present (2016, Dorrance)
Check out the ForgottenBook, take a look at the gift shop, and as always, "comment…as you see fit."
1/30/18