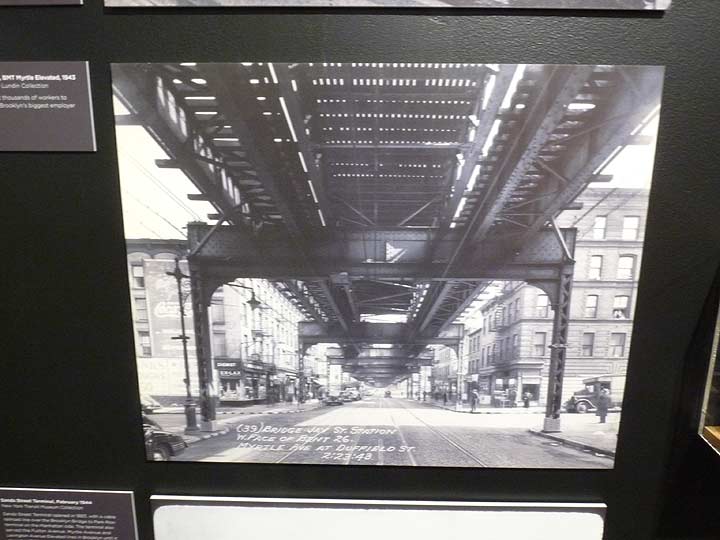 Myrtle Avenue, which runs from MetroTech in downtown Brooklyn all the way out east to Jamaica Avenue at Lefferts Boulevard in Queens, represents a lost opportunity for me, a treasure lost that I will never really be able to obtain. The avenue was laid out as a plank road in the 1850s and, as is well-known, hosted an elevated train route between Adams Street and Broadway between about 1888 and 1969. I only walked under that stretch of the Myrtle El once, in 1965; I was little and vaguely remember it, and I never did get to ride the old World's Fair wooden cars that shuttled on the line until the end. A few years ago, I tried to recapture the old magic by walking Myrtle Avenue from end to end.
I was in the Transit Museum a short time ago to pick up a calendar and took a look at some of the exhibits. One of them was this photo of Myrtle under the el, looking east from Duffield Street. I don't often do "then and now" posts, because that stuff has been done to death, but I couldn't help remarking that everything in this picture has now disappeared. The buildings on either side of the street; the el itself; the Edison lampposts, used exclusively in Brooklyn; the trolley tracks. Everything on Myrtle except Myrtle itself.
Myrtle, looking east from Duffield today. The drivable portion of Myrtle begins here these days; to the west, Myrtle is a pedestrian path through MetroTech Center, opened in the mid-1980s by Brooklyn Union Gas. In the years after the el came down, Myrtle Avenue's flock of dwarf Deskey lamps still stood for a few years along with the brick walkup buildings that bordered the el. But MetroTech heralded the start of a new era.
The brick buildings came down, and gradually, high rise residential towers were thrown to the sky, obliterating everything from the 1943 photo. It's not good or bad, as there have always been things I can't afford. It's just different.
A whole lot different.
Check out the ForgottenBook, take a look at the gift shop, and as always, "comment…as you see fit."
1/2/18