While making my way around Greenpoint in December 2017 (the full journey will turn up on FNY at length) I noticed several items around the neighborhood bestowed with the title "American." Though Greenpoint is as patriotic as the next neighborhood, I'd imagine, the consistent title "American" is in reality not extremely patriotic in origin, nor is it coincidental. The name refers to a former business in Greenpoint.
The American Playground at Franklin Street between Milton and Noble Streets is a standard-issue NYC playground in many aspects with swings, volleyball walls, restrooms, etc. It is overlorded by a huge water tower that formerly served the Greenpoint Terminal Market on West Street. Only now is its buildings been fitted for commercial and residential use. Many of its buildings were devastated by a suspicious fire in 2006. Until 2014, the Polish flag on one side and the inscription "Save The Palestine" were emblazoned on it, but owners of the property painted over the marks in 2014.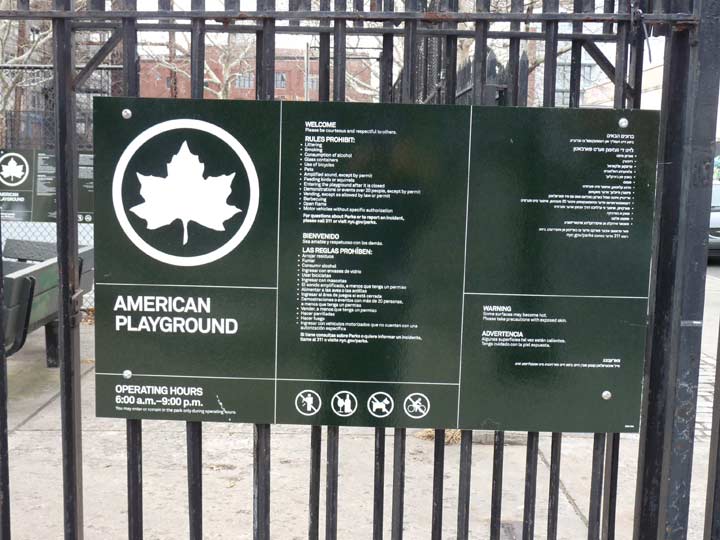 American Playground is named for a long-gone Greenpoint business from when the neighborhood was much more industrial and manufacturing-oriented than today. The layout was simple: manufacturing along the East River and Newtown Creek, and housing of various qualities to shelter the workers and plant managers in the interior streets laid out by developer Neziah Bliss in the mid-19th Century. Goods could be brought up to loading docks by boat or barge and unloaded into buildings, or trucked or transported by rail to them. The American Manufacturing Company, founded in 1890, produced rope and bagging and grew to become one of the largest concerns in the world, encompassing five full blocks between Franklin and West. The playground sits on one of the manufacturing company's sites. The City leased the site from American as early as 1927, and it became a full fledged playground in 1955.
The American Deli at Franklin and Milton takes its name from the playground. It was been relatively impervious to the gentrification along other stretches of Franklin Street (which was laid out by Bliss as a highway to Hunters Point in the 1800s). No matter what income, affordable lunch is always favorable. But how long can they hang in? The landlord no doubt would like something there than can pay much more.
American Package, at 226 Franklin at Green, is a few blocks north of the former American Manufacturing site. But since American Manufacturing did produce paper products, perhaps the name similarity is not completely coincidental.
Check out the ForgottenBook, take a look at the gift shop, and as always, "comment…as you see fit."
2/13/18