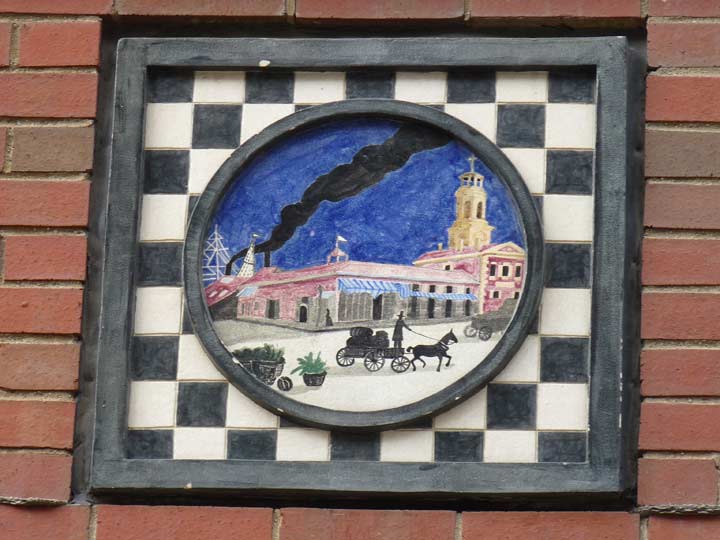 For a long time I have been interested in the terra cotta plaques on Intermediate School 234 in Tribeca, that depict scnes of a long-gone Manhattan era including the old Washington Market. IS234 was built on Greenwich Street between Chambers and Warren in 1988.
The Washington Market district occupied several blocks in the area from the late 1770s through the 1960s, when the market was condemned to make room for the World Trade Center. The old Washington Market building stood on Washington Street between Fulton and Vesey until 1956. The market sold food from the world over and gave rise to separate districts handling butter, eggs and other commodities.
The old Washington Market district stood barren and empty for much of the 1970s (the Independence Plaza housing project built on some of its old acreage beginning in 1973) and as late as 1980, there were still empty blocks.
The plaque here shows St. John's Chapel, which stood on the east side of Varick Street between Beach Street (now Ericsson Place) and Laight Street. The church, an uptown chapel of Trinity Church, was designed by John McComb Jr. and constructed in 1803. There was an addition deigned by Richard Upjohn in 1857. Originally it was set amidst New York City's toniest neighborhoods, but when Trinity Church sold the St. John's Park, located across Varick Street, to the Hudson River Railroad for a downtown freight terminal in 1867 (the original southern end of what is now the High Line) the character of the neighborhood changed and Tribeca went "downhill" for over 100 years and was home to warehousing and light manufacturing before its late 20th Century gentrification.
When Varick Street was widened to make way for the new IRT subway in 1918, St. John's Chapel was torn down. The railroad terminal itself succumbed in favor of approach roads for the Holland Tunnel in 1927. The chapel is remembered by this plaque at IS 234; the mosaic panels in the Canal Street IRT station at Varick, opened in 1918, the year the chapel was razed; and by St. John's Lane, which had run along the rear of the chapel.
Check out the ForgottenBook, take a look at the gift shop, and as always, "comment…as you see fit."
2/5/18