Shortly before Christmas, and before an extended freezing spell that began the day after Christmas, I took the ferry across Upper New York Bay to Staten Island and walked a few miles from the ferry to Clove Lakes Park. I'll have more on Clove Lakes Park a bit later on in Part 2, but I was keen on walking for some distance on Victory Boulevard — I had walked its western end in Travis in 2006 and again in 2015, but had not walked for any distance on its eastern stretch near the ferry, which has some relics worth noting, and — always worthwhile when doing one of these walks — some unsuspected surprises.
Part 1 left off at Louis Street/Hero Park. From here, I decided to get off Victory Boulevard and skirt the north end of Grymes Hill along Howard Avenue on my way to Clove Lakes Park. (Those hoping for an exploration of Silver Lake Park will have to settle for a later installment but I do hope to get there soon.)
Grymes Hill is easily glimpsed from the Stapleton Staten Island Railway station, looming over Staten Island's north shore communities. Grymes, along with Wards, Emerson, Todt, and other mid-island hills, are the legacy of a glacier that reached its southernmost limit and provides New York City with its only mountainous areas: the hills are the highest on the east coast south of Maine, and from their summits can be glimpsed both the towers of Manhattan and the Watchung Mountains in Northwest New Jersey. Vistas are precious and few, though; much of these hills are occupied by private estates. Grymes Hill itself is named for the widow of the first governor of Louisiana, Suzette Grymes, whose mansion, Capo di Monte, was one of the first in the area. Another prominent mansion was built by Major George Howard (of Howard Avenue fame) between 1830 and 1836. The region was home to prominent families: cruise ship scion Edward Cunard's mansion is now a part of the Wagner College campus and boasts a magnificent view of Manhattan visible from Howard Avenue; and the ever-present Vanderbilts, who also owned estates on the hill. Both Grymes Hill and Clove Lakes Park were part of a vast 5,100-acre tract granted to New York Governor Thomas Dongan (1634-1715) in 1687 and later passed to his heirs, who sold off the property in bits and pieces.
Bear in mind that I took this walk quite close to the winter solstice — the darkest days of the year, and combined with a thick cloud cover, this day was dark indeed.
Howard Avenue begins at Louis Street at Hero Park, a block south of Victory Boulevard, and runs southwest to Clove Road, zigzagging in a "serpentine" fashion (more on that later).
A pair of Howard Avenue homes. Styles range from Tudor to Spanish Colonial and many others. Most on the south side of the avenue boast enviable views of the Narrows.
Notre Dame Academy, on the north side of Howard Avenue from #74-134, consists of several gorgeous Tudor buildings as well as other styles. The Roman Catholic K-12 school for girls was founded in 1903 by William Miller-Jones (who was actually a Quaker) and has always been staffed by the School Sisters of Notre Dame (Our Lady) as was my own grade school, St. Anselm of Bay Ridge. In the past couple of decades, additional estates along Howard Avenue were purchased so that the current campus now occupies 13 acres.
Casa Belvedere, the Italian Cultural Foundation since 2008 at #77-79 Howard, was constructed in 1908 as the estate of Louis A. and Laura Stirn (granddaughter of John Roebling, who helped build the Brooklyn Bridge). It's one of the many houses along the south side of Howard Avenue that have a great view of the Verrazano-Narrows Bridge.
Through innovative programs, exhibits, and events, the Foundation seeks to preserve and promote an appreciation of Italian language, arts, literature, history, fashion, cuisine, and commerce while also celebrating the Italian heritage and the contributions of Italians and Italian-Americans to the fabric of the United States.
Eddy Street is one of only three streets that directly connect Howard Avenue and Victory Boulevard. It's quite short but midblock you will find this handsome French Second Empire mansion. Major George Howard built his own mansion on Eddy Street in the 1830s, and later sold it to historian George Anthon, but I don't think this is the same building. The building was for sale in December 2017, if you can cough up a couple of million.
Howard Avenue and Eddy Street was also the site of the Horrmann Castle, constructed in 1910, the home of beer mogul William Horrmann, who inherited Stapleton's Rubsam & Horrman Brewing Company from his father, company founder August Horrmann. The mansion was demolished in the 1960s after its use as a convent for several years.
Another pair of Howard Avenue houses with spectacular views. You get what you pay for!
Before today's walk I had been unaware that St. John's University has a campus on Grymes Hill, and a large one at that. The campus is centered around the Herbert Gans mansion, #300 Howard Avenue, not pictured here, that was constructed in 1915. Gans, as William Miller-Jones before him had, befriended one of the Sisters of the Congregation of Notre Dame who had recently initiated the Notre Dame Academy, as we have seen. He sold his mansion to the Academy, and Notre Dame College for women was founded in 1934. By 1965, Notre Dame College had expanded its acreage by purchasing Gans' properties as well as surrounding estates. Finally, in September 1971, Notre Dame combined with the St. John's University Brooklyn campus to become the Staten Island campus of SJU, admitting men and women. 2,000 students attend a campus of approximately 16.5 acres.
A bend in the road here on Howard Avenue rates a blinking yellow signal. I'd like to know what criteria dictate a blinking red, blinking yellow, or Cyclops blinking red or yellow. Or maybe it's just what the Department of Transportation has in the yard when it's being installed?
From Howard Avenue, Park Lane descends toward the bottom of Grymes Hill at Van Duzer Street. It's a twisting path via Oakland Terrace. I walked some of this for my Grymes Hill FNY page.
Requesting a little help here. At the west end of the SJU campus stands this tall object, fenced off and padlocked, which I can only guess is a water tower. Am I right?
Claire Court is a dead end at the top of Grymes Hill. It is lined with minimalist ranch houses like this one.
Signal Hill Road also descends the hill toward Van Duzer Street, ending at Park Lane. Signal Hill is Grymes Hill's former name, so called because during the Revolutionary War, the British established lookouts and signal stations here.
Edging near Wagner College, this is the fantastic view of Stapleton, Clifton, the Verrazano-Narrows Bridge, the Narrows, and Brooklyn visible from the parking lot. From here, Hillside Avenue descends the hill to Van Duzer Street. The Park Hill Apartments, a vast array of 6 and 7-story buildings, can be seen in the foreground. Help me again: what is the tall building in Brooklyn seen through the bridge? (I lost patience looking at the aerial views on Google Earth.)
This was my first visit to the Wagner College campus in Grymes Hill. I was familiar with the name since Wagner was in the habit of wiping out the St. Francis College Terriers in basketball (which they are still doing) and I was aware that they are on Staten Island, but that was about it. I must say that other than a couple of cars in the parking lot, it was just me and the birds and squirrels today. I strolled right onto the grounds as if I worked or went to school there, no checkpoint charlie or anything else; no "canIhelpyousir" that means "WTF are you doing here" and nor was there anyone to freak out when I aimed the camera, as there was at the St. George Library or Bronx Community College. The place was completely desolate as classes had let out for the Christmas break, and I had the run of the campus. Still, I did not hang around long, as I feared the longer I was there, the greater chance of confrontation I took.
Wagner has its roots in upstate Rochester, NY, where Lutheran Pro-Seminary was founded in 1885. The Wagner family donated funds toward the campus, which provoked a name change to Wagner Memorial Lutheran College of Rochester by Justice James Angle of the NY State Supreme Court the following year. The college, whose name was streamlined to Wagner College in the 1950s as it lost its original ministerial training theme and became a general admission liberal arts school, moved here to the former Cunard property in 1918; Sir Edward Cunard's home, constructed so he could watch his cruise ships enter New York Harbor, was incorporated into the campus as Cunard Hall.
I strolled on the mall to the immense Collegiate Gothic Main Hall, constructed from 1929-1930. The building was designed by architect George W. Conable, who had prepared plans for the Singer Building, and was also the designer of the Trinity Lutheran Church on Staten Island, as well as numerous hospitals, residences and churches. [Wagner]
Megerle Science Hall, which includes the biology, chemistry, microbiology, nursing, physician assistant, and physics labs.
It was fun to be on an actual campus. My "alma mater," St. Francis College, was located in a single building in Brooklyn Heights and billed itself in the promotional materials I received asa high school senior as having Brooklyn Heights as its campus. Sadly, I did not explore the Heights as much as you'd think I would have back then, as I did not have ambitions of creating a New York City publication concerning its infrastructure or unknown or forgotten aspects. Brooklyn College, by the way, shoos out camera-wielding shamblers or bike riders, that's why I don't have a lot of photos of its campus.
As stated, I did not hang around Wagner long for fear of being removed, but if anyone's a Wagner student, faculty member or alumnus/-a and wants to show me around, I'll be happy to tag along. I exited along Campus Road…
…at a weed-strewn empty lot. Actually I know this area quite well. It's the former site of the Augustinian Retreat House, which was torn down a few years ago after years of abandonment.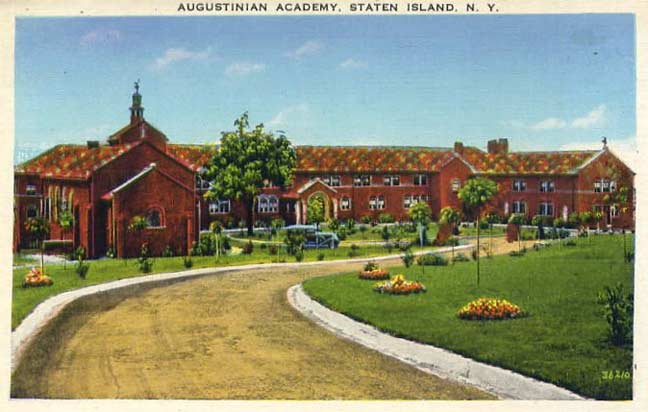 Little did I know when attending a religious getaway with my senior high school class in November 1974 at the Augustinian Retreat House, 144 Campus Road just east of Howard Avenue, that a couple of decades later the building, now in ruins, would become a mecca for urban explorers and the subject of dozens of ghost stories.
The ravaged building, hidden under a thick canopy of weeds, ailanthus and ivy, was the home of the Augustinian Academy, a Roman Catholic institution incorporated in 1870. The Society purchased this property from Erickson N. Nichols in 1922 and built a prep school here; classes were held until 1969, when it was converted to a retreat house. The Augustinians sold the property in 1985, and it had passed through many hands since, with Wagner College now owning the property. Nothing has been done to it at all by human hands for over twenty years.
I wandered onto Campus Road in the mid-1990s, just out of curiosity to see the place again, and was shocked to witness what a state into which it had fallen. Online urban explorers told tall tales of murders happening here, ghosts haunting the halls, and levels and sublevels too deep to venture into; I saw a building where I witnessed prayer, laughter and tears, left for the elements to tear it apart. The Academy's Celtic cross-shaped fountain and bell tower were still discernible.
Only a street sign exists today as a reminder that the place was ever there. The Rev. Lyle R. Guttu was chaplain, dean of students and a special assistant to the president at Wagner College; he passed away in 2007.
Here, Hoard Avenue begins its "final descent" down the hill to Clove Road as the neighborhood of Sunnyside is spread out at the bottom of the hill.The remnants of a metal wire fence can still be seen along the side of the road.

When I was a kid, as I pored through old street directories (yes, yes, I know…) I spotted a listing for Serpentine Road, which the stretch of Howard Avenue between Hillside Avenue and Clove Road was formerly named. Back then, I assumed that "serpentine" was so named because Howard Avenue twists and turns as snakes do. Actually serpentine is a form of rock that makes up a lot of the naturally-found boulders near the surface especially in northeast Staten Island. Striations and squiggles in the rock surface resemble snakes, hence the name. Minerals found in Staten Island serpentinite include talc, lizardite, chrysotile, brucite and magnetite. Prior to the Civil War, Staten Is;and's serpentine was mined for iron and anthophyllite, used to manufacture asbestos tiles by the H.W. Johns Manufacturing Co., which evolved into the Johns Manville Corporation.
The names of Clove Road and Clove Lakes Park (which I will discuss shortly) have nothing to do with clover; instead, "clove" is derived from the Dutch term for "cleft," and to gain perspective on why, observe how the nearby Staten Island Expressway divides Grymes Hill to its north and Emerson Hill to its south; the expressway describes Clove Road's route "cleaving" the hills.
The Staten Island neighborhood of Sunnyside is clustered around the X formed by Clove Road and Victory Boulevard at the south end of Clove Lakes Park. It was named for a former boarding house at that very corner. Coincidentally there is also a Sunnyside in Queens, home to the famed Sunnyside Gardens housing project, and Staten Island's Sunnyside also has a much shorter Northern Boulevard.
Other than the park and its ice skating and ice harvesting, Sunnyside ws also home for the Victorian pile, the Swedish Home for the Aged, which was unceremoniously torn down about a decade ago. Formerly, it was home to Cornelius Vanderbilt's daughter, Alitia, whose husband, L.B. La Bau, is remembered on a street sign as Labau Avenue.
Other Sunnyside names bear New York State Native American county names: Oneida, Cayuga, Seneca, Ontario, Genesee, Niagara, Catarraugus, Schoharie.
I took a number of photos of the John King Vanderbilt House, 1197 Clove Road, just north of Victory, because it appears to be not long for the world. It dates to 1836 and is worth a visit if only so we can see how even the greatest among us can be brought low. It was originally a country farmhouse owned by a scion of the famed railroading magnate family and was subsequently owned and restored by relative Dorothy Valentine Smith, who wrote several historical books about Staten Island and helped found the Historic Richmond Town collection of historic buildings.
Meanwhile, D.V. Smith's own former home, 146 Waldron Road, just around the corner, has been well-maintained. It is a landmarked Queen Anne style house of more recent vintage, built in 1895. Bear in mid that Waldron Road does not quite reach Clove Road and a hike across some grass, mud in foul weather, is needed to see the place.
The Dorothy Valentine Smith House stands on land which during the 18th century was part of a farm owned by successive generations of the Corson family to which she is related as well as to the subsequent owners and occupants of this property, all members of the interrelated Vanderbilt and Vredenburg families. Employing elements of Queen Anne style, as it was used in the United States, the house was constructed in 1893-95 for John Frederick Smith, Miss Smith's father…
The Smith House bears a complementary relationship to the adjacent John King Vanderbilt House (1197 Clove Road) built in 1836, which, although using a different stylistic source, has many similarities in facade elevations and plan. A leading figure in Staten Island banking and insurance circles, John Frederick Smith was also an active participant in Staten Island's civic and cultural life. His house on Clove Road became his daughter's lifelong home. Miss Smith, like her father, was involved in many civic and social service organizations, and she was a staunch guardian of Staten Island's history. Author of several books and numerous articles on the subject, Miss Smith also played a pivotal role in Richmond Town Restoration Inc. and the Staten Island Historical Society, all activities which helped Staten Islanders to recognize the importance of their heritage. NYC Landmarks Report
Clove Lakes Park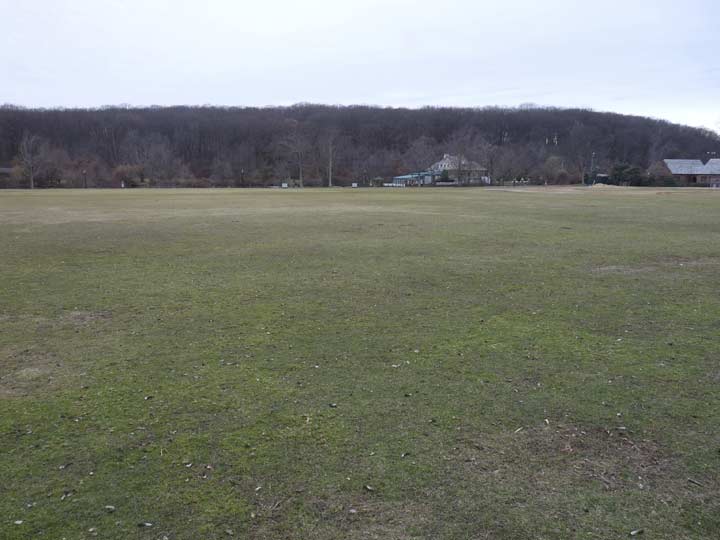 In my early years, a frequent destination for my parents and I was Clove Lakes Park, originally the last stop of the R-7, on Victory Boulevard and Clove Road. When the R-7 became the S-53, the line was extended to Port Richmond, then a bustling shopping area on the north shore that suffered greatly once the Staten Island Mall was built in the 1970s.
It was Clove Lakes Park that my nascent knack for exploration took its first root. One sunny summer afternoon in 1965, my parents and I bundled off for a picnic at Clove Lakes when I started getting a bit bored and decided to strike off on my own, heading up and down the park paths in the deep woods. Clove Lakes Park is 198 acres, and exploring it takes quite awhile. However, I was able to cover a lot of ground and lost track of the time and soon, the whereabouts of my parents. An hour or two later, a park ranger and my old man, both riding one of the Parks Department buggies, found the 8-year-old Vasco Da Gama who, by then, had lost a shoe. I have obliterated it from my mind, but the old man always said that was the one and only time he gave me a whompin'. I do recall that I was dreading my mother's reaction as we rode the bus back home, because she was the real yeller and screamer in the family, but instead, she merely said I had received sufficient punishment.
But the course was set. I began exploring Queens and Brooklyn by bicycle in a few years, making mental notes where the "good stuff" was, and then began walking the city by foot with my camera.
Clove Lakes Park's NYC Parks department offices are located in a picturesque ashlar stone building that former NYC Parks Commissioner colorfully named Stonehenge, after the British Neolithic-era structure. It looks out on the widest lawn I've ever seen in a NYC park — rivalling the one in Van Cortlandt Park in the Bronx, though not Central Park's Great Lawn.
A similar building at the edge of Clove Lake itself is the Stone House restaurant/catering hall, popular for weddings.
Clove Lake, one of a series of dammed lakes, actually ponds, in Clove Lakes Park.
Of all Staten Island's green spaces this, along with Silver Lake Park to the east, is the most developed and most closely resembles landscaped Central and Prospect Parks; it's dominated by picturesque bridges, winding walkways, close-cropped grass and artificial brooks. Rent a boat or a horse, and traverse its ponds and bridle paths. In 1965, I exercised a nascent desire to explore by wandering away from my father into the park's hills, necessitating an afternoon-long search and a smack on the rear once found.
The brook that wanders through the park, Clove Brook, is a tributary of Palmer's Run, which eventually empties into the Kill Van Kull. Beginning in 1825 by miller Abraham Britton, it was dammed into a series of ponds, Brooks Lake, Martling's Pond (a.k.a. Richmond Pond), and Clove Lake. Where the brook meets the ponds, you will see a succession of picturesque waterfalls, the only ones on the island. The dams were originally built by 17th Century NYS Governor Thomas Dongan; the resulting water pressure was used by local mills to grind grain and saw wood. Ice was also harvested in the ponds, when winters were colder longer.
One of a series of picturesque bridges that cross Clove Lake and its brother ponds. No two are alike except some of the smaller wooden bridges.
There is a grouping of relatively rare Type E park posts along the pathways surrounding the lawn. Type E's can be chiefly identified by the extra piece of molding midway on the shaft.
Another in the series of eclectic bridges.
A small manmade waterfall along Clove Brook.
Losing the light, I stuck to the paved paths on the edge of the waterways. On the left you see a path into the heavy wooded area; back in 1965, I followed this, getting into hot water with the old man, and met with a series of bridle trails.
The sheer variety of Clove Lakes Park's bridges is comparable to Central Park's. This one is a simple wood bridge crossing the creek.
Staten Island is still dominated in some areas by relatively wild ground, interspersed with maintained yet unobtrusive blazed trails that are named and marked by color. Though Parks, to my knowledge, doesn't publish a comprehensive list of such blazed trails, Bruce Kershner's handy volume Secret Places of Staten Island lists them. On my walk today, I noticed that the Blue Trail runs along paved paths on either side of Clove Lakes Park's trio of ponds.
The brook that wanders through the park, Clove Brook, is a tributary of Palmer's Run, which eventually empties into the Kill Van Kull. Beginning in 1825 by miller Abraham Britton, it was dammed into a series of ponds, Brooks Lake, Martling's (or Richmond) Pond, and Clove Lake. Where the brook meets the ponds, you will see a succession of picturesque manmade waterfalls, the only ones on the island.
Martling's Pond, or Richmond Pond, one of the string of ponds created by dams along Clove Brook. I have always marveled at geese and ducks' ability to stand on the thinnest of ice without breaking through.
Martling Avenue is the only road between Victory Boulevard on the south and Forest Avenue on the north that carries traffic through Clove Lakes Park. It sits on top of a spectacular stepped dam, the park's largest. As Sergey Kadinsky shows in Hidden Waters Blog, the dam once had a public swimming pool on its north side.
Yet one more public footbridge and dam carries pedestrians over Brooks Lake, in the northern end of Clove Lakes Park.
Here Clove Brook drops underground under Forest Avenue, resurfacing at Palmer's run in Port Richmond, where it empties into the Kill Van Kull.
With light failing at 3:30 PM, time to kick it in the head and catch the S48 to the ferry; the ferry to the #1 train; the #1 train to Penn Station and the Long Island Railroad to Little Neck.
I do this all so you don't have to, in the pages of Forgotten New York.
Check out the ForgottenBook, take a look at the gift shop, and as always, "comment…as you see fit."
2/4/18