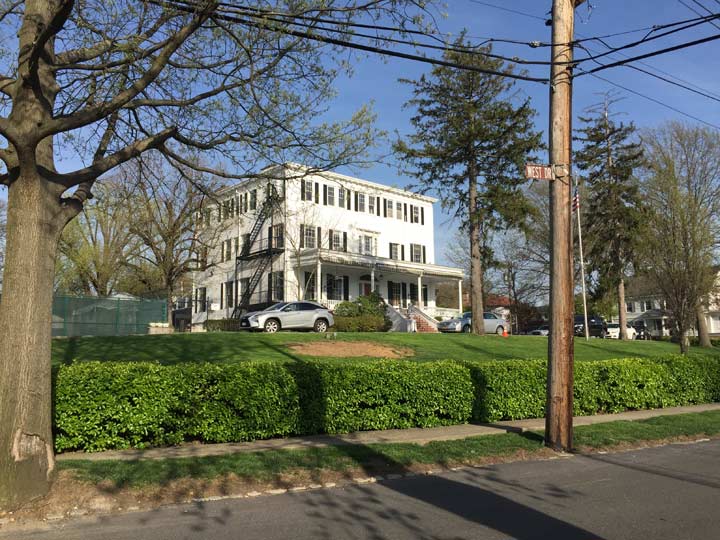 Major Thomas Wickes, a patriot originally from Huntington, owned the entire Douglaston peninsula jutting into Little Neck Bay after the Revolutionary War, and subsequently sold it to Wynant Van Zandt in the 1810s. Scotsman George Douglas purchased the peninsula from Van Zandt in 1835. The region was later developed as a suburban resort and exclusive enclave, and enjoys pleasant views of Little Neck Bay and Long Island Sound. Streets were laid out in 1906 by the Rickert-Finlay realty company, who had purchased the property from William Douglas, George's son, and eclectic, individualistic homes were built in the area, which has always been among Queens' most affluent. The streets have retained their original names and have ignored the Queens mania for giving every street a number. The Douglas name was appended to the area in 1876, after William Douglas had donated a Long Island Rail Road stop. Today, mansions in Douglas Manor can sell for $4 million or more.
The Wynant Van Zandt residence at West Drive and Beverly Road was built in 1819. It was William Douglas' residence for many years, as well, so it has been occupied by the two men most responsible for the settling and development of the peninsula. When the Douglas family sold the building in 1906 to a development company, the building became the Douglaston Inn and the 18th Century Van Wyck farmhouse further south on West Drive became the Douglaston Country Club. In 1921, the Douglaston Club purchased the Douglaston Inn and moved into the larger property. The farmhouse still stands but is privately owned (with a large hedge surrounding it).
Presently the Douglaston Club boasts five tennis courts, a swimming pool, 3 bowling lanes, and the Douglaston Yacht Squadron sails on Little Neck Bay.
The young John McEnroe honed his tennis game at the Club in the early 1970s. In 1977, McEnroe and fellow Douglaston resident Mary Carillo won the mixed doubles championships at the French Open; the outspoken McEnroe (on the court and off) went on to a lengthy career in tennis, with epic battles against the likes of Jimmy Connors and Bjorn Borg.
Check out the ForgottenBook, take a look at the gift shop, and as always, "comment…as you see fit."