It's not mentioned often but Astoria and its neighbor Ravenswood were once a hotbed for silk manufacture and production. Several remaining buildings scattered over the region are former silk production buildings, with minuscule clues to prove their past identities. One such is Pistilli Riverview East, an apartment complex developed by the Joseph Pistilli Realty Group. Astoria oldtimers may remember the complex, which fills the entire block between 23rd Terrace, 24th Avenue and 19th and 21st Streets east of Astoria Park as one of the many Eagle Electric factory buildings that dotted Astoria for decades. When the complex was constructed in the 19-aughts, though, it was the Gotham Silk Works, a company founded by Moses Charles Migel.
The factory shows up on this 1908 map at Woolsey and Van Alst Avenues, now 24th Avenue between 19th and 21st Streets. The map was made a couple of years before Astoria Park was founded. Note that at the time, there were few other buildings in the area.
Only the corner M's, standing for Migel, at 19th Street and 24th Avenue hint at the building's original purpose, on a building that was constructed over a decade after the original works buildings, which face 21st Street. They are still there, but Pistilli Realty altered them so much that they resemble new buildings.
M.C. Migel (1866-1958) had a fascinating career. Born in Houston TX, his family moved around in South America when he was a youth and he got interested in textiles, becoming a traveling silk supplies vendor. In 1895 he founded his silk manufacturing company, specializing in high quality, expensive dress silks and spun silk novelty fabrics. By 1912 he had amassed a considerable fortune and left the oversight of the silk mills to others, beginning a philanthropic career. During WWI, while assisting in the war effort by supplying silk used in weapons manufacturing, he came into contact with war veterans who had lost their sight. In 1921, Migel assisted in the establishment of the American Foundation for the Blind and became the organization's first president. He combined AFB with overseas foundations, creating Helen Keller International. The Migel Medal was established by that organization to recognize volunteers and professionals in assisting the blind and visually impaired.
The Silks Building in Ravenswood, 38th Avenue and 24th Street, was constructed in the 1920s for the Franco Scalamandre Silks Company. The company produced luxury silk and textiles used in wall coverings, upholstery and other furnishings. Scalamandre was employed by multiple presidential administrations to furnish the White House, and the Hearst family's mansions have also used the firm.
Scalamandre moved to South Carolina in 2004, and the building, still called the Silks Building, is being subdivided into residences.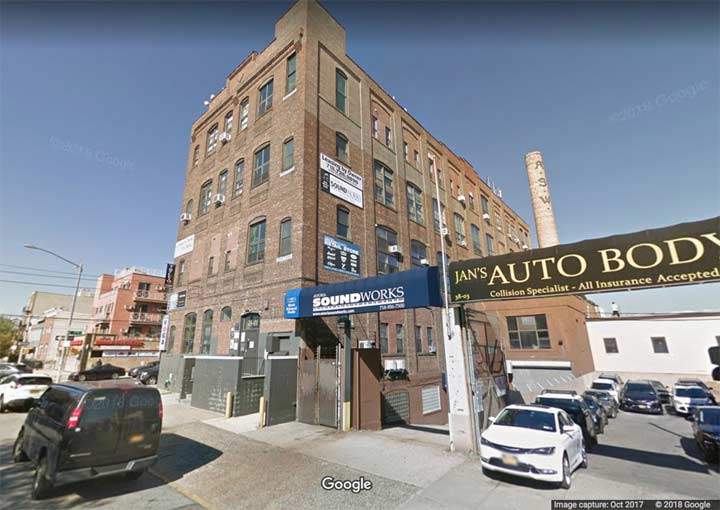 The Astoria Silk Works' old smokestack on 23rd Avenue west of Steinway Street still has an ASW sign, formed by differently-colored bricks. ASW's pedigree is the longest of Astoria's silk works, since the company was first founded in 1888. Owned by the Mattmann family, it obtained wealthy backers such as Colonel Jacob Ruppert and William Steinway. The company went out of business in 1914, but one of its old factory buildings and smokestack still stand.
One venerable remnant of Astoria's textiles-associated past is the Broadway Silk Store at 35-11 Broadway, which opened in the 1930s and is still family-run.
Check out the ForgottenBook, take a look at the gift shop, and as always, "comment…as you see fit."
6/25/18