The late great Tommy Keene had a great song called "Places that Are Gone," about what you'd expect. Periodically I go over my stash of Forgotten New York images between 1998 and 2003 or so, while I was still using a 35MM film camera. On my outings back then, I needed optimum conditions, and rather than spend a lot on film I limited myself to taking 24, 36, 48 or 72 photos per jaunt. These days, depending on settings, I can take as many as 750 to 1000 photos per trip! I never take that many but I have beaten 300 on some occasions, and can use just the creme de la creme.
I was taken aback by just looking through about 6 or 8 folders (I have quite a few more) how many places had indeed gone, or at least changed dramatically, and since I need a relatively quick page this weekend, it's just what the doctor ordered.
Grabstein's was a Jewish deli at the corner of Avenue M and Rockaway Parkway in Canarsie. I believe I obtained the image between 1999 and 2001; Grabstein's had recently closed, but it was still open in 1996 when this NY Times article appeared.
NYC's traditional Jewish delis have been disappearing of late with the more noticeable casualties being the Carnegie in Midtown and Ben's Best in Rego Park, with the owner of the latter blaming Queens Boulevard's new bike lane because it eliminated parking spaces. That could be part of it, but the American diet seems to be moving away from the carbs and big piles of meat on those deli sandwiches toward more healthful fare. (As long as I can always get something at Mendy's when I'm in Grand Central Terminal!)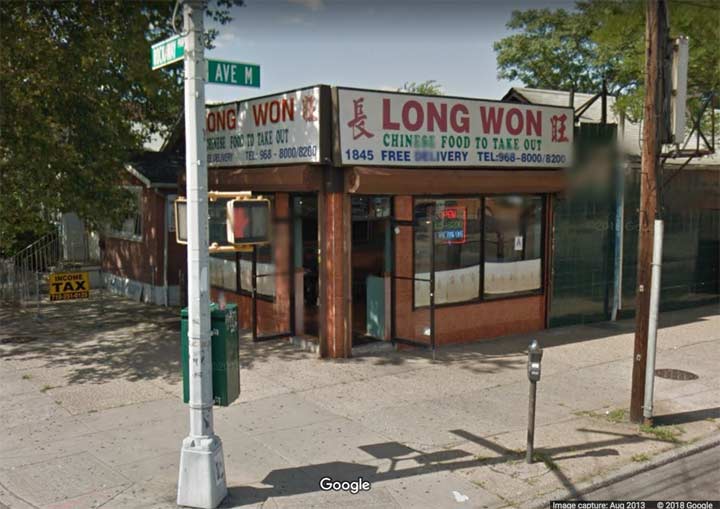 By 2017, Grabstein's had become a Chinese restaurant.
Not a lot of people could have identified this object, which used to be on the corner of Ocean Parkway and Neptune Avenue on the fringes of Coney Island, but I knew right off the bat that since it had a number and a letter M on it, it must be a milestone. In fact I was very happy to find it since I had been previously aware of another remaining Ocean Parkway milestone, the 3M, near Ocean Parkway.
As it turned out, when Ocean Parkway was built (for horses and carriages) around 1870, it had not only mile markers, but half mile markers. Over 140 years, all but one has now disappeared. A mid-century curator at the New-York Historical Society, Richard Koke, in a job I would have loved to have had, did a study of NYC's old roads and their mile markers, surviving or otherwise, as indicated in this NY Times article that also cites your webmaster.
By 2010, the Department of Transportation had done some sidewalk repairs on the intersection and the milestone, which had been next to the bus schedule post, which has the blue circle at the apex, at the center of the photo, was removed. General indifference killed it off, as no one knew to tell the DOT not to discard it.
Nothing special here, just a trio of condemned private homes on 158th Street north of 43rd Avenue in Flushing, a block away from where I lived at the time, 1998-2003.
In short order they were replaced with these objects, which check the boxes of modern residences in NYC. Little or no vegetation in front, metal doors, visible air conditioners and meters, parking spaces in front, and metal terraces that begin to rust even before the residents move in.
In the summer of 2000 I was in Arverne, a section of Rockaway named for its founder, Remington Vernam. South of the elevated, most streets had been abandoned and the buildings all razed — except for a lone synagogue on Beach 67th and Larkin Avenue. There may have even been services still held there at the time.
The synagogue turns up on post cards from the early 1900s, when Arverne was a popular resort area along with other neighborhoods on the Rockaway peninsula. After areas like Jones Beach and Fire Island further east were develoiped, the Rockaway beaches became less enticing and its opulent seaside palaces were all torn down. Amusement parks like Playland soldiered on until the 1980s, but acre after acre along the boardwalk went silent.
During the last decade, a vast new neighborhood, Arverne-by-the-Sea, has been developed, and it rewrote much of the area map with older streets disppearing and new ones built. Larkin Avenue no longer intersects Beach 67th, and prep work has begun for a new batch of Arverne-by-the-Sea houses that will sit where the old synagogue once stood.
Astoria Square, at Astoria Boulevard, 27th Avenue and 21st Street, still looks the same as it did in 2000 except for a large ugly apartment building that is out of the picture on the left. However, take a look at the writing on the wall just below the chimney in the center…
The ad for "Bannon's Cafe Ruppert's Beers" was painted over long ago.
Little did I know when attending a religious getaway with my senior high school class in November 1974 at the Spanish Colonial Augustinian Retreat House, 144 Campus Road just east of Howard Avenue in Grymes Hill, Staten Island, that a couple of decades later the building, now in ruins, would become a mecca for urban explorers and the subject of dozens of ghost stories.
The ravaged building, hidden under a thick canopy of weeds, ailanthus and ivy, was the home of the Augustinian Academy, a Roman Catholic institution incorporated in 1870. The Society purchased this property from Erickson N. Nichols in 1922 and built a prep school here; classes were held until 1969, when it was converted to a retreat house. The Augustinians sold the property in 1985, and it had passed through many hands since, with Wagner College now owning the property. Nothing has been done to it at all by human hands for over twenty years.
I wandered onto Campus Road in the mid-1990s, just out of curiosity to see the place again, and was shocked to witness what a state into which it had fallen. Online urban explorers told tall tales of murders happening here, ghosts haunting the halls, and levels and sublevels too deep to venture into; I saw a building where I witnessed prayer, laughter and tears, left for the elements to tear it apart. The Academy's Celtic cross-shaped fountain and bell tower were still discernible.
Nearby Wagner College bought the plot several years ago, and the academy has long since been razed, leaving just weeds and trees. Only a pair of street signs exist today as a reminder that the place was ever there: "Augustinian Academy Way" ands "Reverend Lyle R. Guttu Way.", at Campus Road and Howard Avenue. The Rev. Guttu was chaplain, dean of students and a special assistant to the president at Wagner College; he passed away in 2007.
Walking past the Bill Brown Playground at Avenue Y and Bedford Avenue in Marine Park in 2000, I was surprised to see a lamp that still had mercury bulb GE M400 and Westinghouse OV25 fixtures. While still relatively frequent outside NYC, within NYC a good deal of these were wiped out by the Sodium Revolution in the 1970s. Any remaining were completely taken out by another replacement program in 2009 — and another one beginning in 2014, this one the LED Revolution. The OV 25 is a later edition that shifted the photocell to the back.
This double mast at Depot Road and Northern Boulevard, at the Broadway LIRR station, held onto its Westinghouse OV 25 up to 2009. It illuminates the parking spaces that widen Depot Road.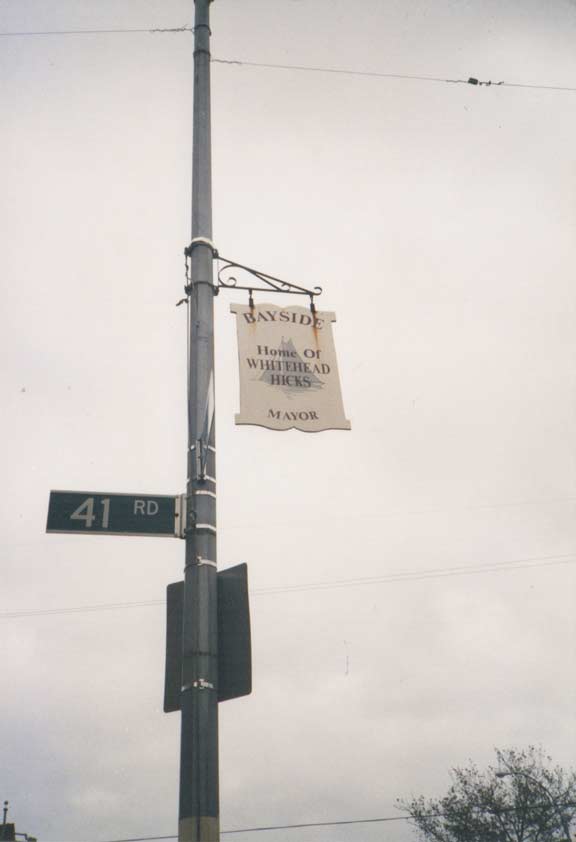 Bell Boulevard, between 35th Avenue and Northern Boulevard, formerly had signs commemorating Bayside residents of note, including NYC mayor Whitehead Hicks (1728-1780). He was born in Queens County in what later came to be called Bayside. He served as mayor from 1766-1776, after which the British began a 7-year occupancy. He is still remembered by Hicks Street in Williamsbridge, Bronx, where many streets are named for early NYC mayors.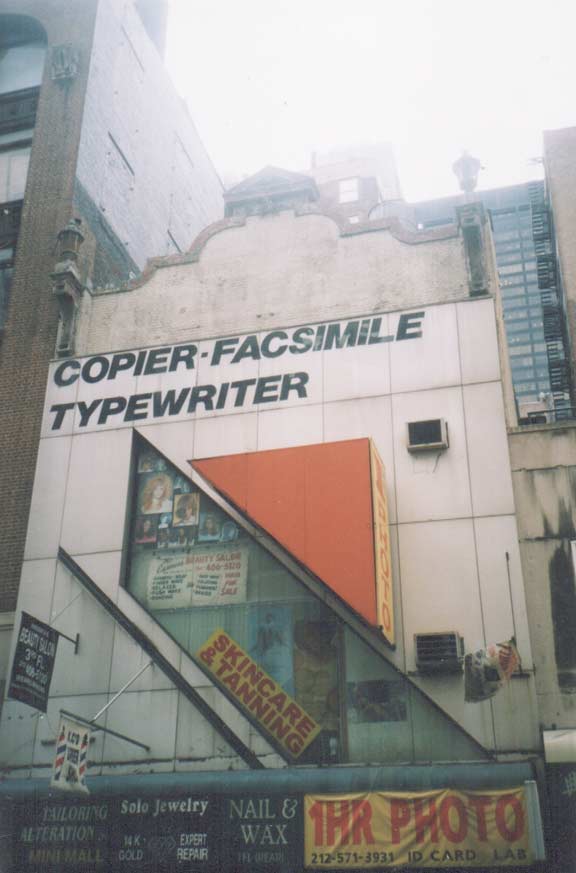 I was always fascinated by this mashup on Fulton Street just east of Broadway. The building was quite old — check the curved pediment and ornamental urns on the roofline. But the bottom had been refashioned in an angular 1970s style. Even by the 1990s, the 'facsimile' and 'typewriter' ads were getting to be old hat, so you had two separate eras going out of date in the same building!
In the 2010s everything here was wiped clean by the new Fulton Center transit building/shopping mall, which promised to untangle the underground maze in which the A, C, J, 2, 3, 4 and 5 trains all transfer to each other, was well as provide a corridor to the R train on Church Street. The building added a gleaming transit mall that has yet to be fully occupied, a little brother to the larger Oculus a block away. The subway connections are still pretty confusing; there's only so much they could do.
(Sometimes, Fulton Center is also called the Oculus; it's complicated.)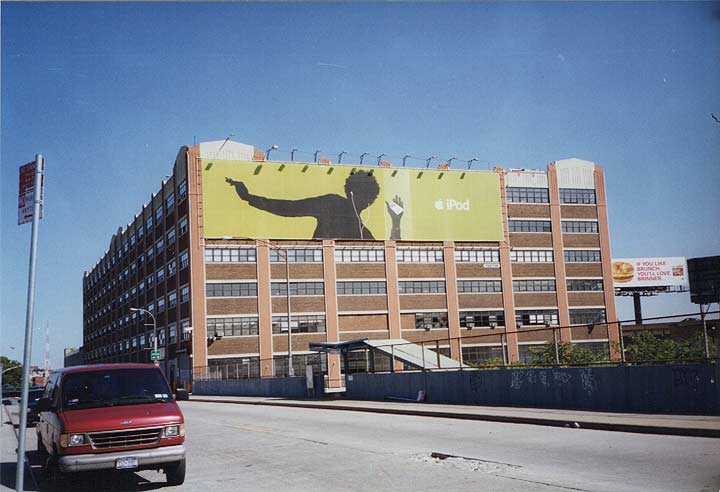 This is 49th Avenue as it crosses the LIRR tracks at the west end of Sunnyside Yards as I found it around 2003. The large building is still there, housing offices for NYCHA (NYC Housing Authority). However, IPods are gradually disappearing. Apple introduced the music player in 2001 to great fanfare; original IPods could support over 100 songs, easily besting Walkman and Discman music players. Within a few years, Ipods could play thousands of songs that were burned from CD collections, purchased from ITunes or, bootlegged from Napster or other file sharing services.
By 2018, the music landscape has changed. Record companies and artists desire greater say over what is available and not available to the customer — and streaming services, where labels and artists decide availability and the customer does not own what (s)he has purchased, has become the norm. IPod technology was folded into the IPhone when it was developed, and today Apple sells only a few IPod models, and will likely phase them out soon enough. It wouldn't surprise me if personal computers also eliminated the ability to play MP3s before long; I had to purchase an CD/DVD separately when I bought my most recent Apple desktop in December 2013.
A demapped section of Jackson Mill Road still ran northwest from 96th Street near Astoria Boulevard, complete with long-disused trolley tracks, back in 2000. FNY reported on this bit of road back in 2010 — it has a fascinating history.
By 2004 developers had completely wiped out this part of Jackson Mill Road without trace. However, a section a few blocks to the north is still extant — see the above link.
Back in 1999 I made a discovery — a small bit of dirt road, complete with an abandoned house– east of Cross Bay Boulevard and north of the Belt Parkway in western Ozone Park. Jeff Saltzman has more photos of this strange, formerly abandoned dirt track.
In the early 1920s, Jaegers Lane was shortened considerably and paved. It is just off Albert Road east of Cross Bay Boulevard, a renamed piece of the once much-longer Old South Road. Jaegers Lane has never been on any maps save Hagstrom editions published from the 1970s on– I'm still trying to find an older map with it. The two houses shown here may well have Albert Road addresses, but I'm not sure –I may have to inspect them personally since Street View doesn't enter this very short cul de sac.
Long Island City Long Island RR terminal in 1998. A consist of MP-72 cars has just pulled into the station, pulled by a locomotive. The train has stopped at intermediate stations on the western "Montauk branch" including Richmond Hill, Glendale, Fresh Pond, and Haberman. Service to these stations ended in March 1998 when new double-deck cars were in production, and patronage at these stations was so slight that the LIRR did not want to build high-level platforms to accommodate them.
Until the early 2000s, the Shea Stadium-Willets Point LIRR station was still illuminated by mercury lighting on these aluminum poles. After that, high intensity LED lamps replaced them on the same poles. When Citifield was opened, the station was renamed Mets-Willets point, as the MTA was not going to give Citigroup free advertising.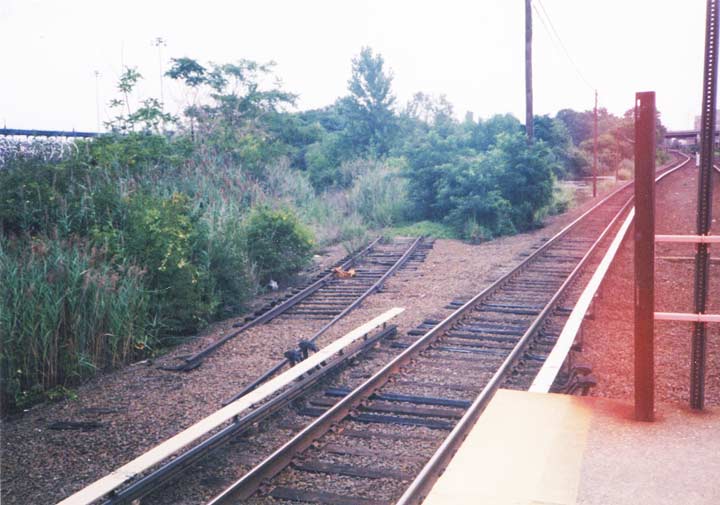 If you walk to the east end of the station, a disconnected piece of track edges northeast. This is the sole trace of the LIRR's Whitestone Branch, which traveled to the East River waterfront at 152nd Street. Although it was fully modern and electrified, the LIRR closed it in 1932 as a cost cutting measure as the auto became the primary means of transportation; though the MTA offered it in a sale to the IRT/BMT (a connection could have been built between the tracks and the Flushing el) the train companies did not bite.
In 2000, Pell Avenue, formerly a very short road running northeast connecting 113th and 114th Streets at 37th Avenue, was demapped and included in Hinton Park. However, the street signs marking it remained in place long after the street was eliminated. The lamppost remains in its old location at what was Pell Avenue and 113th, and a treeline marks the path of the former street.
In 2005, the Hunters Point skyline lost much of its panache when the four ebony smokestacks of the Pennsylvania Railroad powerhouse were removed, as the building edged toward residential conversion. The stacks are seen here looking west on 51st Avenue.
The big building with its tall arched windows and massive granite base was built by McKim, Mead and White beginning in 1903 and was completed in 1909, the year before the firm finished Manhattan's classic Pennsylvania Station. (Some scholars believe Westinghouse, Church, Kerr & Co., the firm that handled Penn Station's mechanical and electrical systems, designed the building, however.)
The Powerhouse was built when the Long Island Rail Road deemed it necessary to electrify most of the western portion of the railroad in Queens and Nassau Counties in preparation for the opening of the East River tunnels leading to the new station. At the same time, the main line from Flatbush out to Jamaica was being electrified along Atlantic Avenue, where the line was being placed in a tunnel and along an elevated trestle; this endeavor would not be fullly complete until 1940. Over 9500 piles were driven in the generating plant's construction; when finished the plant supplied 11,000-volt 25-cycle, three-phase alternating current to substations. 625 volts of direct current are carried on the LIRR's third rails.
The Powerhouse is the second in the country to employ steam turbines. The Power House burned coal to boil water for steam to drive the turbines. By 1910 it contained five generators using from 5500 to 8000 kilowatts.
In 1959 Schwartz Chemical Company moved into the Powerhouse and it has seen mixed use in the ensuing years, a few as an indoor tennis court. The building still remains, with much less exterior personality, as luxury residences.
In this four-story building at 85 West 3rd Street, Edgar Allan Poe lived and worked in 1845 and 1846. Some of his more famous works such as "The facts in the Case of M. Valdemar" (which was made into a movie starring, who else, Vincent Price) were written here.
Poe had three NYC residences: 85 Amity Street (renamed West 3rd soon after Poe left the house), a farm in what is today West 84th Street, and the Poe Cottage in Fordham, Bronx. For 70 years this building hosted the popular Italian restaurant, Bertolotti's. There was also a club called The Gold Bug, a title Poe aficionados would know about.
In 2001 New York University tore down the house, which had never been landmarked, and built a large building to house the NYU Law School. However, the central building was designed to resemble the old building in which Poe had lived. The law school also hosts an annual Poe event.
In 1999, this splintery boardwalk along the A train subway tracks connected 104th Street and Russell Street in Ramblersville/Howard Beach with the Howard Beach train station. The walkway is still there but isn't nearly as rickety as it was paved after my visit, though I have not been back since — over 19 years! FNY can be measured in decades now.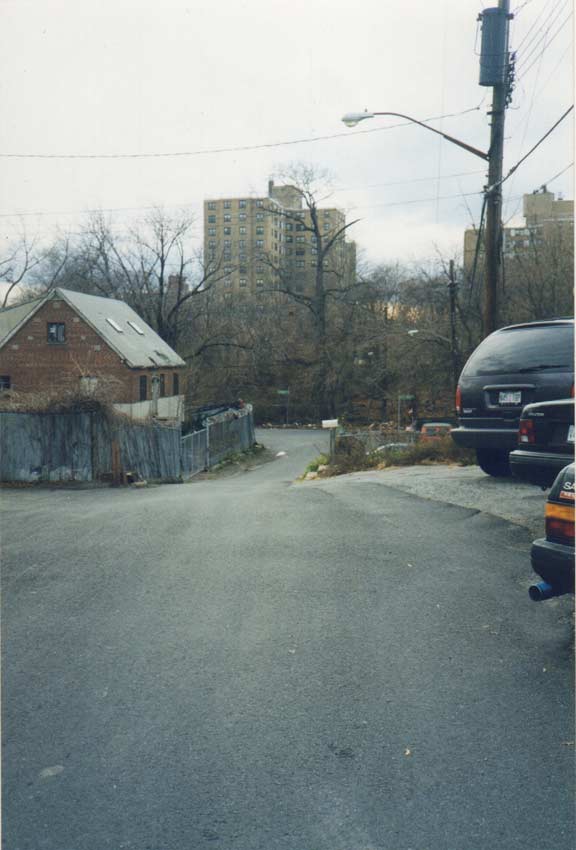 I got this shot of a Bronx backwater, Hollers Avenue in Eastchester, looking toward Steenwick Avenue. The road is bumpy, but had just received a pave job. Note how it is sidewalk-free and narrows considerably in spots. An empty, swampy lot, traversed only by the unpaved Reeds Mill Lane, is at the background.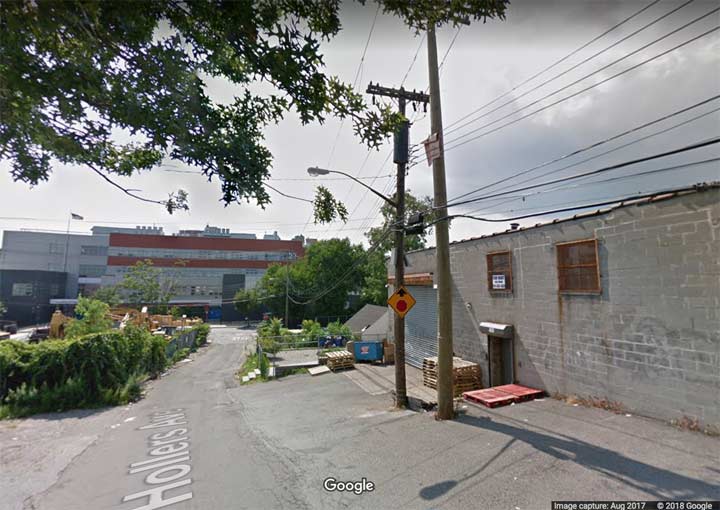 By 2017, Hollers Avenue has remained mostly as is, while the Rosa Parks Educational Campus has replaced the swamp. Reeds Mill Lane was redirected south of the campus, was paved and gained two extra lanes.
This brick building on Adam Clayton Powell Jr. Blvd. between West 137th and 138th Streets was a major mecca of Harlem nightlife in the 1930s in its incarnation as the Renaissance Ballroom. The "Renny" offered dancing, cabaret acts and the finest bands of the era, including those of Vernon Andrade, Fletcher Henderson and Chick Webb. Its builders were William Roach and James Sweeney, from Antigua and Montserrat in the Caribbean Sea.
The adjoining Renaissance Casino was the home court of the 1920s Harlem Rennies, the first all-black professional basketball team, which racked up a 2588-592 record against other local competition in the pre-NBA era.
The "Renny" was razed in 2015; a new residential complex is going up in its place.
A magnificent artifact of somehow proud architectural disintegration on Red Hook's Beard Street, the Revere Sugar Refinery's tangled maze of rusted ruins including conveyor belts, bridges and a refining sphere stretched out toward Erie Basin, where they meet the sunken St John lightship. The huge domed granary could be seen from all over the immediate neighborhood. The Revere Sugar Corporation operated three refineries, in Charlestown, MA, Chicago and here in Red Hook; the company took its name from Massachusetts patriot Paul Revere. The company, once owned by Antinio Floriendo, known as the "Banana King of the Philippines", declared bankruptcy in 1985, and the refinery sat idle from that year until it was razed in the early 2000s.
As of 2017, the lot was still empty, but in the 2010s, Beard Street further east saw the construction of a giant Ikea furniture store, with an equally vast parking lot.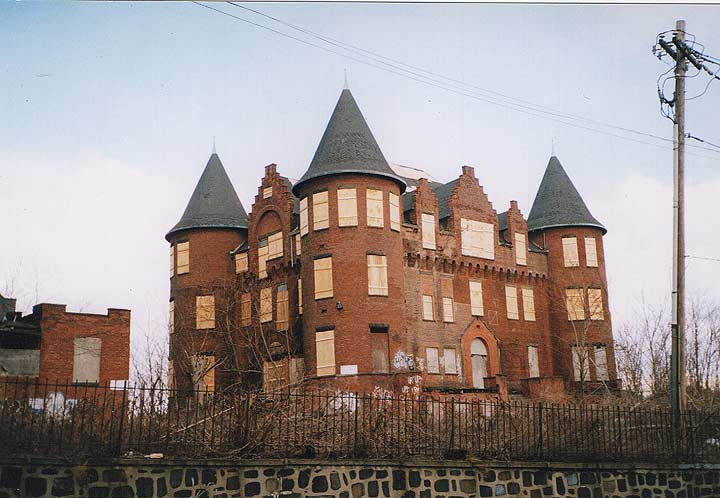 It was one of the longest-tenured abandoned buildings in a borough full of them — see parts of Seaview Hospital, the Staten Island Farm Colony, and the St. Augustine Retreat House, shown above. The castellated, turreted S.R. Smith Infirmary, later the Staten Island Hospital, had sat empty here at Castleton and Cebra Avenues in New Brighton, Staten Island since 1979, making 2009 a full 30 years of catatonia — which stretched to 2011, when it was "mercifully" finally razed.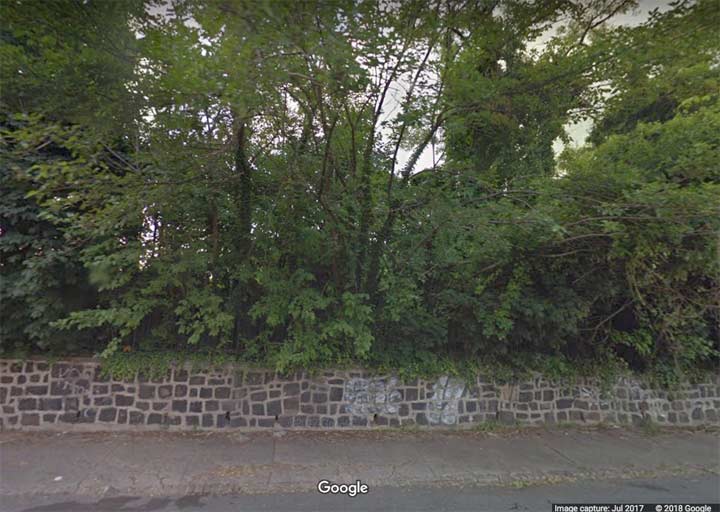 Though the infirmary was razed in 2011, its low stone wall has survived, though nothing yet has been built on the site.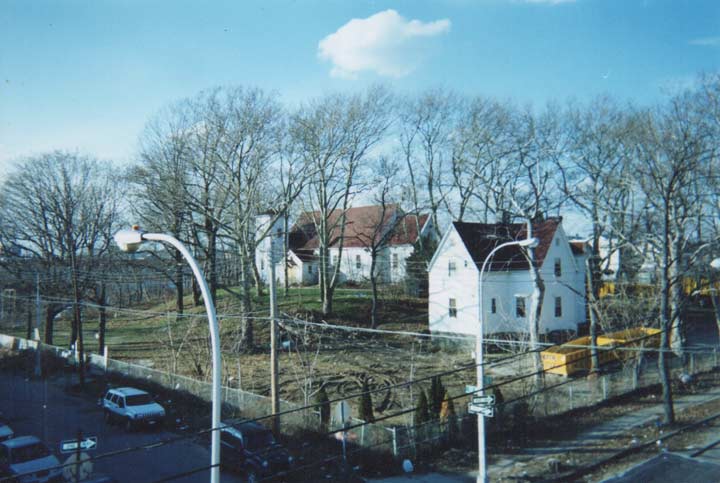 St. Saviour's Episcopal Church (rear) and its parsonage are seen from a rooftop at 57th Drive and 58th Street in Maspeth. St. Saviour's had been there since 1847, before the present street grid had been laid out, on land donated by James Maurice, a prominent lawyer, politician, and landowner. It was torched by vandals in 1970 and considerably altered. after which a Korean congregation moved in. Maurice's name was affixed to a major Queens thoroughfare running along Mount Zion Cemetery from Maspeth to Woodside, and his family's home still stands on Rust Street and 57th Avenue.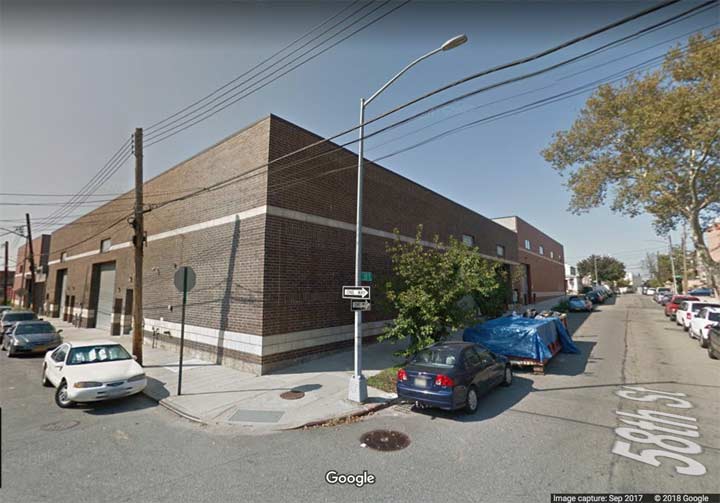 A developer purchased the property in the mid-2000s and despite vociferous local opposition, intended to raze the historic church and build warehousing, which he then did. With the aid of the Newtown Historical Society the church was disassembled and is now in storage, awaiting possible reassemblage in a yet to be determined spot.
In 1893, Louis Comfort Tiffany and his business partner, Arthur Nash, founded the Stourbridge Glass Company in Corona next to the railroad tracks. In 1902, the name of the enterprise was changed to Tiffany Furnaces. His patented "favrile" (handmade) glass was created and manufactured here in this factory, 43rd Avenue and 97th Place, from 1901-1932.
Tiffany's works reached the height of their popularity in the years leading up to WWI and the pieces are now much sought after works of art. Business slowly declined after the war, as tastes had changed with the passage of time. In 1928, Tiffany withdrew from the company, leaving Nash's son to run the business alone under a different name. The Great Depression brought about the end of the company. However, the factory and furnace buildings on 97th Place remain standing and are used till recently. The Queens Museum, located in nearby Flushing Meadows-Corona Park, has a permanent Tiffany collection on display, as does the Metropolitan Museum of Art in Manhattan.
In March 2013, bulldozers were busy wrecking the old Tiffany buildings; a new school, PS 315, has gone up in its place. Shards of Tiffany glass were found in the rubble, which were included in a new sculpture in the school lobby.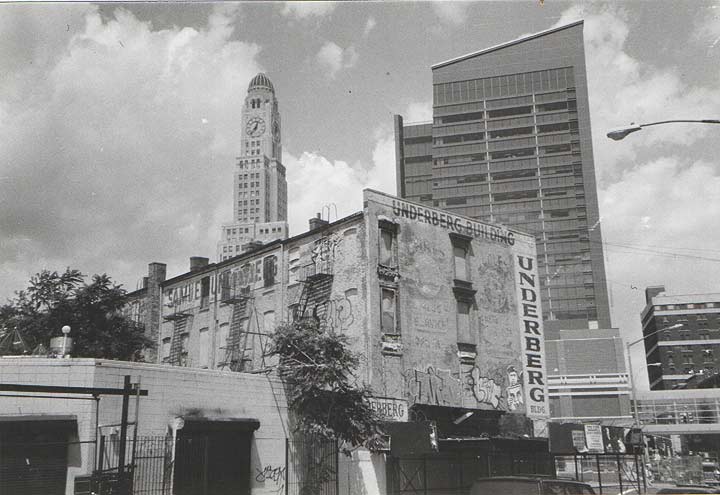 For decades the Underberg Kitchen Supplies building stolidly weathered the changes surrounding it at 5th and Atlantic Avenue. It was a relic of the era when slaughterhouses and meat packing plants occupied the north side of Atlantic Avenue until about 1975 or so. The old LIRR Brooklyn terminal was an old barn that stood between 1907 and 1980, when the building was torn down but the station remained via a staircase underground. By the early 2000s a new station had been built, as well as the Atlantic Center shops, seen here in the background, anchored by a Target.
In 2011 the Underberg Building finally succumbed, with the business moving further east on Atlantic Avenue. in its place stands the faux-rusty Barclays Center, home to the horrible Brooklyn Nets and the New York Islanders, who are moving out as soon as they can to a new Coliseum, scheduled to rise near Belmont Park by 2022.
Check out the ForgottenBook, take a look at the gift shop, and as always, "comment…as you see fit."
6/24/18