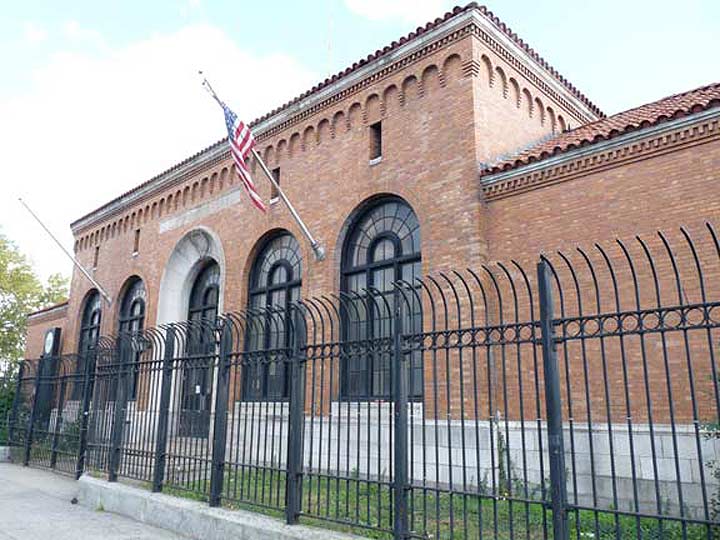 At Ralph Avenue and Flatlands at the west end of Canrsie, near the old Canarsie High School, there's a handsome brick building with arched windows, with entablature proclaiming it to be a part of the Bureau of Sewers (now undoubtedly a part of today's Department of Environmental Protection). It's lined up at the present headwaters of Paerdegat Basin, which used to extend as Bedford Creek well into East Flatbush before it was redirected into the sewer system. There are also a group of streets in Brooklyn with the name, which is close to the Dutch for "horse gate." Possibly, horses were watered using the creek in the colonial era.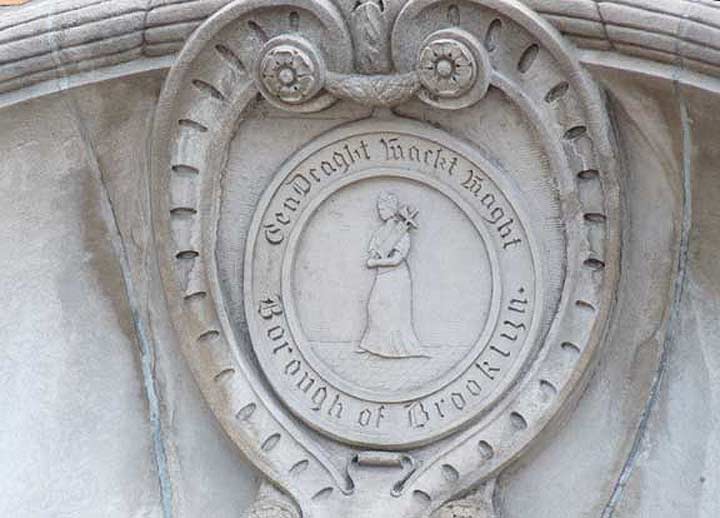 The Brooklyn seal, shown on the entablature, contains the Dutch words Een Draght Mackt Maght, or, "Unity Means Strength." Also shown is a young woman carrying bounds sticks called fasces, representing government (the fasces symbol also appeared on the back of the "mercury" dime from 1916-1945). Brooklyn, and New York City, were in control of the Dutch from 1625 to 1664, and the British pretty much every year after that until the American revolution.
What concerned me, here when I lived in Brooklyn, though, was this oddball Bishop Crook that illuminated the entrance to the sewer complex on Flatlands Avenue. As you can see the shaft bears some resemblance to Type E or Type F posts, but the crook is much different, with simpler scrollwork than the norm.
I'd see this post standing guard, with its Bell luminaire long missing its bulb and glass bowl, on my bicycle forays from Bay Ridge into Canarsie. I didn't carry a camera with me everywhere in those years. Fortunately NYC Lamppost King Bob Mulero did and snapped this photo of it. Unfortunately he did not include the roughly conical base.
Bob did some research and found that the design is included in a 1929 Westinghouse street lighting catalogue. In the Flatlands Avenue instance, I believe the crook was mounted on a Type E or F, not the pole shown here.
The original molds are still in existence…
… and in recent years, the design has turned up on Housatonic Street in Lenox in western Massachusetts.
As for the original…it's gotten a new luminaire and the crook has gotten new scrollwork. It lights the parking lot at the old sewers building today. Give it a visit when you are in the vicinity.
Check out the ForgottenBook, take a look at the gift shop, and as always, "comment…as you see fit."