Though Fort Totten, the former military base at Willets Point in Bayside, has been in my "back yard" so to speak ever since 1993, when I moved to Flushing, and 2007, when I moved to Little Neck, I had never done a whole lot of exploring there. In my early years in Queens it was still semi-official and there were restrictions on regular people like me coming in and going out. Later, much of it was transferred to NYC Parks.
However, Fort Totten isn't a park in the same sense that other eastern Queens parks like Crocheron, Cunningham or even Flushing Meadows-Corona Park are. There is still a heavy official presence in the park and many of the surviving buildings are used by Emergency Medical Services, the people who bring you to the hospital (charging an arm and a leg) as well as the FDNY and the NYPD for training purposes. The old Officers' Club is used by the Bayside Historical Society, and many of the other buildings are in ruins. The actual fort is closed off for the most part. However, you're able to stroll the grounds, which include views of the East River and Little Neck Bay, and the vast military parade ground is still intact. Many of the buildings, though, are in ruins, including the old Willett farmhouse; the government purchased the plot from the Willets in the 19th Century.
I intend to get a lot more photos of Fort Totten, and I have the history written up in an unabridged version — lots of it was blue penciled out when I submitted it to my editor for the ForgottenBook.
A number of dominoes had to fall that allow me to make my incursion here. First, NYC Parks made it so I could ride in on my bicycle or simply walk in without getting past the Checkpoint Charlie at the front gate. Then, the city had to finish repairing the Joe Michaels Mile bike path along the Cross Island Parkway, which took a full 14 months. Finally I'm able to easily reach the place.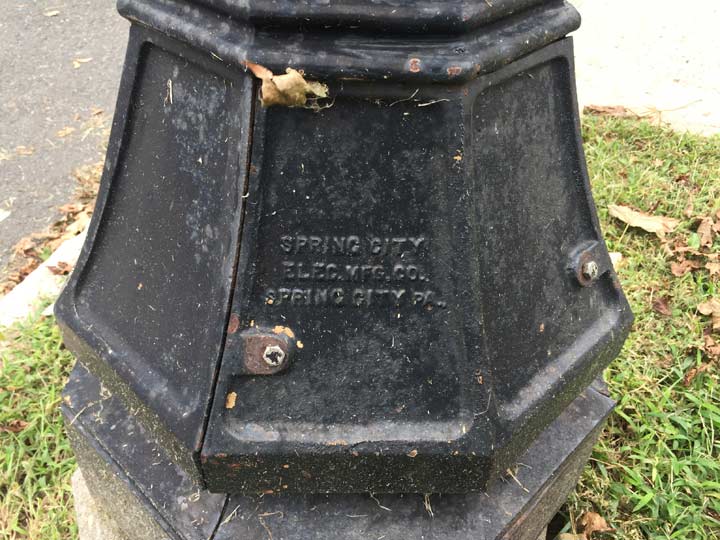 The fort's streets –when will they become part of the city's official street map, now that the unwashed public is allowed in? — are dominated by what are known as King post-top lampposts, so called because the spikes at the apex make them look like they have crowns.
They are embossed with the mark of Spring City, a Pennsylvania company that has produced the molds of older NYC lamppost models like the Corvington, Type F and bishop crook. I don't know how long the Totten posts have been in place. Spring City has been in 1843, presumably making gaslamps at that time.
Please help contribute to a new Forgotten NY website
Check out the ForgottenBook, take a look at the gift shop, and as always, "comment…as you see fit."
10/8/18