I'm not a good nighttime photographer — I don't have the equipment or expertise, unlike, say, my friend Mitch Waxman at the Newtown Pentacle. However, a recent opportunity presented itself that I couldn't pass up.
Mere commoners are not permitted into Gramercy Park, a small parcel of a private park between East 20th and 21st Streets and 3rd Avenue and Park Avenue South. You must be a keyholder at any of the buildings surrounding the park to enter it (and some selected buildings in the area, as well; there are 400 keys in all, the same number of people on Mrs. Caroline Astor's famous list of who's who in little old New York of decades ago). However, once a year, on Christmas Eve, the unwashed hoi polloi are permitted in the heavy iron gates for a glimpse within, as well as a Christmas carol singalong hosted by the Gramercy Park Block Association.
I'm no singer, and so my intention was to get within the gates and record some of which is not permitted for me to glimpse for most of the year. I found it a little difficult. When you walk on the streets surrounding the park, it's gorgeously landscaped, with gravel park paths, benches and cropped lawns. None of this is visible at night, because unlike other NYC parks, the parks aren't illuminated; you depend on the streetlamps from outside the park, which is now cold and white LED lighting as opposed to the warm, welcoming yellow sodium lighting that has been removed recently. I made do as best I could.
The coveted Caroling Hour ran from 6 PM to 7 PM. When I arrived, a line completely surrounded the rectangular park, from the main gate at Lexington Avenue all the way around to Irving Place and beyond. I followed the line, looking for the end. I never found it. But unusually, luck was with me. I got to Irving Place just as the gate, a very narrow one, was opened to the hordes of (mostly polite) merrymakers. I squeezed into the crowd and snuck in like Harrison Ford sneaking into the Chicago St. Patrick's Day Parade in The Fugitive.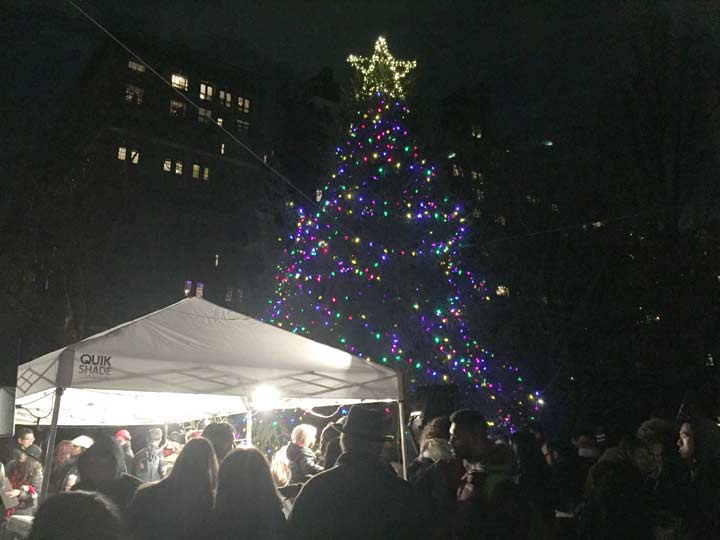 Here's the Gramercy Park Christmas tree with the tent where the musicians and carolers were set up.
The streets surrounding Gramercy Park are lined with handsome residences, some of them historic. Mayor James Harper (1795-1869), publisher and, for one year (1844-45) Mayor of New York, lived at #4 Gramercy Park West. As mayor, Harper founded the city's first municipal police force, which was also the first to outfit the corps in blue uniforms; and began work on a municipal sanitation system and banned free-roaming pigs from NYC streets. Harper returned to the company he co-founded after a re-election defeat. Like many avenues in the northeast Bronx named for NYC Mayors, Harper Avenue bears his name. With his brother, James, he founded the publishing house of J & J Harper in 1817, which became Harper & Sons in 1825, Harper & Row in 1962 and in 1991, HarperCollins after merging with a British publisher. Harper has published works by Mark Twain, Agatha Christie, J.R.R. Tolkien, and me: the ForgottenBook came out on the temporary Collins imprint in 2006. Bob Dylan was photographed outside the building for the album cover of Highway 61 Revisited.
Samuel Tilden, NYS Governor and almost US President (in a familiar scenario, he won the popular vote but lost in the Electoral College) lived at 15 Gramercy Park South, in a building now home to the National Arts Club.
Edwin Booth (1833-1893) is the only actor to be memorialized with a bronze portrait in New York City.
Beginning in the mid- 1800s, Booth became renowned as a celebrated portrayer of Shakespearean roles, notably Hamlet (in which role he is shown in this Gramercy Park statue). He was an innovator in a more natural acting style, as opposed to the harsher bombastic style that was popular then.
When Edwin Booth learned that his fanatically pro-Confederate actor brother, John Wilkes Booth, had murdered Lincoln, he went into temporary retirement. He later opened the Edwin Booth Theater on 6th Avenue and 23rd Street.
The Players Club, an acting society at 16 Gramercy Park South Booth founded in an 1847 townhouse he purchased in 1888, bestowed the portrait, sculpted by Edmond Quinn, to Gramercy Park in 1918. The Players serves as a social club but is also a repository of American and British theatre history, memorabilia, and theatrical artifacts. It has been reported to have the largest private collection of stage memorabilia, including costumes and weaponry, and owns portraits of its members, most notably a portrait of actor Joseph Jefferson painted by John Singer Sargent. A portrait of John Wilkes Booth, the assassin of Abraham Lincoln, hangs in Edwin Booth's suite, along with the letter Edwin wrote to the public apologizing for the actions of his brother. [wikipedia]
Looking toward Gramercy Park South.
Union Square, Irving Place and Gramercy Park, as well as Lexington Avenue, the northern extension of Irving Place north of the park, were laid out and begun by developer Samuel Bulkley Ruggles (1799-1881) beginning in 1831; they all were originally part of his property. In 1839 he was appointed a Canal Commissioner and he served was president of the Board of Canal Commissioners from 1840 to 1858. Ruggles designed Gramercy Park to be accessible only by surrounding residents from the beginning, and keys to the gates are difficult to get copied. It's a New York City tradition that has survived since the small park opened in 1832.
Ruggles gave Gramercy Park its name. I had always thought it was a corruption of "grant mercy" but it derives from a Dutch term, moerasje, "small crooked swamp." Ruggles had to drain some of the swampy terrain to create the park.
36 Gramercy Park East is a monumental apartment complex with a white, ornamented terra cotta facade, designed by James Riely Gordon in 1908.
This bird feeder at Gramercy Park West shows up in photos from the 1910s, so it's been there awhile.
Want to see Gramercy Park during the day? Angela Serratore at Curbed got inside for a visit.
Please help contribute to a new Forgotten NY website
Check out the ForgottenBook, take a look at the gift shop, and as always, "comment…as you see fit."
12/25/18