On December 2018, a crystal clear day when shadows were at their harshest, I hiked around southwest Long Island City. Inspired by the news earlier in the year that Amazon would be building a second headquarters in the Anable Basin area (more on which later) I wanted to not only take a look at where the new HQ would be but also chronicle the vanishing remnants of LIC in the Queensboro Plaza area (the elevated station is called Queensboro Plaza, the subway hub Queens Plaza) , which has been quickly transforming into a thicket of glass residential towers over the past decade.
Formerly, the Bank of Manhattan Building, at Queens Plaza where Northern and Queens Boulevards meet under a maze of elevated trains) was the tallest building in Queens. It was surpassed by the North Shore Towers in Glen Oaks and by the Citigroup (Citibank, Citicorp, whatever Citi wants to call itself) by 1989, but there things held steady for a few decades, until the Queens West towers went up at the East River waterfront. Building then progressed steadily, transforming Queens Plaza from a generally seedy region to a more respectable, but still somewhat dodgy, transit hub. The real action commenced on the streets just south of it, where tower after tower has arisen. I'm not really interested in them, as I find glass towers to be intrinsically boring, but more in the contrast between the old LIC, quickly going away, and the new.
Let me quote from the WPA Guide to New York City in its Hunters Point entry, which also goes for most of southwest Queens. When I was a kid and read it in the library, it was relatively recent, about 30 years old. I have a dogeared reprint from 1982, but the text is now about 80 years ago:
"Long Island City…is a labyrinth of industrial plants whose harsh and grimy outlines rise against the soot-laden sky. Within an area of a few square miles, gridironed by elevated lines, railroad yards, and bridge approaches, are gathered about 1,400 factories, producing chiefly spaghetti, candy, sugar, bread, machinery, paint, shoes, cut stone and furniture. Its bakeries alone turn out about five million loaves weekly; its paint and varnish factories about ten million gallons a year; its stoneyards handle about 90 percent of the cut stone and marble imported into the United States. On the oily waters of Newtown Creek, which separates Queens from Brooklyn, tugboats and barges plow busily all day long, entering with coal and raw materials and leaving with manufactured products."
Most manufacturing and food production has vanished from Long Island City. Until February 2019, Amazon, the product delivery company powerhouse chaired by Jeff Bezos, the world's richest man, planned to build a second headquarters in LIC that would have employed 25,000 people in a variety of roles, but most of them tech and executive positions, though the company was doing outreach with residents of Queensbridge Housing and LaGuardia College. From the start, Amazon met stiff opposition it hadn't encountered in other locales from local politicians and activists, because of the deal the company brokered with New York State that granted a multibillion dollar tax break. While union labor would have built the new buildings associated with the project, Amazon itself does not employ union labor, always a sticking point for firms doing business in NYC. Those same activists and politicians called on Amazon to revise the deal to accommodate such concerns, but the two sides refused to do much negotiating on them and in the end, the Seattle-based giant pulled the plug.
I had no rooting interest one way or the other, as Amazon likely would not have employed copy editors or proofreaders, much less urban chroniclers scuttling about with cameras. I had, though, been curious about what shape the new development would take. Would innovative architecture taken hold instead of boring glass? Would there be a new transit infrastructure? We won't know now, unless another company comes along that cooperates with locals' concerns.
The south side of Queens Plaza still boasts a strip of delis and fast food places that are probably valuable for workers and residents in the new construction. This also used to be an after-hours bastion of prostitution. And, the Q100 to Rikers Island still terminates and begins its run here.

Many of the new offices probably have a lunchroom or canteen included. When I worked at Pearson Educational in a brand new building in Hoboken in 2016, there was a full service cafeteria. The hot lunches I got there when the weather was bad and I didn't go out assisted in a 20-lb. weight gain I had to diet off.
The lamppost seen in the photo is an L-shaped Downtown Alliance model first used on Broadway in the Financial District. It has also been used in the Queens Plaza area.
A look west on 27th Street from 42nd Road. This gives you a pretty good summary of what's happening in LIC. There are a few brick residences hanging on against a furious onrush of skyscrapers.
Hunters Point — obviously — is not a Landmarked district. However, it makes it possible to see the neighborhood as a textbook example of a neighborhood in transition. Unfortunately it's going in the opposite direction I'd prefer. Something similar happened in Flushing decades ago, as blocks of small Victorians succumbed to brick and mortar apartment buildings and high rises. LIC is even more stark, as glassy towers rise next to holdout brick walkups.
A couple of the older buildings on 27th Street were likely once stables, as the building at left. The house on the right is meticulously maintained down to its original wrought-iron fence.
This small building houses a restaurant called The Beast Next Door, with the titular animal painted on the south-facing wall.
42nd Road looking west toward the Flushing/Astoria el (#7 train) and Silvercup Studios beyond. Its massive neon sign went up when Silvercup was one of the bread manufacturers mentioned in the WPA excerpt above. The baker constructed the buildings in the 1920s and remained there until a 1975 strike forced them out of business. The studios were founded in the building in 1983.
Red Lion Inn, 42nd Road and Crescent Street. Not the oldest building in southwest LIC, but not the youngest by far. It's possible the chain is named for the more famous Red Lion in Stockbridge, MA.
Crescent Street is named for an older road in northern LIC called The Crescent, which had a gradual crescent shape, possibly to get around a swamp or high ground. When the street grid was laid out in the early-mid 1800s, it was extended north and south, and even when Queens' street numbering system was instituted, the Crescent Street name was retained.
At 42nd Road and 24th Street, Steinway Awnings is named for the famed piano manufacturer whose campus is a few miles north along the East River.
Throughout the 1980s, when local channels 5, 9 and 11 were independently owned and showed mostly reruns and movies, the Apex Tech commercials featuring the mustachioed Apex Tech Guy (Neil M. Elliott, 1920-2015) were a staple. His catchphrase was "Now, I can't call you…" The school has offered training in automotive, refrigeration, electrical, plumbing, carpentry, welding and auto repair since 1961.
The building runs through to Queens Plaza and can be seen from the #7 train platform.
Elevated trains and elevated traffic ramps connecting the Queensboro Bridge and Thomson Avenue dominate southwestern LIC. The el rises high here, as it elevated over the old Second Avenue El tracks, now eliminated, coming in on the bridge. The barbed wire paints a picture of the "old" southwest LIC.
42-51-61 24th Street at 43rd Avenue is a grand old warehouses built in 1929. Construction around this time featured banks of window spaces with multitudes of windowpanes.
Roman Bronze Works, 43rd Avenue and Hunter Street, resists the Glass House Gang. The company has a lengthy pedigree: it was established in 1897 by Riccardo Bertelli, and was a subcontractor to Louis Comfort Tiffany's glassworks studios, which operated from a brick building on 43rd Avenue in Corona for much of the 20th Century.
The foundry's mold makers, casters, chasers and finishers, and patinaters cast sculptures from plaster and terra cotta models provided by sculptors. They also scaled down monumental and other finished works for editions of collectors' bronzes, allowing works by Daniel Chester French, Henry Augustus Lukeman and Augustus Saint-Gaudens to ornament a private library or drawing room.
From 1898, Frederic Remington worked exclusively with Roman Bronze Works, as did Charles M. Russell. Remington bronzes were being cast by Roman Bronze Works as late as the 1980s. wikipedia
A Century of American Sculpture: The Roman Bronze Works Factory [amazon]
Bronze is a metal alloy consisting of copper and another metal, usually tin. It has been produced for thousands of years.
Increasingly hemmed in by the hulking glass beasts, the stretch of Hunter Street between 42nd Road and 43rd Avenue has perhaps southwest LIC's best concentration of remaining small brick and woodframe dwellings. Without Landmarks protection, all these buildings are in jeopardy.
Along with Crescent, Hunter Street has kept its name. The neighborhood immediately to the south is also called Hunter's Point. Dominie's Hoek (Hook), originally the western end of the town of Newtown, was originally settled when a tract of land was awarded to Everard Bogardus, a Dutch Reformed minister (dominie), in 1643. The land was later owned by British sea captain George Hunter and by 1825 had become known as Hunter's Point. It began the transition from rural farmland in the 1860s when the Long Island Rail Road built a terminal that would be its primary connection with Manhattan until the East River tunnels and Pennsylvania Station were built in 1910.
The appearance of exterior telephone and utility wiring on telephone poles, and street lighting on masts attached to the poles, is unusual in so urban and built-up an area as the glass forests of SW LIC. It's a holdover from the days when manufacturing dominated the avenues and small modest homes (see above) could be found on the side streets.
44th Road now, heading west toward the waterfront. Directly ahead is Trump World Tower at 47th Street and 1st Avenue, opposite the United Nations complex. It was the tallest residential tower in the world when built in 2001. It was dethroned by Tower Palace Three Building G in Seoul, South Korea and in NYC by 8 Spruce Street (New York by Gehry) which has itself been dethroned since.
A pair of icons on 44th Road: actress/singer Marilyn Monroe (1926-1962) and civil rights activist Malala Yousafzai (1997- ). Would the two have associated had they been in the same time frame? Princess Diana worked with Mother Teresa.
Here's a curious brick building (you know, curious can mean 'interested in" or "odd") with a chiseled sign above the two middle windows that says: International Diesel Electric Company Inc. The company could have been a Con Ed predecessor, and had a number of buildings in LIC. In 1944, a multi-alarm fire broke out in a warehouse owned by the company.
The "ones" are wild here at 11-11 #1 44th Road, just east of 11th Street, one of three Otis & Finn barber shops in the region.
Here'a grand old former printing plant at 44th Road and 11th Street, now home to Attic Studios, which has a great view of one of its light-drenched interiors complete with polished wood floor.
Attic Studios is a full-service rental studio complex and production facility located approximately five minutes from Midtown Manhattan in Long Island City, Queens. Housed in a former printing facility, nearly 20,000 square feet of lofted space has been repurposed into 6 premiere rental studios for photography and video shoots. Studio features include 360 daylight exposure, full-service coffee bar, rooftop access, extensive on-site equipment rental and support for location shoots. [Attic Studios]
A grand old school bus on 44th Drive between 11th Street and Vernon Boulevard. Because of traffic, I couldn't get close enough to determine the make.
44th Drive is the widest east-west street in southwest LIC and even has a center median in some spots. The new glass jungle of downtown LIC can be seen on its east end, punctuated by the godfather of the boom, the Citi tower on the right,
44th Drive, when it was laid out in the mid-1800s, was named for Eliphalet Nott, inventor of the anthracite coal stove and founder of upstate (Schenectady) Union College. Nott, along with Neziah Bliss, had purchased the estate of the Hunter family, which owned the territory, in 1835. Bliss set about founding Hunters Point, Greenpoint, Brooklyn, and a small eastern hamlet called Blissville.
Edging closer to where the Amazon campus would have been, a traffic triangle formed by Vernon Boulevard, 10th Street and 44th Drive is called "Gordon Triangle" though I've also seen it as "Gordan Triangle." The current Parks sign has the "o" and the former Parks sign had the "a." The Triangle is named for Private Edward Gordon (or Gordan), a Hunters Pointer killed in action in 1918 in World War I. It wouldn't be the first time Parks misspelled a name on a sign.
The Gordan spelling reminds me of the Gordian Knot: the story goes that in ancient times the Phrygians were without a king, and the local oracle decreed that the next man entering Phrygia (in modern-day Turkey) on an oxcart would be named king. A peasant named Gordius was the lucky oxcart driver, and he was installed in the seat of power. Hubristically, he tied his oxcart to a pole in the center of the capital with an intricate knot, daring that anyone who wanted his kingdom could untie the knot. When Alexander the Great, the conquering Greek having his own designs on Phrygia, arrived, he used what is known as the Alexandrian solution: he cut the knot.
(I think a modern cognate is the scene in the first Indiana Jones in which the explorer is confronted with a Saracen menacingly whipping around his swords. Indy shoots him.)
The triangle was where local politicians opposed to the project rallied after the decision was made by Amazon to pull out.
Talking Heads, the 1970s-80s band led by David Byrne who rang up a number of best-selling albums and singles (including "Burning Down The House") are perhaps more associated with the Rhode Island School of Design in Providence, where the band originated, or the Lower East Side, where they made their name in the club scene of CBGB and the Mudd Club.
However, they're associated with southwest LIC as well. The band practiced in this industrial loft building until 1979 at 9-01 44th Drive at Vernon Boulevard, and bassist Tina Weymouth and drummer Chris Frantz lived in the building as well in 1976-1977. [source: Rock & Roll Explorer Guide to NYC, Mike Katz and Crispin Kott, Globe Pequot 2018]
This building on the NW corner of Vernon Blvd. and 44th Drive was once the City of New York Department of Purchase general storehouse, and at present, belongs to the Department of Education, specifically, Office of Pupil Transportation, i.e. school buses. It was built in 1938 and bears some resemblance to the Austin Nichols building in Williamsburg, which has been converted to residential. This building would have been on the proposed Amazon campus, but I'm not sure whether the Bezosians would have razed it or adapted it.
A street I've never been on: narrow 45th Avenue heads west to a short spur of 5th Street near the water edge. The entire length is nothing to write home about, as it's lined with barbed wire and security cameras. It, too, would have been on or adjacent the Amazon campus.
This grouping along the west side of Vernon Boulevard between 45th and 46th Avenues would have been under the Amazon gun, but have been granted a reprieve for now. The strip club closed down.
You've probably seen this sculpture depicting Rockefeller Center construction workers in 1932 around town on top of a truck. The sculpture is the work of Italian-born Sergio Furnari. However, this was the first time I had seen it colorized. The original photograph as taken by Charles Clyde Ebbets (not the Brooklyn Dodgers' Charles Ebbets).
When you pass by a hulking, ruined factory building like this at #45-40, you get a glimpse of what Hunter's Point was really like in the old days — a manufacturing and industrial annex of the big town across the river — before its recast in a residential/relaxation model.
Paragon Paint was formerly a huge presence in southern Long Island city, employing hundreds if not thousands. Its painted ads can still be seen in many places here, and its brick headquarters at 49th Avenue and 21st Street is still standing. Its Vernon Boulevard factory has recently been used as an art installation/production facility.
The site is scheduled to be redeveloped, possibly with the old hulk razed and a glass tower inserted.
LIC Bar, on the corner of Vernon Boulevard and 46th Avenue, has an engaging retro-style neon sign and stenciled gold leaf signs in the windows, advertising cordials and draughts. You have to like those illuminated globes sporting LIC Bar signs at the side entrance.
Looking west on 46th Avenue, the towers of Queens West, a development started 25 years ago, and the distant Chrysler Building come into view.
Plaxall, a large plastics manufacturing company, has been centered in Long Island City for over 70 years and manages over 1 million square feet of real estate in southwestern LIC. The company was set to lease 290,000 square feet of property to Amazon before the deal was cancelled, with several of its buildings along the north end of 46th Avenue giving way to the Amazon campus.
"Plaxall has worked to cultivate a community within its properties, from providing space for local non-profit organizations like LIC Community Boathouse and Recycle-a-Bicycle to co-founding and sponsoring the popular LIC Flea & Food. Plaxall also proudly supports local businesses and civic organizations such as the Coalition for Queens, the Jacob A. Riis Settlement House, LIC Cultural Alliance and the LIC Partnership, among many others, through the Mathis Pfohl Foundation and – in several cases – active Board membership." [Plaxall]
Looking closely at a Plaxall building, 5-25 46th Avenue, you see its former role: "New York State Wholesale Beer L.C.C. 99." The building is now an art gallery, art fabrication business, and gym sponsored by the plastics company.
Recently Plaxall built this billboard reminiscent of roadside signs in mid-America indicating the businesses at 5-25. At the corner of 5th Street is a parking garage that went up in 2013. No American architect has yet been successful in designing an attractive parking garage.
I'm not sure whether the Department of Transportation or a real estate firm installed this street sign style. It's nonstandard for New York City; you find a few pairs like this around the neighborhood.
Anable Basin is a 500-foot long shipping channel issuing from the East River north of 46th Avenue, developed in 1862 by Henry Sheldon Anable, a developer in Hunters Point at the time and a relative by marriage to the aforementioned Eliaphet Nott.
Here's a look at Anable Basin on a 1909 Bromley atlas. As you can see the basin was plied by vessels bringing materials to and from the various businesses located there including the giant Standard Oil, which also had a massive presence along the East River. There were paint and paving works, coal yards, and my favorite, Ward & Co. Lard Oil. Must have been a trip working there.
Much of the industry and the pollution these firms caused — and the large number of people they employed — have vanished from the Hunters Point scene, and parkland now occupies the shoreline.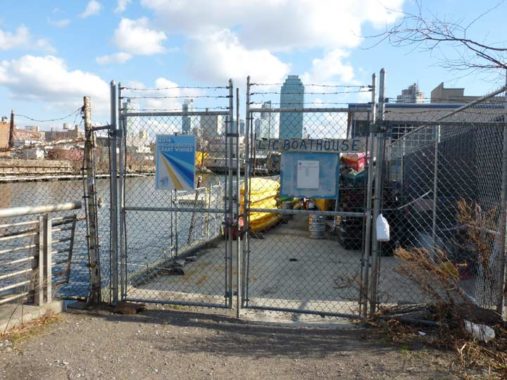 In December, the skiffs of the LIC Boathouse are locked up for the winter. The community group, based in one of the Plaxall buildings, promotes kayaking in the basin and nearby East River during the warm months.
A single vessel could be seen moored in the basin.
In 2012, Plaxall purchased the Prudence Ferry, a decommissioned Bristol, Rhode Island ferry for $70,000 and parked it at Anable Basin. The intention was to operate it as a floating beer garden, but to date that hasn't yet happened. That year, the nonprofit Coalition for Queens proposed to transform the 127,000 square foot Plaxall packaging warehouse on the basin's shore into a tech incubator for start-up firms. That also has yet to happen. [Hidden Waters Blog]
Though there is already a rough and ready gravel-paved park along the Anable Basin with metal benches (really the north end of Gantry State Park) the LIC Innovation Center is poised to redevelop the area into a "mixed-use development at the site that will include affordable housing, affordable industrial space, a school, workforce training, and public open space along the waterfront," according to Curbed, with Michael Arad, the architect of the World Trade Center memorial, a chief designer. Will this ambitious project come to pass without Amazon? Me, I like the sleepiness of the area.
More Plaxall-owned buildings, including a former beer distributorship and the home of Anable Basin Sailing can be seen across the waterway. A large illuminated countdown clock has been installed on the building by an art group called the Creative Independent. It was co-created by famed artist Matthew Barney and counts down how many days until its creators hope will be the end of the Donald Trump administration.
Though the LIC waterfront was for centuries the site of shipping, manufacturing and warehousing, its views of Manhattan became unmatched except by Brooklyn's Promenade (itself in jeopardy as the Brooklyn-Queens Expressway longterm repair job looms). For the past two decades, it's been Gantry Plaza State Park, named for the pair of barge float towers (misnamed "gantries") at its southern end.
Despite my intentions, I've yet to ride the NYC Ferry service inaugurated by NYC in partnership with Hornblower Cruises in 2015. For the price of a Metrocard swipe, currently $2.75, six separate ferry routes connect 21 piers in four boroughs excepting Staten Island (and a parallel service to the Staten Island Ferry, which is free, is also planned).
The signature piece in Gantry Plaza State Park is of course the giant Pepsi : Cola neon sign, visible from Dag Hammarskjold Plaza in Manhattan.
The big sign was built in 1936 by Artkraft Signs. There used to be a clutch of neon signs in the area. Swingline Staples moved its operations out of the country in the 1990s, eliminating its Sunnyside Sign; Eagle Electrics, whose numerous loft buildings still dot the Hunters Point and Sunnyside landscape, featured a bright neon sign reading "Eagle Electric – Precision Is Not An Accident"; and, of course, there was the Silvercup Bakery on 42-22 22nd Street, whose giant sign was preserved when a TV and movie production house moved into its old space and named itself Silvercup Studios.
The structure comprised a 120-ft.-long sign grid covered with the product name. Shaped in the classic, 1930s, Art Deco, cursive script, the letters were formed with open-face channel letters outlined with exposed, ruby-red, neon lighting. Capitals "P" and "C" stood approximately 44 ft. high. Smaller letters ranged from 15 to 18 ft. high. Pepsi purists note that the "double dot" colon, which appeared with the original Pepsi name, was replaced by the dash in 1942 to "modernize" the logo. Note the relatively modern Pepsi bottle neck logo (in use from 1970-1987). It was added when Artkraft Strauss refurbished the big sign in 1994.
Pepsi-Cola was first formulated by pharmacist Caleb Bradham in New Bern, North Carolina, in 1898 as "Brad's Drink." Within its first year of production it was renamed Pepsi-Cola from the digestive enzyme pepsin and kola nuts, which were both in the formula.
Though Pepsi abandoned the LIC waterfront decades ago, the sign is protected by Landamrks. It has moved around over the years, but has now found what is hoped will be a permanent home at this spot in GPSP.
Vernon Boulevard remains the somewhat sleepy spine of Hunters Point. Not a lot of chains have moved in, and local entrepreneurs still dominate, clustered around the spire of St. Mary's church at 49th Avenue. A bit north of that is the bar Dominie's Hoek, which takes its name from Hunters Point's original name. The region was originally settled when a tract of land was awarded to Everard Bogardus, a Dutch Reformed minister (dominie), in 1643. "Hoek" in Dutch means "place" or "locality" and the word can be found in Brooklyn names like Red Hook and Varkens Hook ("place where pigs are sold").
Time for a trip home at one of the Flushing Line's two original 1915 stations, Vernon-Jackson (the other is Grand Central).
Further Reading: "A Walk Around Anable Basin," Nathan Kensinger in Curbed; Mitch Waxman in Newtown Pentacle
Check out the ForgottenBook, take a look at the gift shop, and as always, "comment…as you see fit."
2/17/19