I recently took a walk on the east-west streets in lower Manhattan looking for oddities and anachronisms. There aren't many 19th-century buildings surviving on John Street in lower Manhattan, but you will find a pair of them, #133 and 135, on John Street just west of Water Street. This pair of buildings likely held offices of maritime trades that were located on nearby South Street and handled bills of lading. Perhaps the upper floors held residences. Most of these buildings were wiped out in the 1910s and 1920s when large office buildings went up on John Street, and some of those buildings were also demolished when the new wave of glassy towers began arriving in the 1980s.
In this 1940 photo #135 John Street appears in the center. The building only has three stories these days, so the top two floors have since been lopped off. The building on the right, #137, which housed the Fleet Oceanic Company, was torn down when Water Street was widened in the 1950s to accommodate extra traffic caused by the opening of the new Brooklyn-Battery Tunnel.
On the left, #133 still stands but has been reduced to two floors and is unrecognizable in comparison to the 1940 photo because of the modern signage.
#135 John Street was constructed in the mid-1800s for an H. Conheim, whose name is still emblazoned above the ground floor. The reason for the two "9"s on either side of the name are not immediately apparent to me unless John Street was renumbered at some time in the past. Today the numbers proceed east from Broadway.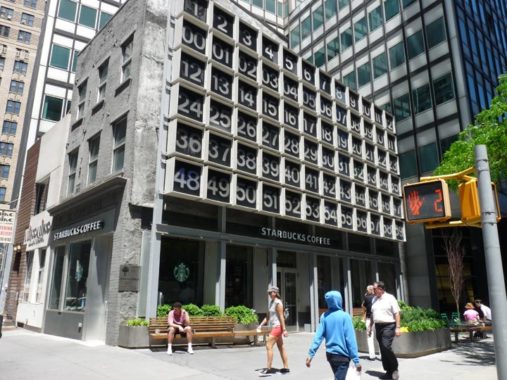 #135 John Street is perhaps most famed for the digital clock designed by graphic designer and instructor Rudy de Harak (1924-2002). It was installed in 1971 as part of the building next door, 200 Water Street. The clock is 45×50′ tall and consists of 72 illuminated squares, the top row numbered 1 to 12 and the bottom squares numbered 00 to 59. When it worked the clock displayed the correct hour (the squares on top) minute and second, with the numbers flashing on every second from 00 through 59. Unfortunately the clock is no longer maintained, but perhaps some day, someone will get it working again.
Check out the ForgottenBook, take a look at the gift shop, and as always, "comment…as you see fit."
5/28/19