Every so often retired MTA bus driver Gary Fonville sends me some things he's found, having spotted them on his old bus routes or in the trains. As often as not he finds stuff I didn't know about — here's some more. He specializes in old signage and repurposed bank buildings.
By GARY FONVILLE
Forgotten NY correspondent
Art Deco at its finest here at 250 W. 23rd Street,  Chelsea, Manhattan. Broadway Savings Bank began as the Broadway Bank Institution in 1851. In 1925, the name was changed to Broadway Savings Bank. Subsequently, through mergers and acquisitions, it became Apple Bank for Savings.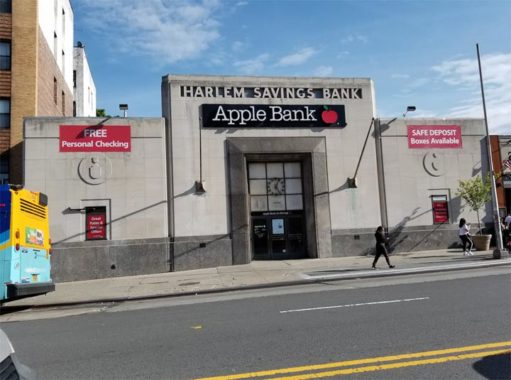 At the northern terminus of NYC's longest subway line, the A line,  sits this timeless architectural beauty.  For people who are not subway aficionados, the location here is  Broadway & 207th Street, Inwood, Manhattan,  where an A train that originated in Far Rockaway just traversed 33 miles through three of NYC's boroughs to arrive directly downstairs.
The Harlem Savings Bank began in 1863 as Harlem Savings Bank.  The name remained until 1983, when it was christened Apple Bank for Savings, now just known as Apple Bank.  I'd be willing to say this building's construction/opening coincided with the opening of the IND subway in the early 1930s.
This former Harlem Savings did appear recently in FNY.  An Apple Savings sign actually covered the area where it currently says Harlem Savings Bank.  Since its last appearance in FNY at Manhattan to Mott Haven (12/30/18), the Apple sign was removed because this branch closed.
I'm seeing a trend where banks who have inherited huge old branch buildings,have tended to close them to move to smaller quarters.  This is likely due to the fact that  less people go to a physical bank building to take care of their banking needs.  Instead many people now bank with the aid of a home computer. You'd be hard pressed to find an operating branch of any bank that uses buildings as large as the former Bowery Savings Bank on E. 42nd Street, the former Dime Savings Bank in Albee Square in Brooklyn or the former Greenpoint Savings Bank on Washington Avenue,  also in Brooklyn.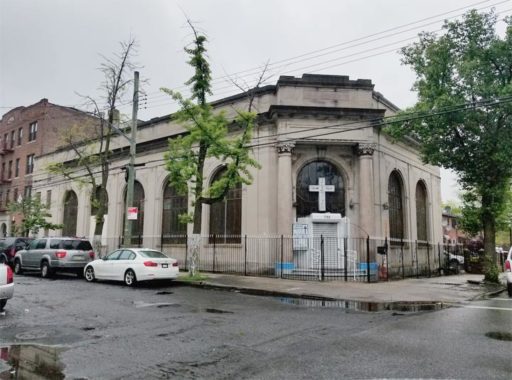 From the looks of this building at 799 Blake Avenue, at Van Siclen Avenue, in East New York, Brooklyn, I always thought it was a bank. Sure enough, through research I found out it it was a bank: the building was first used as the State Bank,  a relatively small bank, with branches in the Bronx, Manhattan and Brooklyn.  I found remnants of a branch at Mother Gaston Blvd. & Pitkin Avenue, Brownsville, Brooklyn.  A photo can be seen in FNY at Once Upon a Bank (July 5, 2015).  The former branch here on Blake Avenue closed as a Manufacturers Hanover Bank sometime in the 1970s. Currently the edifice houses the Pilgrim's Union Church of God, Inc. Are there any FNY fans who remember this building being a bank or who had the experience of conducting banking business there?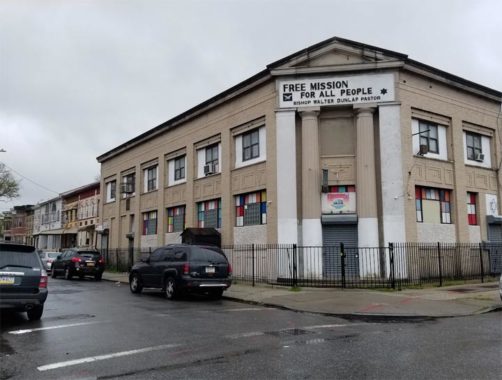 At the NE corner of Ashford Street and Sutter Avenue sits a building I always thought was a bank. It was a branch of the Bank of the United States, commencing operations in 1913 and was liquidated in 1930.  Currently the building is occupied by Free Mission Temple.
This suds busting emporium, known as Super Clean Laundromat, was a former Chase Manhattan Bank at Drew Street and Liberty Avenue, Cypress Hills, Brooklyn.  Can anyone supply info as to when it closed as a bank?
There aren't many traces around NYC that Manufacturers Hanover Bank, now Chase,  even existed. This door of a former branch at 34th Street & 8th Avenue, Manhattan,  makes it clear that Manny Hanny,  as Manufacturers Hanover was commonly referred to, actually existed. This door apparently needs much TLC and polish to keep it in this pristine condition.
I've chronicled many banks in FNY over the years, but this is the first time I've seen that a pizza shop has taken over a former bank building. Domino's Pizza can be purchased here on the west side of Flatbush Avenue, immediately south of Kings Highway in Flatlands, Brooklyn. This former Prudential Savings Bank branch hosted customers banking under the name of Emigrant Savings Bank before it became a pizza joint.
Like the door at the former Manufacturers Hanover bank at 34th Street and 8th Avenue, as mentioned earlier, this night deposit door has been kept to look as if it was installed last week.  It must take a lot of elbow grease to accomplish this feat. Bank of America has a branch here at 2nd Avenue & E. 4th Street, East Village, Manhattan.  It's among a handful of banks that have changed names, by whatever reason, elected to keep the original bank's name, Trade Bank & Trust Company on the night deposit door.
The East New York Savings Bank, among the many banks that once existed in Brooklyn, had a branch here at the NW corner of Utica Ave and Eastern Parkway, Crown Heights, Brooklyn.  Fortunately, I have pictures of the bank now being Modell's Sporting Goods.  The bank started as the East NY Savings bank but was acquired by M&T Bank in 1988.
The Haier Builing, located at the NW corner of Avenue of the Americas (6th Avenue) and W. 36th Street, Midtown Manhattan was formerly a branch of the Greenwich Savings Bank. The building was constructed between 1922-24.  Haier  purchased the building in 2000 and renamed the building The Haier Building two years later. Haier Group International, as Haier is officially dubbed, is a multinational home appliance and consumer electronics company.  Believe it or not, but among their holdings are Hotpoint and GE Consumer Products. 
Greenwich Savings Bank started in 1833.  It did all right until the 1980s when it lost hundreds of millions of dollars, which in turn led to a run on its assets. The FDIC was named the receiver of Greenwich by the NY State Banking Corporation. In quick succession it became Metropolitan Savings Bank, then Crossland Federal Savings Bank, then Republic New York in 1995.
For the life of me I can't understand how this former branch of Green Point Savings Bank on Washington Avenue and Lincoln Place wasn't repurposed.  I'm glad I saved a photo of this former bank building, as it looked before its destruction. An upscale apartment building now occupies this former bank's footprint.
Undoubtedly, many of you FNY fans have passed this impressive structure that sits on the SW corner of Montague & Clinton Streets in Brooklyn Heights, Brooklyn and never thought a bank was here. Yes, it was a bank. In fact, the Franklin Bank had a bank here,  on the street level, with offices on the upper floors.  Franklin commissioned this bank to be built in the 1890s here to be part of what many referred to Montague Street as Brooklyn's Wall Street which eventually had many insurance companies, brokerages and other banks.
Check out the ForgottenBook, take a look at the gift shop, and as always, "comment…as you see fit."
5/20/19