For over ten years, my MTA bus dispatcher compadre Gary Fonville has been providing photos and stories behind buildings and signs he has seen along his former routes. He has provided yet more entries in his former banks series — starting now:
By GARY FONVILLE
Forgotten NY Correspondent 
At the Junction (Flatbush Avenue, Nostrand Avenue and Hillel Place) in Flatbush,  Brooklyn stands this former bank.  It once housed the Flatbush Savings Bank.  The bank itself shuttered a few years ago and has been replaced by a Dallas BBQ Restaurant.  Did anyone say ribs?  The bank's former name was barely discernible.
Charles Pratt of Pratt Institute established the Thrift, an institution whose likely purpose was to teach students prudent financial practices.  The building, at Ryerson Street & DeKalb Avenue in Fort Greene, Brooklyn,  once faced Ryerson Street.  Ryerson Street was closed off between DeKalb and Willoughby and is now integrated into the campus of Pratt Institute.
Refuge Temple, on E. 233rd Street just east of White Plains Road in Wakefield, the Bronx is housed in a building that once hosted the Bronx County Trust Company.   The bank itself commenced operations in 1888 as the 23rd Ward Bank of the City of New York.  It probably closed as a Chase bank.  When did it close?  Are there any former customers of this branch that can shed light on this?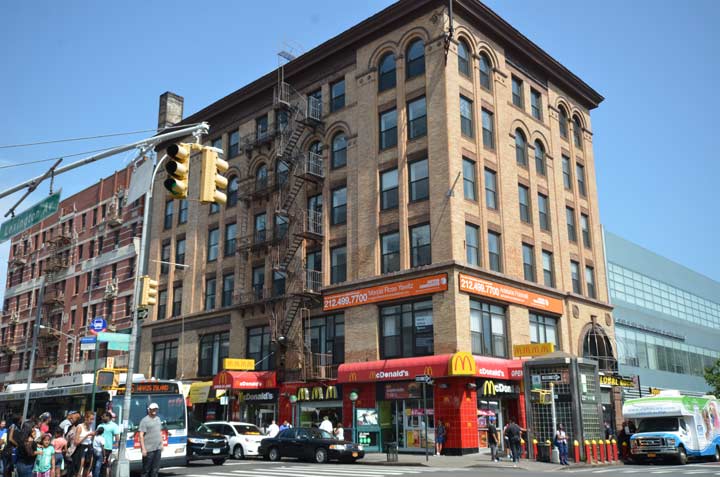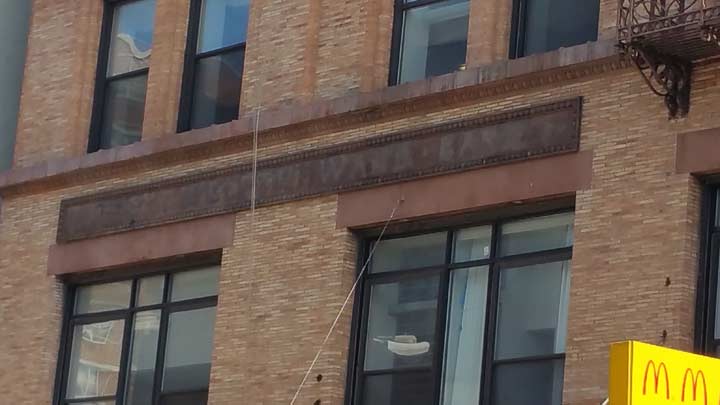 This bustling corner of 125th Street & Lexington Avenue in East Harlem, Manhattan once had two banks on diagonal corners.  One still survives on the SW corner as the Apple Bank.  A faded bank sign is barely legible on the NE corner, but it looks like it says   "  . . . ..12th Ward Bank"
This building has made a previous appearance on FNY.  It closed as a branch of Chase, I believe.  However a small feature I discovered while driving by on a cold winter morning, is now revealed to you FNY fans.  On the Pitkin Avenue side of the building is the bank's original name, the State Bank!
An easily missed  Manufacturers Hanover sign here on the NE corner of Malcolm X Boulevard (Lenox Avenue) is almost hidden by the Carver Savings Bank's flagship branch. Manufacturers Hanover most likely occupied this building. Does anyone have any idea of when this branch closed? It can be best seen from the SW corner.
Does this building on the NW corner of 79th Street & 1st Avenue on the Upper East Side of Manhattan look like it was a bank or what? It's now a vitamin store. Is there anyone who can give info on what bank this was?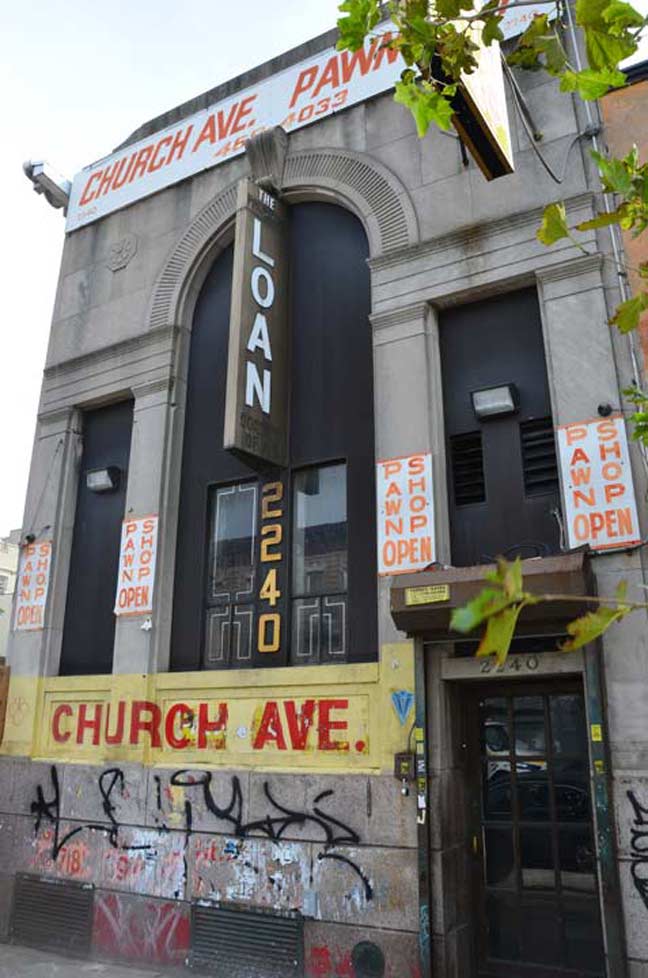 This is still a financial institution, but it's not a bank. It's currently a pawn shop. This building sure looks like it was a bank at one time.  Located on Church Avenue, between Rogers & Flatbush Avenues in Flatbush, Brooklyn.
Once Brooklyn's tallest building at 512 feet and 37 stories, this magnificent structure at Ashland Place & Hanson Place has a distinctive feature that most Brooklyn residents find helpful for being on time, maybe not as much today with the advent of cellphones.  It has one of the world's tallest four-faced clocks, which makes it visible for miles, day or night. As a result of the building frenzy in downtown Brooklyn,  its dominance in height has been eclipsed by a few other buildings in the immediate area.
These fixtures from the Dime Savings Bank have since been removed from the bank's building on Flatbush Extension, next to Junior's Restaurant in Downtown Brooklyn after these pictures were taken.. But that's partly why FNY exists.  It's here to chronicle things before they disappear.  In fact, many things have disappeared after being chronicled in FNY.
The Corn Exchange Bank was located here at the NW corner of 125th Street & Park Avenue, East Harlem, Manhattan.  The 'original"  building was constructed in 1883, but Corn Exchange didn't acquire it until 1913.  Even though it was designated a landmark in 1993, it was never maintained properly.  Ten years later, in 2003, it was sold to Ethel Bates.  She had grandiose plans for the building but then encountered many legal challenges, especially with fellow investors, and was unable to raise the necessary funds to rehabilitate the edifice.  Meanwhile, the building deteriorated further, to the point where the building became structurally unsound.  As a result, numerous safety violations  and fines were issued by the City, reaching to the point where a large portion of the building had to be demolished.
There are still painted reminders of the Corn Exchange Bank around town, and even a few former repurposed Corn Exchange bank buildings.
Sender Jarmulovsky instituted his bank in the late 1800s, but didn't commission this building at Canal & Orchard Streets, which was once the tallest building in the Lower East Side until around 1910. A distinctive feature of his building is that the lower half is clad in limestone and the upper section is clad is terra cotta.  The bank prospered for a while, but faltered when its German investors became concerned about its shaky financial footing.  They soon withdrew their financial support, and depositors soon put a run on the bank when they also became nervous about their deposits' security.
I personally remember this being a Chase branch before it closed at Decatur Avenue & Fordham Road in Fordham, the Bronx.  It now houses doctors' offices, a jewelry store, and two cellphone emporiums.
Believe it or not, there was once a bank here at the corner of West 44th Street & 8th Avenue in Midtown, Manhattan.  I do know there was a Manufacturers Hanover branch on the second floor, accessible by escalator.  Its space is now occupied in an off-off Broadway Theater, the 2econdStage Theater.
Looks like it was once a bank. I believe this Art Deco treasure had been a Chase branch. I base that on my observation of a similarly designed former branch in Jamaica, Queens.
Originally a National City Bank [One More Folded Sunset]
Antioch Baptist Church of Corona, here at Northern Boulevard & 103rd Street in Corona, Queens was likely a bank. Any former patrons at this former bank who can give FNY a tip on this one?
According to the AIA Guide to New York, this building was formerly Long Island Storage and Jenkins Bank.  There's not much info on this former bank.  Located  on the SW corner of Gates & Nostrand Avenues in Bedford-Stuyvesant, Brooklyn.
Thank goodness I took this picture a few years ago.  A sign now completely covers the logo that's shown here.  I believe it stood for some long defunct bank.  I originally saw this sign while walking down the steps of the Gates Avenue station on the J & Z line at Gates Avenue & Broadway in Bedford-Stuyvesant, Brooklyn.
At 117-185 S. 5th Street, Williamsburg, Brooklyn sits the regal former Williamsburg Trust Company, now the Holy Trinity Orthodox Church.
[Constructed in 1906 by the famed Helmle and Huberty architectural firm at what is now the foot of the Williamsburg Bridge pedestrian ramp. The glazed terra cotta finish was also employed by H&H in a contemporary work, the Prospect Park Boathouse.–ed.]
The 1867 Metropolitan Savings Bank building at East 7th and Cooper Square survives as a church.
The former Williamsburg Savings Bank, at NW corner of Driggs Avenue & Broadway, in Williamsburg, Brooklyn, has been here since 1875.  They sure don't build banks like this anymore.  Since its extensive reconstruction, it's been converted to another use. It's currently  a venue where business, weddings, receptions  and other social events can be held.  To illustrate how it's a high end venue, the  building is referred to an "event space." Just calling it a hall is not satisfactory here. The event space is operated by a concern named Weylin B. Seymour, Inc.
E. 116th Street & Second Avenue, in East Harlem, Manhattan was once a in the heart of a predominately Italian neighborhood. When this building was constructed, probably in the 1930s, it was a major institution in the neighborhood. Banca Commercial Italiana bank was formed as Banca Commerciale Italiana and closed in 1941.  It reopened almost 30 years later under the same name and eventually merged into the State Banca Intensa Banca Commerciale Italiano  S.p.A.
Currently a Chase branch on NE corner of Montague & Henry Streets, In Brooklyn Heights. Upon closer examination, since its so high up and is easily missed when walking on the north side of Montague, there's visible evidence that it was a branch of the Brooklyn Trust Company. This jewel was constructed around 1914 and was the headquarters for Brooklyn Trust. At one time, the bank had about 25 branches. As with most banks, it merged with another financial institution.  In Brooklyn Trust's case, it was Manufacturers Trust Company.  After many other mergers, it morphed into what's today's Chase.  Since the building's in Brooklyn Heights, it's ripe for redevelopment.  As a matter of fact, it will be converted into a high end 13 unit condominium.
7/5/15