There are three 5th avenue stations in the NYC subways, each of them on crosstown lines. 5th Avenue, the spine of Manhattan Island, serves as the divider between East and West Streets and from its inception in the early decades of the 19th Century, has always been somewhat set apart. At first 5th Avenue was the home of the mansions of the wealthy and famous, but after St. Patrick's Cathedral was constructed at 50th Street between the 1850s and 1880s, high-end retail followed as well as other high-concept churches, but of the Protestant and Jewish faiths (5th Avenue was the home of Temple Emanu-El from the 1870s to the 1920s.) Of course, 5th Avenue has also been the east end boundary of Central Park since the 1860s.
Thus, 5th Avenue has never had to shoulder the burden of an elevated train or a subway, the only north-south Manhattan avenue to make that boast: even 10th and 11th Avenues supported freight railways long ago. However, there have been crosstown els and subways that stop under 5th Avenue, and today three subway lines have 5th Avenue stops, the #7 Flushing Line, the IND E and m trains, and the BMT Broadway line as it turns east beneath Central Park toward Queens. The IRt and BMT stations were built in the mid-1910s when the subways were at their tile-and-mosaic apotheosis.
I recently stopped in that BMT 5th Avenue station to catch a train to Queens. Since we're in Manhattan, mosaic signs appear on staircases that go to eastbound (Queens) or southbound (Brooklyn) stations.
The BMT features side platforms and thus, is the only 5th Avenue station to feature a station ID mosaic plaque. This one is mostly blue with white lettering, surrounded by a "frame" of light brown.
Most BMT stations feature mosaic friezes near the roofline. 5th Avenue station has one that includes the blue, white and brown numeral 5 at intervals. The subway line travels under 60th Street between 5th Avenue and the East River.
In 1997, the 5th Avenue station acquired playful animal mosaics by Ann Schaumburger called "Urban Oasis." No doubt, the nearness of the central Park Zoo inspired the artwork. Animal mosaics can also be found in the 81st Street station on the B/C IND station as the Museum of Natural History is nearby.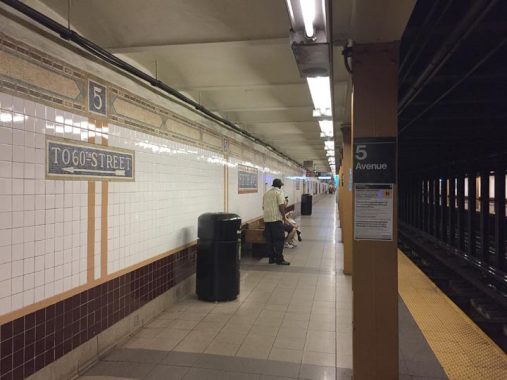 The 5th Avenue station is a no-nonsense, relatively feaureless station except for the busy mosaics.
However, the city designed interesting stone-columned entrances to subway stations on 5th Avenue serving the BMT and on the other side of Central Park which allow entrance to the Columbus Circle station hosting the A,B,C,D and #1 trains. They feature large post-top lamps that have thankfully been allowed to survive.
Check out the ForgottenBook, take a look at the gift shop, and as always, "comment…as you see fit."
7/26/19