I have found myself in a number of Queens cemeteries this year. Earlier in the year (2019) when the NY Post did an article on Forgotten NY's 20th anniversary) I suggested Mount Zion Cemetery for a backdrop and the paper's Brian Zak patiently took between 200-300 shots, with the photo editors settling on one they liked (fortunately, not a closeup). Of course, at age 61, before too long, others will have to find me in a Queens cemetery. I have also done pages in Flushing and Jamaica cemeteries, and a ForgottenTour is making its way past some of the Flushing cemeteries July 28, 2019.
In the spring I made my way from Rego Park southwest and west to some of Queens' larger cemeteries and invaded Middle Village, which I've neglected lately. In recent months I have not had much time for rambling, with a temporary full time job, with the remaining time occupied by tour and other FNY event planning, but I hope to eventually get to other parts of town where I have not been for a while.
GOOGLE MAP: REGO PARK and MIDDLE VILLAGE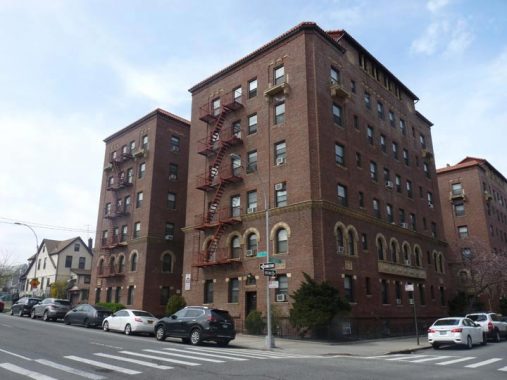 Handsome brick apartment building with a tiled roof, 63rd Avenue and Saunders Street.
In the 1920s, the Real Good Construction Company bought up the land and carved out a grid of crescent shaped streets. Along these they built more than 500 Tudor-style one-family attached and detached homes. In 1923, Rego Park was named as such by its developers; Rego being simply the contraction of "Real" and "Good."
The Rego Park of today fills a triangular piece of land bordered by three major Boulevards: Queens, Woodhaven and Yellowstone. All three are major commercial strips as well as homes to large apartment complexes. Prior to development, Rego Park was called Nassau Heights (another real estate developer probably gave it that name) sand streets were named, not numbered. For example 63rd avenue was laid out as Marion Avenue while 63rd Drive bore the name Penelope Avenue, a name it still has west of Woodhaven Boulevard.
The Queens Library Rego Park branch was built in 1974 and resembles many utilitarian library buildings constructed in the same era: one I patronized in Dyker Heights in the early 70s featured cinderblocks instead of brick facing. The previous Rego Park library had been directly across the street at 63rd Drive and Austin Street, but burned down in 1972; the space was then occupied by the Shalimar Diner from 1974-2018, which was demolished in mid-2019.
I'm unsure if Real Good developed the dwellings along Carlton and Fitchett Streets west of 63rd Drive. Whatever developer it was marked the territory with these brick gateposts; I doubt, though, if these streets were ever even semiprivate.
A small frame "holdout" building between two 7-story apartment buildings, on 63rd Drive between Haring and Bourton. In Rego Park, many streets have been permitted to retain their British-sounding original names.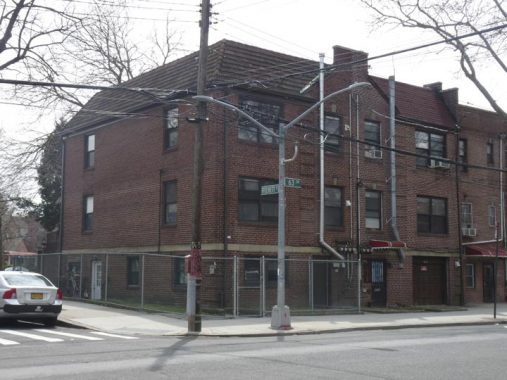 A "dwarf" lamppost, the type usually found under elevated trains, at 63rd Drive and Fitchett Street. It was probably installed so the metal post would not interfere with the electricity and telephone wires.
It would be fun if Fleetwood Triangle were named for the British band that started out with blues, added Americans Lindsey Buckingham and Stevie Nicks and racked up some of the best-selling records in history, but the reason for the name is more prosaic, as it is located at 63rd Drive and Woodhaven Boulevard opposite Fleet Court.
Handsome Tudors are typical of the houses found in the side streets north of Furmanville Avenue, which borders St. John's Cemetery west of Woodhaven Boulevard.
Furmanville Avenue runs from Penelope Avenue and 75th Place east to Woodhaven Boulevard, skirting past St. John's Cemetery. It takes its name from the Furman family, who were early settlers in Newtown in the early 17th Century; Josias Furman arrived in 1677. Probably the most famed Furman was Gabriel, who was an attorney, historian and was elected Senator under the Whig Party banner in 1834. He also ran for lieutenant governor in 1842, was defeated, and returned to his law practice. Unfortunately he developed a longstanding addiction to opium after suffering from cholera.
The Furmans owned much of the property on the Rego Park-Middle Village border and lived in a number of houses, none of which survive today. The last survivor was the Furman house that stood at Cowles Court near 80th Street that stood until 1928. Furmanville Avenue has been known by that name since 1925; it was originally part of Juniper Swamp Road.
St. John's Cemetery was instituted in 1883 as part of the Diocese of Brooklyn after purchase from a farmer. Additional sections were added in 1933 and 1947, bringing the total acreage to the current area bordered by 80th Street, Cooper Avenue, Furmanville Avenue and Woodhaven Boulevard. Since Metropolitan Ave. was here first, the cemetery was built around it. The vast region was once part of the Hempstead Swamp.
Over the years St. John's has gained a reputation as the last resting place for members of the Mob. Indeed, mob leaders Joe Colombo, Carmine Galante, Joseph Gambino, Vito Genovese, Lucky Luciano, Joseph Profaci and perhaps the best-known mobster in history, John Gotti, are all interred here. However St. John's has attracted "customers" from all walks in life, and Governor Mario Cuomo, Mayor John Hylan, and U.S. Representative Geraldine Ferraro lay at rest here, as well as bodybuilder Charles Atlas and avant-garde photographer Robert Mapplethorpe.
This Donald Deskey-designed lamp along Furmanville Avenue was placed near a fire alarm and still boasts the original Deskey designed-fire alarm indicator lamp. The Department of Traffic, as it was known until 1977, always had trouble with these lamps because the outside plastic cover wouldn't fasten properly and was often held in place with tape. Some Deskey poles used the alternate type of fire alarm indicator used on octagonal shafted lampposts.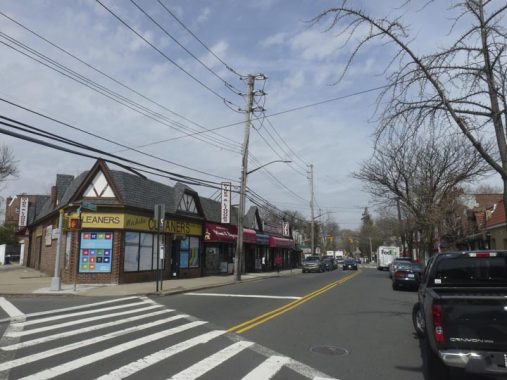 Dry Harbor Road at Furmanville Avenue and 80th Street. This part of Middle Village is in low ground (hence the name Juniper Valley for its juniper trees) and early settlers in the colonial eta viewed the green expanse of what was the west end of Hempstead Plain and remarked that it looked like a "dry harbor," or so the story goes, anyway.
This sign displayed in a Furmanville Avenue windows was likely posted in Ireland and can be translated as "County Kerry Council: Clean up (after your dog) for your health."
This gabled dwelling, once a farmhouse, at 78-04 Furmanville Avenue dates back to the 1890s. At one time, it was surrounded by vast acres of farmland. Although no longer a working farm by the early part of the 20th century, ponies frolicked in the yard as late as the 1950's.
The exterior of this house on 66th Road near 71st Street has been modernized. What do you think?
One of New York City's many World War I monuments can be found at Middle Village Veterans Triangle, formed by Gray Street, 77th Street, and 66th Road. Gray Street unusually has been allowed to keep its name instead of receiving a number, similar to other area streets such as Pleasantview Street and Juniper Valley Road.
Middle Village is named for its location at the midpoint of Metropolitan Avenue, which runs from the East River all the way to Jamaica. It was built in the 1810s as the Williamsburg(h) and Jamaica Turnpike as a toll road connecting the two towns. After the Civil War, the toll was removed and the name was changed to Metropolitan Avenue.
I liked the pure white paint job on this older double house on 66th Drive near 74th Street. Here's what it looked like in 1940.
Some attached brick dwellings on 74th Street and 66th Drive. We're in what I call "deep Queens" which is anywhere in the borough where you get down to the numbered Drives, Courts and Terraces.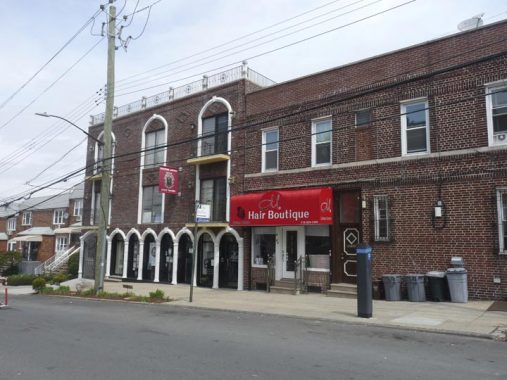 I found the masonry arches on this building on 73rd Place off Metropolitan Avenue interesting. the building contains offices for State Senator Joe Addabbo as well as a dance school.
Because of a quirk in the street layouts of Middle Village and Forest Hills, Metropolitan Avenue runs through two separate sets of streets numbered in the 60s and 70s. While here, the 70s are Streets and Places, east of Woodhaven Boulevard, the 70s are Avenues, Roads and Drives. However, in Forest Hills, Met Ave. house numbering carries on as if it intersects streets in the 90s and 100s! In Kew Gardens, Streets and Places intersect Met Ave. once again.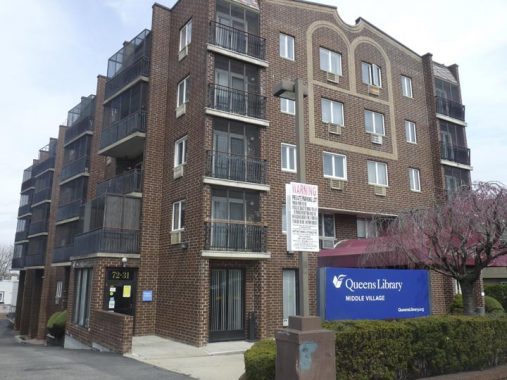 The Middle Village Queens Library is one of the weirdest I've seen, as it occupies a nook on the ground floor of this apartment building on Metropolitan Avenue west of 73rd Place.
Just west of the library, on Met Ave., is Juniper-Elbow, which still has a working illuminated clock. I originally thought this was a pasta factory, but as it happens, Juniper-Elbow actually makes the curved pipes used in furnaces and for other uses. The company has been in business since 1928 and makes a general array of watertight metal products.
What is Cypress Hills Taxidermist, the only remaining taxidermy shop remaining in New York City, doing on Metropolitan Avenue and 71st Street in Middle Village? There's a story behind that, which I posted in FNY in 2015.
One of these days, I'll stroll by when the place is actually open, but so far, I haven't had any luck.
This ancient Chevy truck may or may not be associated with the taxidermist. I'll ask the owner if I ever get to speak to him.
For generations, someone has "had the meats" at Metropolitan Avenue and 70th Street. Most of the south side of Metropolitan Avenue between the M train station at Metro Mall and about 73rd Place is occupied by Lutheran/All-Faiths Cemetery, except for this small plot where an Arby's franchise is located.
On one of the rocks guarding a driveway, there is an etching depicting a lengthy, two-story restaurant called Niederstein's which formerly occupied the space.
Built by Henry Schumacher about 1854, this building became John Niederstein's hotel and restaurant in 1888. It originally served as a rest stop patronized by those hauling their goods between Jamaica and Williamsburgh via the former turnpike. In the 1970's the hotel was modernized by its new owners, who removed the porch and carriage sheds to make way for small parking lots. It ceased functioning as a hotel many years ago.
Niederstein's served typical German fare and in recent years catered mainly to funeral and wedding parties as well as loyal locals. There was no joy in "Midville" when the restaurant closed in February of 2005 and was sold to the fast food franchisee. Arby's eventually razed the building. Over the years its interior and exterior had been altered to such a degree that it was deemed unworthy of protection by the Landmarks Preservation Commission.
At Metropolitan Avenue and 69th Street (the former Fisk Avenue mentioned on the #7 train stop a couple of miles north) is the Frank T. Lang Building, one of my favorite edifices in all of Queens, not least for the playful cats on the parapets!
It was built by Lang, a mausoleum and monument manufacturer, in 1904. During renovations in the 1990s, a Bohack gasoline station sign was revealed there; Bohack made a foray into auto parts distribution in the early 20th Century. Lang went out of business in 1946 and the building has seen mixed use since, with an auto body repair shop on the ground floor for the past several years.
All-Faiths (Lutheran) Cemetery
By the 1840s, lower Manhattan was getting crowded and there was very little cemetery space. Trinity Churchyard on Broadway and Wall St. was the largest; there were small Jewish cemeteries belonging to the Shearith Israel congregations, the first Jewish immigrants to New Amsterdam; and a pair of small burial grounds in the East Village— the Marble Cemeteries, as they are called, are still in existence.
The proliferation of burials also led to unsanitary conditions in an era when cholera, dysentery and other germ-borne diseases were a widespread problem. New York, therefore, banned all downtown burials while keeping them legal in the more spacious Uptown Trinity Cemetery in Washington Heights, established in 1842.
Meanwhile, in Queens, cemeteries burgeoned. Calvary Cemetery was established by John Hughes of St. Patrick's Church in 1848, quickly followed by the Jewish Mount Zion; Lutheran Cemetery Mt. Olivet; and St. John's Cemeteries.
All-Faiths, originally Lutheran Cemetery, was instituted in 1852 when 225 acres of plains in Queens were purchased by Reverend Frederick William Geissenhainer. Many of the victims of the General Slocum tragedy, in which over 1000 residents of the Lower East Side's "Little Germany" perished in a steamboat fire in 1904, were laid to rest here. A monument dedicated in their honor is found within the confines of the cemetery's southern portion. The cemetery is fairly vast, occupying an irregular tract bounded roughly by Eliot Avenue, Mt. Olivet Crescent, the M train tracks, 73rd Place, and the Long Island Rail Road Montauk Branch freight tracks.
One of the more intriguing aspects of All-Faiths is that a road other than Metropolitan Avenue, Wayland Avenue (later 63rd Avenue), once ran straight through it, at least on maps. Christina Wilkinson explains what happened to it in the Juniper Berry.
The MTA subway makes its only stand in Middle Village here at Metropolitan Ave. and All-Faiths Cemetery. The M train has seen many routes in its several decades of existence—it once ran on the West End line, currently serving the D train, all the way to Coney Island, and also provided local service with the R train on the 4th Ave. line in Brooklyn. Since 2010 it's the only subway route that begins and ends its route in Queens, beginning at the 71st/Continental Ave. station on the Queens Boulevard line, running down the 6th Ave. line in Manhattan, and then switching to the Williamsburg Bridge and traveling with the J on the Broadway Brooklyn el. (On weekends, the M is confined to a route between Metropolitan Ave. and Essex St. in Manhattan.)
Throughout its existence a consistent terminal has been Metropolitan Ave.—the route originated as a steam railroad running to the cemetery in the late-1800s. The terminal was suburban in aspect since its original station house remained in place until 1974, when it burned down and the modern brick structure that replaced it was constructed.
The Hess-Miller Funeral Home at Met Ave. and 65th St. is the most attractive building on this mostly forgettable stretch. Its location is no coincidence, as All-Faiths (Lutheran) Cemetery is a block to the east. (Middle Village may even be called The City of the Dead.)
This building dates from 1902 and was originally the summer home of a local politician. In 1920, John Miller purchased the home and established his funeral parlor here. When Arthur Hess partnered with him in the 1940s, it then became the Hess-Miller Funeral Home. It's still in business under the same name, although no longer owned by either family.
Fresh Pond Crematory
The Fresh Pond Crematory is a handsome Beaux Arts building sprawling along Mt. Olivet Crescent and 65th St. north of 62nd Avenue., facing All-Faiths Cemetery. It was built in 1884 when cremation as a burial choice was a novelty. The building is a wonderful pile lined with Ionic pilasters, or half columns (the place is also called a "columbarium," Latin for "column," which has its roots in Columba, dove; doves build nests that have niches that resemble small columns). Surprisingly, the gates are open during the week, and it's easy to stroll onto the grounds to have a look.
This is the third crematory constructed in the United States—two in Pennsylvania are older. Two expansions since the original was constructed, the last in 1910, brought the building to its present size. The building also serves as an archive for every cremation since the beginning, as well as a repository for decorative urns bearing the cremains—arranged in compartments bearing multiple niches, hence the name columbarium. There are 16,000 such niches here, each bearing one to nine "cremains."
The process of cremation converts a corpse to ash. The corpse is exposed to temperatures of 1600 F. Even after that, there are some bones remaining intact and have to be processed further. It costs approximately $300 depending on the crematory, and can be considered more cost-efficient than burial. My father's remains were cremated (per his wish) and I placed them in the same plot with my mother and grandmother in St. Joseph's Cemetery in Troy, New York, from where my mother hailed. Only recently has the Catholic Church lifted its ban on cremations.
Famed "clients" at Fresh Pond Crematory include Lou Gehrig, J.P. Morgan, Biggie Smalls, and silent-era comic Fatty Arbuckle.
The Manhattan skyline makes several appearances in Middle Village, seen here from a rise looking west on 62nd Avenue from 65th Street.
Eliot Avenue forms the barrier between Mount Olivet Cemetery on the north and (Lutheran) All-Faiths Cemetery on the south. As the Juniper Berry, the publication of the Juniper Park Civic Association explains, Eliot Avenue was extended east past Woodhaven Boulevard only in 1938-1939 as a means for Ridgewood and Middle Village residents to have a straightforward means to get near the 1939-1940 World's Fair. At times, Eliot Avenue was called 61st Avenue, but the Department of Traffic eventually settled on honoring Walter G. Eliot, an engineer in the Queens Topographical Bureau in the 1910s when the avenue was first laid out. Eliot Avenue in its present widened form (except through Mt. Olivet, where it remains a 2-lane road) was completed in 1939.
However, that meant that the two cemeteries once faced each other without an avenue between them, as shown on this 1922 map. Presumably, there was a fence between the two properties…but maybe not! It would be hard to tell now. 
Mount Olivet Crescent runs in a curving route along the west ends of Mount Olivet Cemetery and Lutheran All-Faiths. Since it is atop a hill, one can gaze upon the needlenose towers of midtown Manhattan when driving north on the road.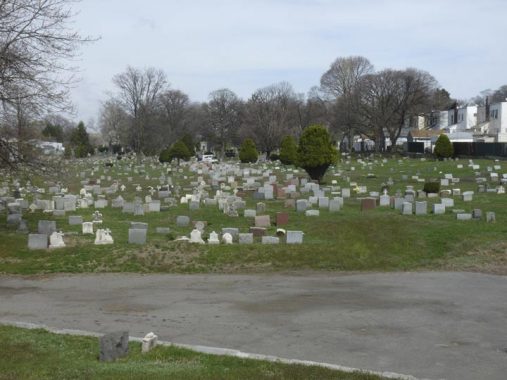 Mt. Olivet Cemetery was founded as an Episcopal cemetery in 1850 and opened to all faiths the following year. One of the founders, James Maurice, was a U.S. Congressman, Maspeth landholder and founder of the now disassembled St. Saviour's Church. He is buried here with his two brothers and three sisters, none of whom ever married. Compared to larger cemeteries around town like Green-Wood, Woodlawn and Evergreens, Mt. Olivet is short on star power; however, Prince Matchabelli and Helena Rubenstein are buried here, as is gangster Jack "Legs" Diamond.
The cemetery, named for Jerusalem's Mount of Olives, where according to New Testament tradition, Jesus preached, was arrested at the Garden of Gethsemane and ascended into Heaven, occupies an irregular site stretching from Grand and 58th Aves. on the north to Eliot Ave. on the south.
I explored Mount Olivet Cemetery more thoroughly in this FNY post.
Check out the ForgottenBook, take a look at the gift shop, and as always, "comment…as you see fit."
7/28/19