For a couple of decades, the Jungle Cafe with its modern green and white facade occupied the corner of 996 Manhattan Avenue at Huron Street, with a clock perpetually stopped at 2:25. On a recent swing through Greenpoint, I chanced upon the corner and found the restaurant gone, the exterior stripped off, and an ancient sign revealed.
The corner of Manhattan and Huron in 2018.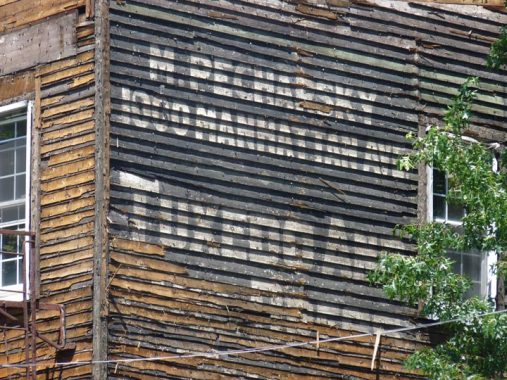 Here's a closeup of the old sign that was revealed. 1000 Manhattan Avenue, M. Pecharsky, "Tuxedo and _______ Dress." The unintelligible copy is likely "Formal."
The reliable Frank Jump visited the spot a month before, in May 2019, and supplied a Municipal Archives photo showing Pecharsky's in 1940. This sign, though, evidences a much older date and appears to have been painted in the 1880s, so we can assume Pecharsky's was a Greenpoint mainstay for decades.
Check out the ForgottenBook, take a look at the gift shop, and as always, "comment…as you see fit."
7/2/19