Fraunces Tavern, at Pearl and Broad streets, is one of Downtown's most popular tourist attractions and so it's hardly "forgotten." It's a museum and somewhat pricey restaurant combined into one. However, a lot of people who visit NYC, and probably most of the people who work Downtown and pass it every day believe they are walking by the very same Fraunces Tavern where George Washington bade farewell to his charges at the end of the Revolutionary War in 1783. The truth is rather cloudier.
Samuel Fraunces, a West Indian by birth, was famed for his cooking and operated the Queen's Head Tavern for several decades in the 18th Century, hosting meetings of the Sons of Liberty and later the New York Provincial Congress, but the British occupancy of New York ruined him financially. He was employed by Washington as a steward and chef, and his tavern became a meeting place for the nascent Departments of Treasury, Foreign Affairs and War.
This is a photo of the Fraunces Tavern building shortly before it was slated for demolition in 1902. It was, however, saved and "reimagined" as a Colonial Revival building under architect William Mersereau. The Long Room, in which Washington made his speech, presents a typical 18th Century tavern room. Many tour guides show it as the "Real McCoy" but since of course no photos exist of the tavern as it was in 1783, the restoration was highly conjectural.
What concerns me today is the Type 24BC Bishop Crook pole that has stood on the corner of Broad and Pearl for about a century. Here it is in a 1940 photo of Fraunces Tavern. By then it has its familiar Bell fixture. This photo was snapped by NYC's Lamppost King Robert Mulero in 1978.
In 1978 the Crook still had its fire alam attached to the back of the pole. This was a common arrangement in lower Manhattan, where sidewalks are often narrow. Meanwhile, its stainless steel replacement alarm is shown at left.
Detail of the alarm face with pull handle. Note the detail at the top of the alarm, the twin florets and the FDNY quadrigram.
Flash forward to January 2019. Our Type 24 BC is still holding forth on the corner.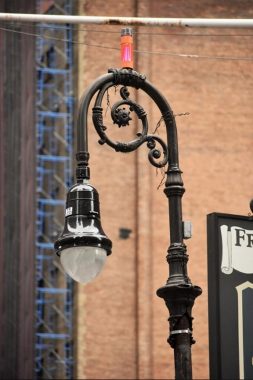 The crown of the Crook shows how the new fire alarm indicator is attached. A new Bell, this one featuring a bright white LED bulb, has been attached.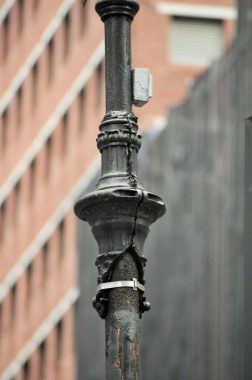 But the pole is a little worse for wear. This finial is cracked down the middle and rust has taken a toll.
The pole's old fire alarm indicator bracket has been lost for a few years. Only a stub bracket remained.
All in all it seemed inevitable. When Bob Mulero returned to the site in August 2019, the Crook had been removed and a gray and black L-shaped Downtown Alliance post had gone up in its place. These posts appear elsewhere on Pearl, but they are most often seen on lower Broadway and also on Jackson Avenue in Long Island City.
Since the Landmarks Preservation Commission had protected the post, the Department of Transportation may have felt it had no choice because of the pole's deterioration. Bob has written the LPC for an explanation, and I'll share it here if it comes.
Check out the ForgottenBook, take a look at the gift shop, and as always, "comment…as you see fit."
8/14/19