I was desperate for a ramble with the camera. I have actually been working this summer at a small design shop in the Columbus Circle area, in the building Tommy James made famous with "Mony Mony." The weekends have been busy with tour prep and actual tours, so there has been no time for wandering. One Saturday in June, I decided to go from Hunters Point to Williamsburg, using a different route from the usual. Mother Nature had other plans, but I was able to get much of the walk in before having to scurry out of the rain.
GOOGLE MAP: HUNTERS POINT TO GREENPOINT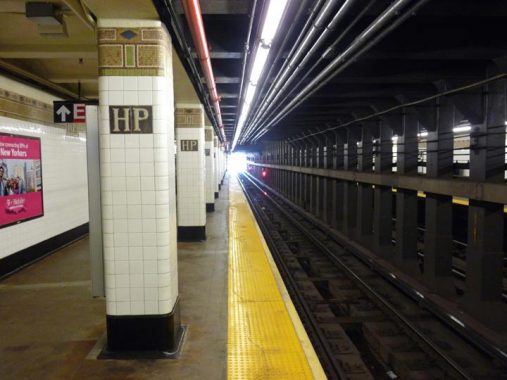 I left the #7 train at the Hunters Point Avenue station, which is actually on 49th Avenue (the entire length of 49th Avenue in LIV used to be called Hunters Point Avenue; now only the part east of English Kills is). The station was built in 1916 as one of the first sections of the Astoria-Flushing Els to be completed. East of here; alll stations on the #7 train except the Main Street terminal are elevated. This station is at the east end of the tunnel and indeed, the outside world can be glimpsed at its east end.
However, this is not the only mass transit Hunters Point Avenue station in the vicinity.

Just a short walk east on 49th Avenue from the subway stop, and down a flight of steps, you enter the low-tech Hunterspoint Avenue station of the Long Island Rail Road, which spells Hunters Point with one word.
It's a part-time station operating only on weekday afternoons and evenings, with eleven runs to Port Jefferson, Patchogue, Ronkonkoma, Oyster Bay, and Montauk. These trains originate at Long Island City and join the Main Line in Sunnyside Yards. I have never caught a LIRR train here, but I have for just about every other station located in Queens. Theoretically the LIRR could also do a Port Washington run from here but I suppose there isn't the demand.
Until 1998 the LIRR also ran trains out of LIC through the Montauk Branch through places like Glendale and Richmond Hill to Jamaica and points east, but demand dwindled to near nothing. I don't know how much business these eleven Hunters Point Avenue runs get, but I'll check it out sometime.
The platform, and waiting rooms, are open and unguarded when the trains aren't running. They provide views of the growing skyscrapers of LIC. There's also a ticket office on the platform (it costs extra to buy a ticket on the train).
Ideally, Hunterspoint Avenue LIRR would have a greater mass transit role to play, but I don't make the decisions.
The old Paragon Oil building, at 21st Street and 49th Avenue, is visible from the platform. Several Paragon painted ads are still visible on the building, which also once served as the Queens borough hall.
Paragon Oil was founded by brothers Henry, Irving, Robert, Benjamin, and Arnold Schwartz. The family designed and built the first oil heaters designed for residential buildings. Paragon Oil won the U.S. government contract as the only oil company to supply Europe with fuel oil during the post-war reconstruction. Later, during the early days of the Cold War, Paragon supplied the U.S. government with oil for their submarines. The company was sold to Texaco in the late 1950s, but still distributes under its old name.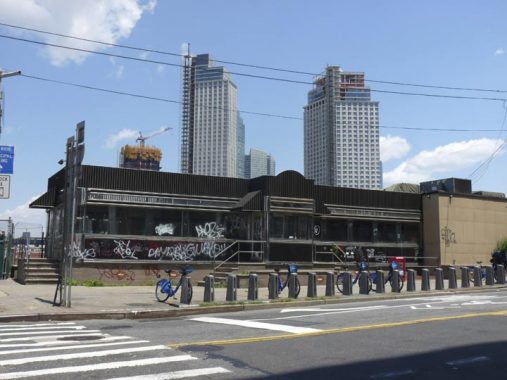 For the better part of two decades, this classic chrome diner building has been abandoned and collecting dust at the corner of 49th and 21st, across from the Paragon Building. For a brief period, though, it was the hottest restaurant in western Queens as steakhouse M. Wells occupied the building from 2011-2012; it has since relocated to Crescent Street about a mile away.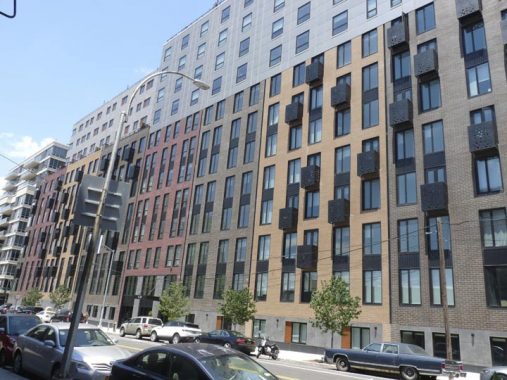 A former parking lot on 49th Avenue west of 21st Street has given way to a tri-color brick apartment complex, Hunters Landing. Rents are $2,098/month studio up to a $3,131/month three-bedroom, which is actually considered middle income for the area.
One of the dwindling number of old-school brick buildings on Jackson Avenue at 11th Street, opposite the Pulaski Bridge. On the ground floor is Creek & Cave, a combo comedy club/Mexican restaurant, and Sweetleaf, whose hot chocolate surfeited me before a drizzly Hunters Point FNY tour one April.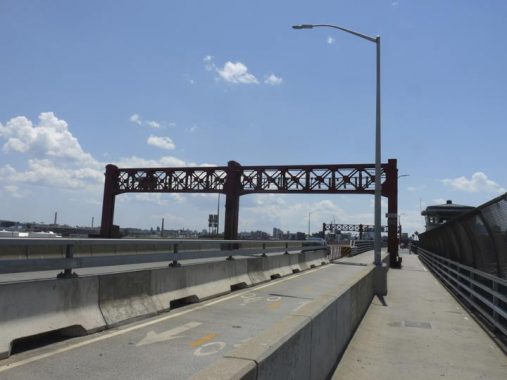 The Pulaski Bridge, opened in 1954, is a bascule bridge in which counterweighted deck members pivot upwards to allow shipping to pass underneath. London's Tower Bridge is another example of a bascule, albeit a much more ornate one.
General Casimir Pulaski (1747-1779) is regarded as the father of the American cavalry. He was enlisted by Benjamin Franklin in Paris after successfully defending Poland against a Russian invasion and falling out of favor after his implication in a plot to kill the Polish king. He was able to cover George Washington's retreat at the Battle of Brandywine with expert use of cavalry; he was subsequently awarded command of all US cavalry. In 1779 he helped break the British siege of Charleston. He was mortally wounded at Savannah, GA in 1779 at the young age of 32.
The Pulaski Bridge replaced the Vernon Boulevard Bridge (see below). About a decade ago the Pulaski received a protected bike lane, which ended the dangerous conditions caused by bikes and walkers sharing the bridge's walkway.
Newtown Creek forms the undefended border between Brooklyn and Queens for most of its length.
The first European to catch sight of Newtown Creek was Dutch explorer, trader and cartographer Henry Christiaensen in about 1613. He was searching for advantageous points where the local Native American population, the Mispat Indians, could bring pelts. As time went on the area of Long Island north of what eventually became Calvary Cemetery was settled by the Dutch; south of the cemetery was settled by New Englanders from the former Plymouth Colony. That's where we get the names of Newtown Creek's tributaries, Dutch and English Kills.
Newtown Creek remained in a more or less rural character until about 1860. After that, heavy industry, sewage treatment plants and oil spills made Newtown Creek a dead waterway. Nature is hardy, however, and some fish, crabs, and water birds as well as the aforementioned turtles can be found here. Newtown Creek has gotten rather cleaner over the past decade but it remains quite toxic.
A set of several staircases connects the Pulaski Bridge and the north end of McGuinness Boulevard.
Box House, Box Street at McGuinness Boulevard, is part new and old; the older section occupies a former windows and doors manufacturing building called the All American Building & Development Corp. The hotel contains 130 suites that go for about $180 per night.
72 Box Street, across from the hotel, appears to be a rehabilitated brick factory building but is actually brand new (2016). Even the building's website looks like a spec sheet from the mid-20th Century. "Throughout the 19th century, Greenpoint was a center for shipbuilding, printmaking and glassworks. 72 Box Street was built from the ground up to reflect the neighborhood's industrial past. Designed by renowned architectural firm Issac & Stern, the building's solid masonry construction and oversized warehouse-style windows are a nod to Greenpoint's traditional commercial architecture." 1-bedroom rentals are in the $3000s.
Both Hunters Point and Greenpoint were laid out by Neziah Bliss, an inventor, shipbuilder and industrialist who owned most of the land in the 1830s and 1840s. Bliss, a protégé of Robert Fulton, was an early steamboat pioneer and owned companies in Philadelphia and Cincinnati. Settling in Manhattan in 1827, his Novelty Iron Works supplied steamboat engines for area vessels. By 1832 he had acquired acreage on both sides of Newtown Creek, in Greenpoint and what would become the southern edge of Long Island City. Bliss laid out streets in Greenpoint to facilitate the riverside shipbuilding concern and built a turnpike connecting it with Astoria (now Franklin Street and Vernon Boulevard).
Greenpoint's street names reflect its industrial and maritime character. Originally simply letters, Ash, Box and Clay are industry-oriented while Huron, India and Java honor both imported goods, exotic lands and the waterways plied by shipping vessels.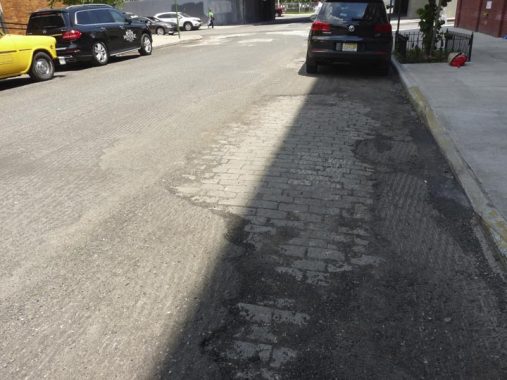 Some of Box Street's old Belgian block pavement is showing through the asphalt.
A pair of "holdout" structures on the rapidly gentrifying Box Street between McGuinness Blvd. and Manhattan Avenue.
The grand old brick building at Manhattan and Commercial Streets is the 1868 Chelsea Fiber Mills building, a manufacturer of marine rope. In recent years it has been home to the Greenpoint Manufacturing and Design Center. "GMDC has played a vital role in helping meet New York City's need for affordable, flexible production space for small and medium-sized manufacturers."
Here Manhattan Avenue increases its width, allowing a small parking lot in the median. Vernon Boulevard also has a center median at 50th Avenue. The Vernon Boulevard Bridge, also called the Hunters Point Bridge, crossed Newtown Creek here, connecting Vernon Boulevard with Manhattan Avenue. That bridge was subsequently replaced by the Pulaski Bridge (between 11th Street and McGuinness Boulevard) in 1954, and today its only traces are the extra widths of Manhattan Avenue and Vernon Boulevard.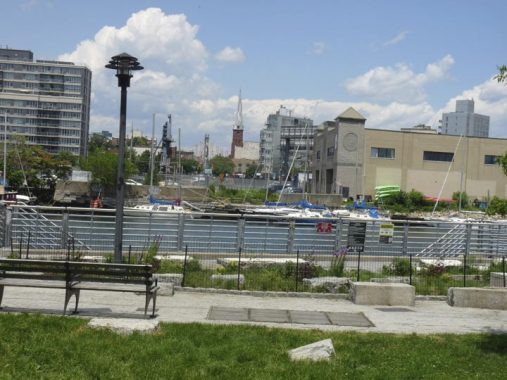 Formerly a dumping ground at the north end of Manhattan Avenue, the space was redeveloped as Manhattan Avenue Park a few years ago. The Atlas Obscura page describing the park has a couple of views of the old Vernon Boulevard Bridge. Here we have a clear view of Hunters Point and St. Mary's Church.
Hello there. These sculptures are probably associated with Euro Antiques Services on Manhattan Avenue.
I was surprised to find the Japanese-themed restaurant Ashbox (named for the two streets it sits between on Manhattan Avenue) closed, but a look at Yelp reveals it closes only on Sunday, which surprises me.
And, I always check to see if Brooklyn Ice Cream Factory on Commercial off Manhattan is still open, though I have been on an ascetic kick since my blood sugar was found to be a bit above normal in 2017, cut out desserts for the most part and only have ice cream two or three times a year, and I was forced to pass this time, too.
Despite the zoning changes that are bringing high-rise glass residential boxes to Greenpoint's East River frontage, the north end of Manhattan Avenue is still a sleepy enclave, but for how long will that last?
Unfortunately only snatches of Greenpoint have been given protection from razing or alteration by the Landmarks Preservation Commission. That's how you get the residential sensibilities of the late 1800s and the early 2010s juxtaposed here on Clay Street between Manhattan Avenue and McGuinness Boulevard. It does make for an interesting walk, and the new building isn't that bad (a step up from Fedders Specials) but eventually the new buildings will squeeze out the older ones.
Russian People's Home of Greenpoint, 106 Clay Street off McGuinness Boulevard. This is either an old sign of great age, or may have been part of a movie set that was never removed. Most non-English signs in Greenpoint are in Spanish or Polish.
At one time, there was a sizable Slavic population in Greenpoint. In addition to Poles, there were Slovaks and Russians. The Russian Orthodox Cathedral of the Transfiguration, on Driggs and N. 12th St., and Holy Family Slovak (Catholic Church) on the corner of Nassau Ave. and N. 15th St., attest to the number of Slovaks and Russians who lived here. What do the book and the torch symbolize?
I don't know when the Russian People's Home was established or if it is still in operation—there are no records of its operation anywhere—but I know that this address used to be a saloon in 1902 run by one Stephen Kerkens. He was arrested at that time for kicking a little girl who lived in the same building. A lot of people who lived and/or worked here at that time were arrested, including: Frank Ferkel, who was taken in for firing shots at a wedding, including one that struck a six-year-old boy; John D. Gaul, another saloonkeeper, who was in the country illegally; and the parents of eighteen-month-old Frank Salinsky, who fell from the third-story window in 1895 and died. [Lost City]
A selection of murals on McGuinness Boulevard's east side between Clay and India streets. The middle of the street is within a ramp leading to the Pulaski Bridge.
Harry Brainum Jr.'s company, HB Steel, produces, according to its website, galvanized steel, stainless steel, and aluminum in additional gauges, coatings, sizes, and shapes including steel sheets, coils, angles channels, beams, T's, flats, rounds, rebar, expanded metal, perforated, plates, squares, tubing, pipe, corrugated sheet, decking, and slit coil.
I've always been fascinated with Brainum's large painted sign on McGuinness between Eagle and Freeman, which gets a refresh every so often. Though there are a few residences scattered around on the side streets between McGuinness and Provost Street, manufacturing, storage and warehousing are the prime purposes of the low-rise brick and concrete buildings found there.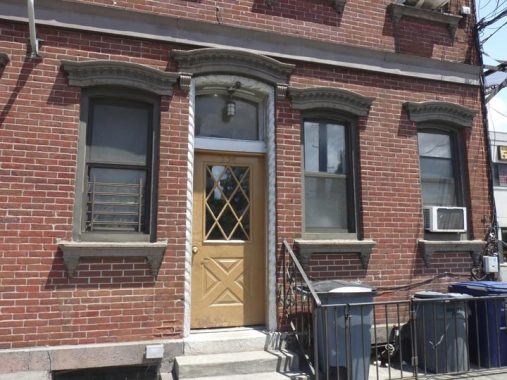 McGuinness Boulevard wasn't always a 4-lane behemoth connecting the Pulaski Bridge to the Brooklyn-Queens Expressway. Until 1954 it was a two-lane route, similar in width to Manhattan Avenue or Provost Street, called Oakland Street. Ten years after the Department of Traffic widened the street, it was renamed for one of the most consequential characters in Greenpoint history, Peter McGuinness (1888-1948) who served as a local Alderman (now called City Councilman) for over thirty years, lobbying for such neighborhood improvements as American Playground, the Newtown Barge Park and McCarren Park Pool.
Above is one of the older dwellings found on the east side of the former Oakland Street; newer high rise apartment buildings are springing up every year.
The Beddi-Makky Art Foundry, 227 India Street east of McGuinness Boulevard, is a bronze monument foundry established in Greenpoint in the 1940s when two immigrant Hungarian foundryworkers named Bedi and Rassi acquired the Kunst foundry in Manhattan's Upper East Side and moved it to Greenpoint. Present owner Steve Makki, who fled Hungary during its Soviet domination, eventually bought out Messrs. Bedi and Rassi.
The present complex occupies three lots on India Street, including a residential building.
It is a strange place, a factory whose nooks and shelves hold statues of patriots, baboons, nymphs, rams, angels and dusty gods and goddesses. Some are monumental in scale, others are minute. Size is not a measure of artistic or historic value: The shop holds tiny gems such as the maquette-the original small model made by sculptor Paul Manship -for the Prometheus that hovers over the Rockefeller Center rink. [Newsday]
The foundry has produced several well-known monuments during its nearly 75-year history including the Iwo Jima Memorial in Arlington, VA.
The Newtown Creek Wastewater Treatment Plant's 8 "digester eggs" in Greenpoint, better known as the "shit tits," which are lit blue at night, have become an actual tourist destination, as well as a backdrop for TV drama settings.
The Newtown Pentacle's Mitch Waxman entered one of the eggs on tour, and came back out.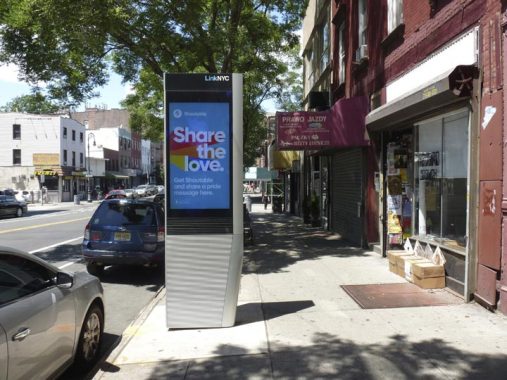 LINK NYC kiosks, which allow free wifi connections, have largely replaced payphones in NYC, though they have become unwelcome hangouts in many cases and many New Yorkers find them to be annoyances. To some they resemble the parallelograms in 2001: A Space Odyssey that are capable of teleportation through time and space; if only.
For a couple of decades, the Jungle Cafe with its modern green and white facade occupied the corner of 996 Manhattan Avenue at Huron Street, with a clock perpetually stopped at 2:25. However I found the restaurant gone, the exterior stripped off, and an ancient sign revealed.
The sign says, 1000 Manhattan Avenue, M. Pecharsky, "Tuxedo and _______ Dress." The unintelligible copy is likely "Formal."
The reliable Frank Jump noted the spot in May 2019, using a photo by Miss Heather (newyorkshitty.com) and supplied a Municipal Archives photo showing Pecharsky's in 1940. This sign, though, evidences a much older date and appears to have been painted in the 1880s, so we can assume Pecharsky's was a Greenpoint mainstay for decades.
Miss Heather, BTW, reports that the building and its ancient ad have since ben razed.
Tree-lined India Street between Manhattan Avenue and Franklin Street contains a panoply of housing styles from different eras, but enough of them have been altered — too many, I imagine, for the Landmarks Preservation Commission, which declined to extend the protected Landmarked district this far north.
Greenpoint, beginning in the 19th Century, had a magnificent manufacturing past and was a former center for printing, petroleum refining and iron, porcelain and glass making: the firm that became Corning Glass Works got its start here and the Navy's first ironclad vessel, the Monitor, was built in its shipyards.
However, Greenpoint has also had a past welcoming artists and those described as "bohemians" as well. Britisher Mary Fisher established a home for "brain workers" at this address, #71 Java Street just off Franklin, in 1888, providing lodging for needy artists and writers, and for the indigent elderly as well; Social Security was far in the future, and destitution was the fate for many. Fisher depended on charity and alms for support until the Fisher Home moved to two locations in Mount Vernon, NY and Tenafly, NJ in 1912.
Van Morrison recorded an album I've never heard but which inevitably winds up on all the critics' Top Ten, Astral Weeks, and a band I have heard, Nektar, had a minor hit with Astral Man in 1976, but undoubtedly Brooklyn's claim to Astral fame is this handsome, distinctive apartment building built as living quarters by Charles Pratt for workers in his Astral Oil Works. Astral Oil's slogan was, "the holy lamps of Tibet are primed with Astral Oil." Largess from the oil works was later used to create Pratt Institute, one of NYC's most prestigious art schools, in Clinton Hill. Astral made Pratt a multimillionaire, but he later sold it to a bigger one, John Rockefeller's Standard Oil. In 1911, Standard was found to be in violation of the Sherman Antitrust Act; the shards of Standard became Esso (Exxon), Chevron, Mobil and other companies.
The Astral takes up the entire frontage on Franklin between India and Java and has nearly a hundred apartments. Its distinctive 3-sided bays, arched entrances and recessed arch reaching the 5th floor are rare features; a center courtyard admits air and light to all apartments that don't have a front exposure.
The SE corner building on Franklin Street and Greenpoint Avenue hosts the Pencil Factory bar (for an explanation of the name, see below). For decades, the huge wall frontage behind that building carried a palimpsest of 19th and early 20th Century painted ads, including one for Syrup of Figs, a mild laxative at the time.
Eberhard Faber, the scion of a Bavarian pencil producing family, arrived in the USA from Germany in 1848, and after his first Manhattan factory burned down in 1861, he relocated to Greenpoint in 1872; the Faber company moved to Pennsylvania in 1956. The manufacturer is recalled by a large sign facing the East River painted on its original building at 37 Greenpoint Avenue at West Street, and by the huge yellow terra cotta pencils on its newer Art Deco building next door at Franklin. Other pencil factory buildings in the area are recognizable by a distinctive yellow star-in-diamond symbol.
Tool manufacturers have been moving away from New York City in recent years as rents rise. Tool and die makers produce jigs, fixtures, dies, molds, machine tools, cutting tools, gauges, and other tools used in manufacturing processes.
The painted sign for Pinquist Tool & Die can still be seen at #57 Meserole Avenue at Clifford Place. The sign isn't all that old, however. While the company was founded by Alex Pinquist in 1946 as Pinquist-Willis Products Inc. on Baxter Street in Manhattan, the company moved to Wallabout Street on the Fort Greene-Williamsburg border in 1961 before settling on Meserole Avenue in 1981. That's likely the date that this sign was painted here.
Pinquist is still in business, though it moved to Lynbrook, Nassau County, in 2016. The Indispensable Walter Grutchfield hones the Pinquist business and its painted sign to the minutest detail.
I was surprised to discover on this stroll that a new business has set up at the old factory, Tula Plants and Design.
I had intended to press on southward into Williamsburg as I still had plenty of energy in reserve, but hearing rumbles of thunder and feeling the raindrops, I hustled to the nearest G train stop at Manhattan and Nassau Avenues. Of course the sun had come back out by the time I got home.
Check out the ForgottenBook, take a look at the gift shop, and as always, "comment…as you see fit."
8/11/19