I was puttering around up in Melrose, Bronx a week or two ago and I spotted a true roundabout, in the British sense. I'll tell you where it was a bit later on this page. NYC has a number of traffic circles, but I've only seen one roundabout in which traffic travels around a circle ungoverned by stop signs or stoplights. The British concept of a roundabout is relatively new and was standardized as late as 1966, though they first appeared in the early 20th Century. The concept is used worldwide including the USA, where traffic engineers have labeled them rotaries. Of curse in the UK and the Commonwealth, traffic bears left, while most everywhere else it bears right.
I decided to expand the concept a bit, and do a page on NYC's traffic circles. There are just a handful and some are in prominent areas — but some are out of the way and barely noticeable.
Columbus Circle
Located at: The southwest corner of Central Park at Central Park South, Central Park West, Broadway and 8th Avenue
Notable buildings: Time Warner Center, Museum of Arts and Design
Columbus Circle governs two-way Central Park South, west, and 8th Avenue traffic, and southbound Broadway traffic (Broadway becomes two-way north of it).
Once much more prominent because of its 40-foot height, the Columbus Monument was placed at the southwest corner of Central Park in 1892, the 400th anniversary of Columbus' arrival in the New World. Its detail features representations of "The Genius of Discovery" regarding a globe, and bas-reliefs of Columbus putting ashore and the Niña, Pinta and Santa Maria. Thus the monument has seen both the 400th and 500th anniversaries of Columbus' arrival.
Six bronze rostra, representing ships' prows, adorn the column. The statue owes its presence here to the lobbying efforts of Italian-Americans. Il Progresso editor Carlo Barsotti led the efforts and arranged a grand unveiling attended by 10,000.
Columbus Circle is also notable for its spectacular water displays, which have been there since 1960. They were created by Douglas Leigh, who also designed some of Times Square's more spectacular neon signs of the period. The undistinguished New York Coliseum occupied its western end for many years, until the massive 'twin towers' of the Time Warner Center replaced it in 2003.
Frederick Douglass Circle
Located at: the northwest corner of Central Park, at Central Park North, West 110th Street and Frederick Douglass Boulevard (formerly 8th Avenue)
Notable buildings: Towers on the Park (300 West 110th); Circa Central Park (285 Central Park North)
Author, statesman, and orator Frederick Douglass (1818-1895) was born into slavery in Maryland. On September 3, 1838 he escaped slavemaster William Freeland by boarding a train to Havre De Grace disguised as a seaman, and traveled to Delaware and Philadelphia before arriving at a safe house in New York City via the Underground Railroad. He later purchased his freedom while in the north and became renowned for his oratory in the abolitionist cause. His 1845 autobiography, Narrative of the Life of Frederick Douglass, an American Slave, became a best selling sensation.
Frederick Douglass wrote of his arrival in New York:
I have often been asked, how I felt when first I found myself on free soil. And my readers may share the same curiosity. There is scarcely anything in my experience about which I could not give a more satisfactory answer. A new world had opened upon me. If life is more than breath, and the 'quick round of blood,' I lived more in one day than in a year of my slave life. It was a time of joyous excitement which words can but tamely describe. In a letter written to a friend soon after reaching New York, I said: 'I felt as one might feel upon escape from a den of hungry lions.' Anguish and grief, like darkness and rain, may be depicted; but gladness and joy, like the rainbow, defy the skill of pen or pencil.
Frederick Douglass Circle is relatively new. Though the circle was named for Douglass in 1950, construction of the central plaza did not begin until 2004 and beset by delays, was unfinished until 2010. Douglass' portrait sculpture by Hungarian Gabriel Koren was installed the same year.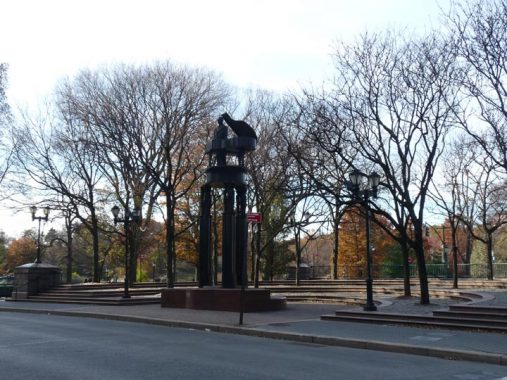 Duke Ellington Circle/Frawley Circle
Location: Northeast corner of Central Park at East 110th Street and 5th Avenue
Notable buildings: The Heritage (Schomburg Plaza); The Africa Center (1280 5th Avenue)
The intersection of 5th Avenue and East 110th Street, Central Park North, actually has accumulated three names over the years: one for a pop/jazz immortal, another for the most famous salsa performer/composer in history, and another for a construction boss/state senator/union leader.
The traffic circle here was named for Duke Ellington (1899-1974) in 1995; the popularizer of "Take the A Train" lived in the Upper West Side in several locations, so it's slightly unusual that his memorial is here at an intersection on what's technically the East Side. That's somewhat rectified by West 106th Street's status as Duke Ellington Boulevard.
Robert Graham's striking 30-foot tall bronze Ellington Memorial was dedicated July 1st, 1997 and shows the Duke standing beside his piano facing east, on a pedestal supported by three columns each surmounted by three female figures meant to support Muses (in the Greek myths there were nine Muses who embodied artistic themes such as music, dance, poetry, comedy, tragedy, etc. They were the daughters of Zeus and Memory).
The work was a gift to NYC from the Duke Ellington Memorial Fund and its president in 1997, singer/pianist Bobby Short (1924-2005).
On August 20, 2000, about two months after his death, East 110th Street east of 5th Avenue was co-named Tito Puente Way for the man who was synonymous with salsa (4/20/23-6/1/2000). Five-time Grammy Award winner Ernesto Antonio "Tito" Puente lived on East 110th as a child and youth from 1923 to 1938, and lived in Spanish Harlem for much of his life.
The intersection of 5th Avenue and 110th Street has been traffic circle since the late 1800s, but it was unnamed until 1926, when the Board of Aldermen (today's City Council) named it for James J. Frawley (1867-1926), state senator, Tammany Hall district leader, and construction manger whose company built the Manhattan and Queensborough Bridges, according to Sanna Feirstein in Naming New York. At this juncture a couple of Frawley street signs remain (including a new Clearview sign), but neither supply the full name. 5th Avenue pierces through the circle, so southbound traffic can simply stay on the Queen of Avenues.
Seeing Frawley Circle on a street map as a kid, I incorrectly assumed that tribute was being paid to the blustering actor Bill Frawley, who played Fred Mertz on "I Love Lucy" and Bub on "My three Sons."
Fraser Square
Located at: Kings Highway, Avenue M, East 34th and 35th Streets in Midwood, Brooklyn
Notable buildings: Mt. Sinai Hospital, 3201 Kings Highway
Don't be fooled by the signage: this is definitely a traffic circle, not a "square." Square has come to define any NYC intersection, no matter the geometric shape; ovals, circles and triangles can all be called "squares."
Fraser Circle was named in 1934 for NYPD officer John Justin Fraser, a military veteran who was killed trying to break up a robbery. The full story can be read at this NYC Parks page. The circle was built in 1922 as part of Kings Highway's expansion into a multi-laned boulevard between Ocean Avenue and East 98th/Tapscott Streets.
Bartel-Pritchard Square
Location: southwest corner of Prospect Park at Prospect Park West, Prospect Park Southwest and 15th Street, Park Slope, Brooklyn
Notable buildings: Nitehawk Prospect Park, originally Sanders Theatre
Maps show there has always been a traffic circle in this spot since the park opened, and the apartment buildings on Bartel-Pritchard were built along the gentle curves of the circle. The square was named in 1923 for Emil Bartel and William Pritchard, two young Brooklyn natives who were killed in combat in World War I. Bartel was a Windsor Terrace native while Pritchard was from Bushwick. The polished granite memorial to Windsor Terracers killed in combat was placed here in 1965.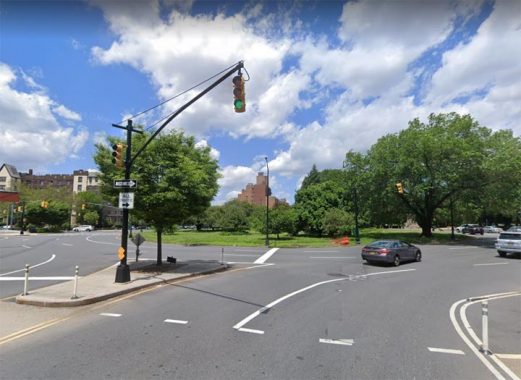 Machate (Park) Circle
Location: Southwest end of Prospect Park at Prospect Park Southwest and Parkside Avenue, Brooklyn
Notable nearby buildings: Kensington Stables
Long known as simply Park Circle, this traffic circle in Kensington was renamed for NYPD officer Robert Machate (1964-1989) who was shot and killed pursuing a robbery suspect. Prospect Park developers Frederick L. Olmsted and Calvert Vaux also designed Park Circle in 1867, when it served carriages, wagons and horseback riders. A vestige of the old days can be found a block away, where Kensington Stables provides recreational mounts for the park's bridle path.
Grand Army Plaza
Location: north end of Prospect Park, at Flatbush Avenue, Prospect Park West, Eastern Parkway and Vanderbilt Avenue, Park Slope, Brooklyn
Notable buildings: Main branch of Brooklyn Public Library; Brooklyn Museum
Grand Army Plaza is the largest traffic circle in New York City, handling two-way auto traffic on Flatbush Avenue, Eastern Parkway and Vanderbilt Avenue as well as southbound traffic on Prospect Park West. It's so large it is surrounded by a secondary traffic circle made up by Plaza Streets East and West, serving motorists who understandably want little to do with it. It was formulated for horses and carriages by Prospect Park engineers Calvert Vaux and Frederick L. Olmsted in 1867, and over the years, it has accreted a great deal of monumental statuary and art such as the Soldiers and Sailors' memorial arch and its bronze tableaux and charioteers; the Neptune Fountain; John F. Kennedy bust; and memorials to Civil War generals and gynecologists. In recent years, it has also picked up numerous bicycle lanes and has been re-engineered to be more passenger-friendly, but there's only so much that can be done.
13th Avenue and 123rd Street
Location: College Point, Queens
Notable buildings: Grandview Hotel
The traffic circle at 13th Avenue and 123rd Street is occupied by just one building: the red-bricked, dormer-windowed Grand View Hotel, built in 1853 as Herman Schleicher's mansion. Schleicher supported the South in the Civil War, and ran guns to the Confederates. It later became the Grand View Hotel (its elevation permitted views of the East River and Flushing Bay) and later became divided into apartments. The building predates the College Point street grid, so instead of moving the building, a traffic circle was laid out around it.
Intervale/Dawson
Located at: Intervale Avenue and Dawson Street, Longwood, Bronx
This is the only "true" traffic roundabout I've seen in NYC, and it's a small one at that, at the north end of Bill Rainey Park in the Longwood neighborhood. It's not governed by traffic lights or stop signs at all, and traffic can proceed in any direction at the intersection. A circular trafficway was probably placed here since the two streets meet at a severe angle. Longwood has a complicated street layout, with streets laid out in a crescent-shaped path, intersected by Intervale Avenue, which like Brook Avenue follows the path of a former creek that has been submerged underground.
Browvale/Leith
Located at: Browvale Lane, Van Zandt Avenue and Leith Road in Little Neck, Queens
This may be too small to qualify as a true traffic circle, but this complicated Little Neck intersection allows traffic to proceed in any direction around a small grassy circle in its center.
No doubt, I've forgotten a few around town. Fire away when ready in Comments!
For Your Listening Pleasure:
"Roundabout" [Yes]
"Roundabout" [Connie Francis]
Check out the ForgottenBook, take a look at the gift shop, and as always, "comment…as you see fit."
11/24/19