I was puttering around up in Melrose, Bronx a week or two ago and I spotted a true roundabout, in the British sense. NYC has a number of traffic circles, but I've only seen one roundabout in which traffic travels around a circle ungoverned by stop signs or stoplights. The British concept of a roundabout is relatively new and was standardized as late as 1966, though they first appeared in the early 20th Century. The concept is used worldwide including the USA, where traffic engineers have labeled them rotaries. Of curse in the UK and the Commonwealth, traffic bears left, while most everywhere else it bears right.
I decided to expand the concept a bit, and do a page on NYC's traffic circles. There are just a handful and some are in prominent areas — but some are out of the way and barely noticeable.
Metropolitan (Aileen B. Ryan) Oval
Location: Metropolitan Avenue at Unionport Road, Parkchester
Parkchester was built in 1941 by the Metropolitan Life Insurance Company on 110 acres, some of which had been occupied by the New York Catholic Protectorate, a home for poor children. For its time, Parkchester was a pioneer in rental-unit engineering, as it included amenities like gleaming new bathrooms with non-slip bathtub bottoms, double sinks and cabinets in the kitchens — an innovation at the time. The complex boasted a bowling alley, recreation areas, the very first Macy's branch outlet, and three movie theatres in or near it: The Loew's American, the Palace and the Circle.
Met Life provided Parkchester with a rather whimsical style. While the tall seven and twelve-story buildings appear somewhat monolithic when viewed from afar, a walk around the complex reveals the friendly face Parkchester presents: its generous employment of colorful, playful terra-cotta statues and sculpture.
Met Life chose Federal Seaboard Terra Cotta Corporation for the project. The company supplied over 500 statues of hula girls, accordion players, farm animals, and other unique accoutrements as doorway ornaments, as well as elaborate designs for theatres and storefronts, some by renowned sculptor Joseph Kiselewski.
Parkchester stood out for its landscaping, something it still takes pride in today. The scores of buildings surround a central oval, a landscaped area featuring flowers and the Fantasia fountain, designed by Raymond Granville Barger. Known originally as the Metropolitan Oval, the name was changed recently to the Aileen B. Ryan Oval, in honor of a former long-time resident. Raymond Granville Barger's "Fantasia" sculptures were installed in 1941.
Hugh L. Grant Circle
Location: Westchester Avenue at Metropolitan Avenue above the Cross-Bronx Expressway
Prominent buildings: Dollar Savings Bank, former Circle Theatre
Hugh Grant Circle was not named for the cheeky British actor of Four Weddings and a Funeral and Bridget Jones' Diary fame, but rather a NYC mayor between 1889-1892; he was the youngest mayor in NYC history, taking office at age 31, and the first Roman Catholic NYC mayor. Just why the circle was named for him in 1904, though, is not clearly understood, because citing his opposition to NY State's intervention in city matters, he opposed the creation of The Bronx's two biggest parks, Van Cortlandt and Pelham Bay. In the 1950s, it was quite an engineering feat constructing the Cross Bronx Expressway directly beneath the Circle, given that the Pelham Bay Park bound elevated train also passes above on Westchester Avenue.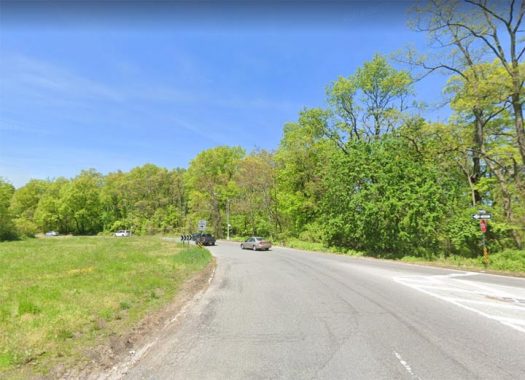 Bartow Circle
Location: within Pelham Bay Park at Orchard Beach Road and Shore Road
Bartow Circle is rather busier in the warm months, as it handles traffic coming from both the Hutchinson River and Pelham Parkways en route to the Bronx's only beach. The circle takes its name from the historic colonial-era Bartow-Pell Mansion, which is a bit further north on Shore Road. Theopolis Bartow once owned all of the land that would become NYC's largest park, Pelham Bay.
City Island Circle
Location: within Pelham Bay Park, at City Island Road and Park Drive at Rodman's Neck
This circle eases busy traffic at City Island's only approach road and Park Drive, which connects it to Orchard Beach. Another road is used by the NYPD to access Rodman's Neck, a peninsula containing training facilities and an area for explosives detonation, famously, for confiscated illegal fireworks.
Amundsen Circle
Location: Amboy Road at Clarke and Riedel Avenues, Oakwood Heights, Staten Island
At the intersection of Amboy Road and Clarke Avenue stands an oblong rock, with a plaque set in place in 1933 by the Norsemen Singing Society of Brooklyn and the Norwegian Singing Society of Staten Island, memorializing Captain Roald Amundsen (1872-1928), the first navigator and explorer to reach both the South Pole (in 1911) and the North Pole (in 1926, after an unsuccessful attempt from 1918-1920). He is also recognized as the first person to sail through the Northwest Passage, connecting the Atlantic and Arctic Oceans, through the northernmost part of Canada; such a connection had been sought for centuries. His was the first expedition to reach the South Pole (on December 14, 1911, about a month before a competing group led by English Captain Robert F. Scott).
Amundsen perished in June 1928 aboard a rescue mission to the Arctic, seeking survivors from the airship Italia, which had crashed while returning from the North Pole.
Oakwood, like Bay Ridge and Sunset Park in Brooklyn, once had a large population of Norwegian and Scandinavian immigrants.
The memorial stands on the site of a would-be expressway. Oakwood features a great gash of green, a corridor park running from Great Kills Park north past Richmond Road and joining Latourette Park north of Lighthouse Hill. In the 1960s, land was taken by eminent domain, houses were cleared, and Riedel and Combs Avenues were built as service roads for a southern extension of Willow Brook Expressway (Martin Luther King Jr. Expressway) which today connects the Bayonne Bridge and the Staten Island Expressway, reaching its southern terminus at Victory Boulevard. Constructing it would have cost part of Willowbrook, Latourette and Great Kills Parks. Near Raritan Bay, it would have run into another proposed and unbuilt road, Shore Front Parkway, which would have run along the water's edge from New Dorp Beach to Tottenville.
Support for the project petered out, and it was tabled by 1980.
Ditmars Circle
Location: Ditmars Boulevard and 23rd Avenue
Notable nearby buildings: New York LaGuardia Airport Marriott

It's funny how some traffic circles around town are named, while others, including some pretty busy ones. aren't. "Ditmars Circle" handles traffic proceeding toward the eastern terminals in LaGuardia Airport, as well as traffic heading toward the airport's satellite hotels and medical centers.
Fresh Meadows Circles
Locations: 188th (Saul Weprin) Street at 64th and 69th Avenues
Fresh Meadows is known best for the eponymously-named extensive residential community centered at 188th Street and the Long Island Expressway that was constructed there between 1946 and 1949 by the New York Life Insurance company. Prior to the apartment complex, the area's claim to fame was Fresh Meadows County Club and golf course that hosted the U.S. Open in 1932. The housing mix is 3-story apartment buildings in garden settings, with a couple of high-rise towers.
Fresh Meadows History has some vintage photos from the 1940s and 50s.
Fresh Meadows takes its name from its contrast to neighboring Flushing, whose name is a transliteration of the Dutch "Vlissingen" meaning "salt meadow valley." Ponds and creeks running through the neighboring area to the southeast were likely "fresher" or free of salt, and so Fresh Meadows replaced the harsher-sounding older name for the region, Black Stump, which apparently referred to burned, blackened stumps that marked the edges of farms. Until about 2000, one of Queens' last remaining farms, belonging to the Klein family, sold produce on a roadside stand at 73rd Avenue and 199th Street.
To illustrate my above point, only one of Fresh Meadows' traffic circles has a name. The 188th Street traffic circle at 64th Avenue is named for Edgar G. Holmes, the first New Yorker (in NY State) killed in the Korean War on July 9th, 1950; he was 18 years old. The one at 69th Avenue remains nameless.
Longtime Queens Assemblyman Saul Weprin (1927-1994) had 188th Street subnamed for him in the stretch between Flushing and Jamaica.
Greeley Avenue Traffic Circles
Location: Greeley Avenue at Oldfield, Moreland, Freeborn and Colony Streets in Midland Beach, Staten Island
These circles, likely to calm traffic in a residential area, were installed just a few years ago by the Department of Transportation.
Prospect Park Southwest at 16th Street, Windsor Terrace
There are at least a couple of locales around town in which traffic circles were considered and actually began construction, but the controlling acency, be it the NYPD, Department of Traffic or Department of Transportation, thought better of it. Here in Windsor Terrace, a "half moon" traffic circle was built instead of the real deal. Prospect Park already has its share of traffic circles at Grand Army Plaza, Bartel-Pritchard, and Machete, seen in Part 1.
Falcon and Adelaide Avenues, Oakwood, Staten Island
As originally envisaged, Falcon Avenue was laid out to completely cross Adelaide, but instead it ends there. However, a traffic circle had already been started here before the decision was made to pull the plug on Falcon Avenue's southern extension as well as Adelaide's western, leaving a "half moon" circle at what evolved into an L-shaped crossing.
There's probably more, fill me in in Comments.
Check out the ForgottenBook, take a look at the gift shop, and as always, "comment…as you see fit."
11/30/19