While sitting around and stewing at home in rage and fear (as a participant in the gig economy I did that a lot even before the Great Infection of 2020) my thoughts turned to Canarsie. I have been fascinated with this place since I first saw it on a Brooklyn street map in 1968. When I started bicycling all over Brooklyn in 1973 (missing, to my regret, the last year of Canarsie's subway grade crossing that year) I explored all of the neighborhood's leftover farm lanes, of which the neighborhood amazingly had a surfeit. Early on with the website in 1999, I was sure to write a FNY page about them and I followed with another one in 2015.
Two of them have stood out for me because they're unusually—some may say primitively—named. And, even when Canarsie was stocked with Italian Americans in the 1970s, and now when it's dominated by Caribbean Americans in the 2020s—I doubt many at all know about them. Thus, Forgotten New York is carrying the flame. As I've said often, "when I go, that's it."
My first inkling of the existence of the Lane to Tyler Davis was when I cracked the 5-Borough Street Guide, a red-covered book published by Geographia Maps, founded by Hungarian immigrant Alexander Gross in the 1940s. At its peak, Geographia published detailed street maps and guides of cities all over the USA, but it's always concentrated on the NYC area. (I have one of Geographia's editions for London, as well.) Early editions suffixed Gross' name with "F.G.R.S", but I've never been able to figure out what the initials stood for.
Anyway here's the listing for the Lane to Tyler Davis, locating it on East 91st Street north of Avenue J. You could take the then-B17 bus on Remsen Avenue (the equivalent of East 90th Street) to get there. I had always assumed that no trace of it remained. However, assumptions can be incorrect.
Here's an excerpt of an 1890 map of Kings County. Existing roads were indicated by purple lines; planned ones are beige with dotted lines. By that rubric you can see that today's modern street grid was planned but not yet built, and you got around Canarsie by horsecart on those existing roads in purple.
At the time, East 92nd Street was an extension of Canarsie Road (which today exists south of Avenue M) and extended north to the LIRR tracks. The road now known as Church Lane, but then called the Road to Lott's House, skirted the north end of Canarsie Cemetery, established here in 1843. But that little bit of purple, running a block and a half between what would be East 91st and 92nd north of Avenue J, was what would be the Lane to Tyler Davis.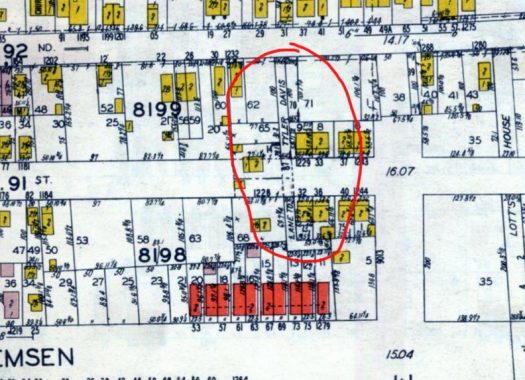 By 1929, the street grid had been established but in many cases streets were not yet laid out. In fact there were still houses that were inconveniently in the roadbeds of planned streets; those are the yellow squares. Built brick houses are in red; frame houses in yellow. The Lane to Tyler Davis was there, but buildings were beginning to appear on both sides of it.
I've been able to do a lot of NYC research by using the Municipal Archives' trove of 1940 tax photos. And, they didn't disappoint in this case, as the Lane to Tyler Davis is indeed shown on East 91st between 1227 and 1229 East 91st. The photographer was shooting properties, not roads, so the view of the actual road is split between the two images.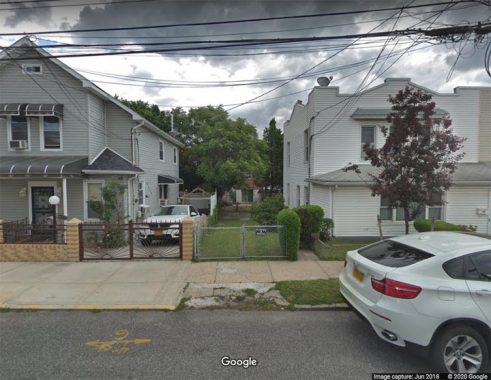 I thereupon used Google Street View to look at the same scene today and, lo and behold, there's the Lane to Tyler Davis, which is now a bit of garden likely belonging to the owner of #1229. I kept the tags in so you could see the image is from 2018.
From the sources shown above, there's no indication of who Tyler Davis happened to be. His name is not on any of the property maps I consulted. I could check the Canarsie Cemetery records to see if he's in there, but that's an exercise for another day.
In Comments:
An article from the Canarsie Courier from 8/20/1964 reports that in 1845, the Van Houtens sold to a Davis on both sides of that lane, and that the Van Houtens also sold land that was eventually held by S.W. Tyler between 1867 and 1886.
The Brooklyn Daily Eagle refers to the road as only "Davis Lane" in foreclosure notices, land-conveyance notices, and obituaries between 1880 and 1931.
Thus it would appear that Tyler and Davis were two separate individuals.
Turning my attention to the Road to Lott's House, I don't have much to add to the above link, but I did find some interesting further images.
The Road to Lott's House is paved as Church Lane between the west side of Remsen Avenue as far as East 87th Street. There's a dead end unpaved piece at East 87th, and above is a short piece that connects Remsen Avenue and East 91st Street.
There is another paved piece of the Road to Lott's House skirting the parking lot of Grace Church (now Church in the Rock) which for over a century has been one of Canarsie's tallest buildings.
Last but not least, here's a last dead-end piece of the Road to Lott's House on East 83rd just south of Avenue J.
Check out the ForgottenBook, take a look at the gift shop, and as always, "comment…as you see fit."
3/25/20