Here's an interesting (well, to me) map of Queens prepared by Ohman Maps in 1936. It shows the entire route of the recently-shuttered Whitestone Branch of the Long Island Railroad, which connected the Port Washington branch just east of today's Mets-Willets Point station northeast through College Point and Whitestone to the East River waterfront. The line went defunct in 1932, but not before the LIRR offered to sell it to NYC, which would connect it as a subway extension to the IRT Flushing Line, today's #7 train. In the midst of the depression, the city turned down the offer and the tracks quickly became weeded over and mostly eliminated; little trace of the line remains these days.
The map is interesting: it shows the correct name of the Willets Point Boulevard station. The real Willets Point is located at Fort Totten, and the boulevard was originally devised to run there continuously, but today it exists in two pieces.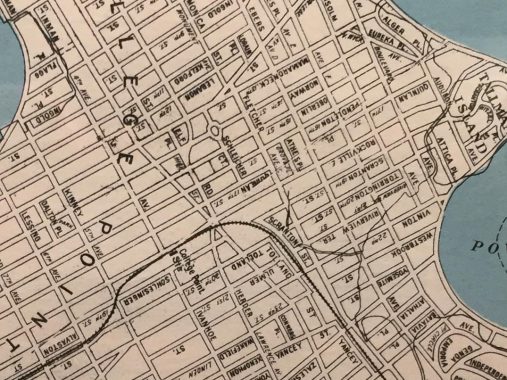 I sampled this College Point excerpt because it shows (and I wish the lettering wasn't upside down) College Point's former street names. Like Astoria, College Point had a named-street phase, and two numbered-street phases. The north-south streets were named in alphabetical order, with names like Kelford, Lebanon, Mamaroneck (a city in Westchester across the East River), Norway, Oberlin… and even an "X" street, Xenophon; that letter is usually skipped.
I wish there could have been a way to keep these colorful names around; the purpose of numbering streets was to avoid repeat names such as Spruce, Main, Washington, etc. College Point also had a numbered phase, with 1st through 32nd Streets, until the 1930s or so when the neighborhood joined Queens' greater numbered street system.
Check out the ForgottenBook, take a look at the gift shop, and as always, "comment…as you see fit."
3/4/20