Railroad underpasses are often punctuated with murals that illustrate area histories. Likely the most notable one in town is in southern Queens, where a Long Island Rail Road bridge crossing Linden Boulevard in Addisleigh Park is marked by painted likenesses of the jazz and pop greats that once called the area home, such as Count Basie and Billie Holiday. The present murals, completed in 2004, are the second generation of murals in the location. However, there is also a notable mural on the walls of the Long Island Rail Road overpass on Ascan Avenue in Forest Hills Gardens.
Forest Hills Gardens, a ritzy community on the south side of the LIRR main line tracks roughly between Continental Avenue, Union Turnpike, the LIRR and Greenway South, was one of America's first planned developments. It was begun in 1908 and its English green style setting is the work of Frederick Law Olmsted Jr., the son of the co-designer of Central and Prospect Parks. Its well-kept buildings are mostly in a Georgian or Tudor style, laid out along mostly narrow streets that defy the surrounding Queens grid.
In 1909 Cord Meyer, the developer of nearby Elmhurst, sold 100 acres south of the Long Island Rail Road to the Russell Sage Foundation, which commenced to piece together a nearly self-contained community, Forest Hills Gardens, from sixteen former truck farms throughout the 1910s and 1920s. Winding streets, Tudor brick buildings (many designed by Grosvenor Atterbury), and short, cast-iron streetlamps and street signs make the development completely unique in New York City. The Gardens, and the surrounding neighborhood, were called Forest Hills for nearby Forest Park.
Historian Mike Perlman developed the mural concept and helped arrange the content. He hired international artists Crisp & Praxis and it was completed in April 2017. Perlman coordinated a series of fundraisers for this project, and for the latter project, CM Karen Koslowitz and the Queens Economical Development Corp. were helpful, in addition to the West Side Tennis Club & Reform Temple of Forest Hills. Residents and restaurant owners also contributed.
Financier and philanthropist Russell Sage (1815-1906) left a considerable fortune to his widow Margaret Olivia Slocum Sage (1828-1918), who established Russell Sage College for Women in his hometown, Troy, NY, established bird sanctuaries in Louisiana, and founded NYC's Russell Sage Foundation, dedicated to research in social welfare, public health, education, government, and law.
Other notable buildings associated with Sage are the Russell Sage Memorial First Presbyterian Church in Far Rockaway and the Russell Sage Foundation building at East 22nd Street and Lexington Avenue.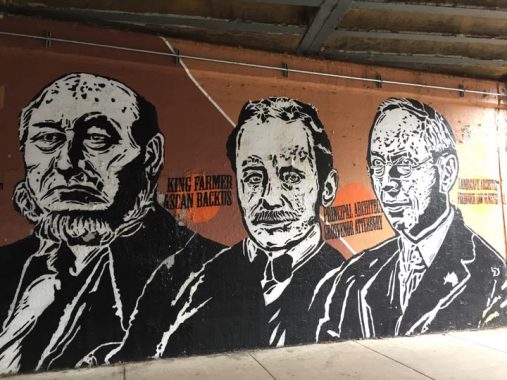 Grosvenor Atterbury (his first name was likely pronounced GROVE-ner) (1869-1956) was Forest Hills Gardens' chief architect.
For Forest Hills, Atterbury developed an innovative construction method: each house was built from approximately 170 standardized precast concrete panels, fabricated off-site and assembled by crane. The system was sophisticated even by modern standards: panels were cast with integral hollow insulation chambers; casting formwork incorporated an internal sleeve, allowing molds to be "broken" before concrete had completely set; and panels were moved to the site in only two operations (formwork to truck and truck to crane). —wikipedia
Ascan Backus was once of the first settlers in what became Forest Hills Gardens, in the early 1800s. He was called the "King Farmer" of Long Island for his many properties. He immigrated from Germany in 1814 (the family name was originally Backhaus). Though Ascan Avenue was named for him, it was his son Frederick who helped develop FHG in partnership with Cord Meyer; when the avenue was laid out, he named it for his father. Frederick named his son Ascan Backus II. I am unsure if the Forest Hills Backuses are related to Jim "Mr. Howell" Backus of Gilligan's Island fame.
There is a Frederick on the mural, but it's not Frederick Backus: it's Frederick Law Olmsted Jr. (1870-1957), son of the famed landscape architect who co-designed Prospect and Central Parks, as well as many other urban parks. Olmsted Jr. was born on Staten Island in a house in the Woods of Arden section of Staten Island that still stands today. FHG was an early landscaping project for the younger Olmsted, who went on to work on some of America's most famed national parks in Acadia, the Everglades, and Yosemite.
The right side of the mural shows one of FHG's famed lampposts, which have been a part of the development from the first. They have been adapted from their original incandescent bulbs to modern LEDs.
Check out the ForgottenBook, take a look at the gift shop, and as always, "comment…as you see fit."
4/30/20