I've mentioned my preference for Blimpie sub sandwiches often in Facebook, but less often in Forgotten NY. Blimpie has largely lost out in the fast food franchise sandwich sweepstakes, but I've always had a preference for them. Both feature large slabs of bread, filled with your choice of meat, cheese and a variety of toppings. When I feel like a sub sandwich and the only venues available are Subway or more expensive pizzeria or deli choices (there's one pizzeria in Great Neck where the grilled wraps are so good, that's the only thing I order) I will choose Subway, but Blimpie represents my true sub sandwich passion. Why? A number of reasons.

—The bread is softer, and the oil and vinegar I like sogs it up even more. I do not prefer toasted subs and the Subway bread, even when not toasted, is too firm.
—Blimpie uses white onions, Subway uses red onions. I prefer white.
—Subways are hit or miss regarding sweet peppers. I always want them and all Blimpies carry them.
—Slightly higher portions at Blimpie.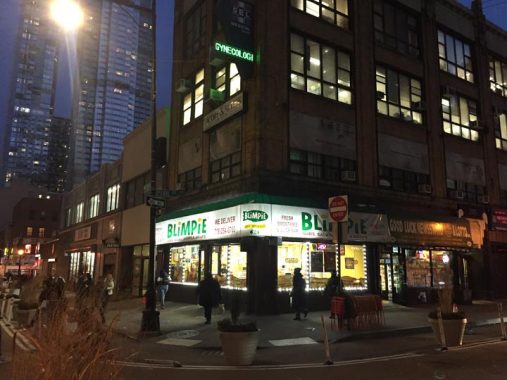 In NYC, Blimpie has dwindled down to a precious few. There's a Blimpie at a downtown location at Willoughby and Pearl near Brooklyn Boro Hall. There is another one, pictured, on 5th Avenue and 87th Street in Bay Ridge. I pay that one a visit after getting my teeth cleaned at the dentist, which is one of my last connections to my original neighborhood. Recent closures include one in lower Manhattan. I am aware of a very small one on Gun Hill Road opposite Montefiore Hospital in the Bronx.
The franchise originated in 1964 in Hoboken, New Jersey, by a pair of friends who attended St. Peter's Prep in Jersey City. They were inspired by an existing operation, Mike's Submarines, which is still going today as Jersey Mike's. As a matter of fact the two sandwiches are quite similar to my tastes and when I am on 3rd Avenue near PJ Clarke's on 55th Street ( I sometimes freelance at the Bloomingdale's offices) I lunch at the Jersey Mike's there. I've also been in the one on Hempstead Turnpike near Hofstra U. However, I've never eaten at a Jersey Mike's in New Jersey.
Blimpie reached its peak in the 1990s with hundreds of locations countrywide, but much of that is because Blimpie counters opened in convenience stores and other locales. That's the situation in Bay Ridge and also at a former Blimpie I patronized in Dyker Heights. Since then, the franchise has suffered and has closed multiple locations, including Jersey City and Hoboken, where I had been an on-and-off regular. I had eaten at one at 4th Avenue and East 13th for years till it closed. When I worked at Pearson Education in Hoboken in 2016, I was a once-a-week patron at what was considered their flagship on Washington Street. That one made their sandwiches so large I had trouble finishing them. As you see above, that one, like a number of Blimpie franchises, had marble tables and hanging plants. Others were less handsome.
In 1975, when I was 18, I bought the entire stock of Roman pizza at the Bay Ridge Key Food when I heard they were going out of business. My stash got me through 6 months. If the day comes when Blimpie packs it in, I'll just have to buy several months' worth of sandwiches.
Check out the ForgottenBook, take a look at the gift shop, and as always, "comment…as you see fit."
4/23/20