Here's a uniquely designed stanchion marking the entrance to the various IND and BMT trains available at this location, in front of 111 8th Avenue between West 15th and 16th Streets. 111 8th was constructed in 1932 as the Port Authority of New York and New Jersey headquarters, and when completed, it boasted NYC's largest concentration of office space. It has since been surpassed numerous times. Today it serves as the NYC headquarters of multimedia company Google.
The IND 8th Avenue line also opened in September 1932. I don't know what form the signage on this stanchion, which has probably been there since the 1930s, originally took, but I do have a view that I shot in 1999: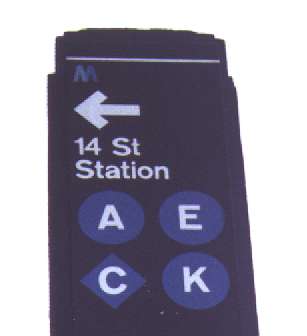 Although the L train running below 14th Street was accessible from here, in 1999 the K train was available from this stop. Before 1988 or so, the K was the renamed AA train, which stopped at local stations, with the A running express. Today, the A is express while the C and E are local. In 1988, the C was an occasional express while the K was always local.
Check out the ForgottenBook, take a look at the gift shop, and as always, "comment…as you see fit."
4/24/20