Here's a 1965 view of the northwest corner of 6th Avenue and West 46th Street in Midtown, which at the time hosted a Hadley drugstore, one of what once was a massive number of stores in the Rexall chain. There are stenciled goldleafed signs in the window for tailors and laboratories, and the phone number JU2-0637 shows up. My usual site for looking up these old exchanges has gone defunct, so if anyone knows what JU stood for, let me know in Comments. (JUdson, apparently; see Comments.)
This block of West 46th between 6th and 7th is punctuated by the High School for Performing Arts, the school depicted in the 1980s TV show Fame. The school has moved elsewhere, but the castle-like building is still there. Of course, none of these buildings in the photo still exist.
The building is dominated by an ad for pop filmmaker Fred Mogubgub, whose name is little remembered these days but made some headway shooting commercials in the 1960s featuring his distinctive brand of animation, which to my perspective prefigured the kind of animation used in 1970s shows like Schoolhouse Rock.
In 1966, Mogubgub, who passed away in 1989, directed the 7-minute film The Pop Show, which featured a young Gloria Steinem showing a playful contrast to her usual superserious demeanor. A close look at the rapid fire images reveals some NYC buildings and scenes that have since disappeared.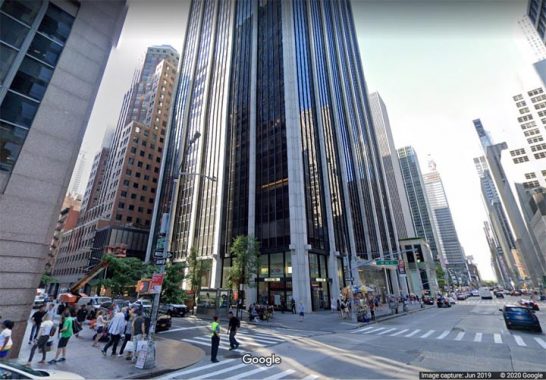 In 1970 the buildings were swept away in favor of the 580-foot steel and glass J.P. Stevens Company Tower.
Check out the ForgottenBook, take a look at the gift shop, and as always, "comment…as you see fit."
4/6/20