I've written before about that little Brooklyn neighborhood wedged between Borough Park and Kensington, located between 36th Street, Dahill Road, Fort Hamilton Parkway (the edge of Green-Wood Cemetery) and Church Avenue, and its oddly named streets: Minna, Clara, Tehama and Louisa (which, in probably no coincidence, also turn up in the same neighborhood in San Francisco!)
I'll return to it today because someone over at Google is being playful with their Street View section at Google Maps. They're labeling 36th Street as Martense Lane — a name it hasn't had since at least the 1890s!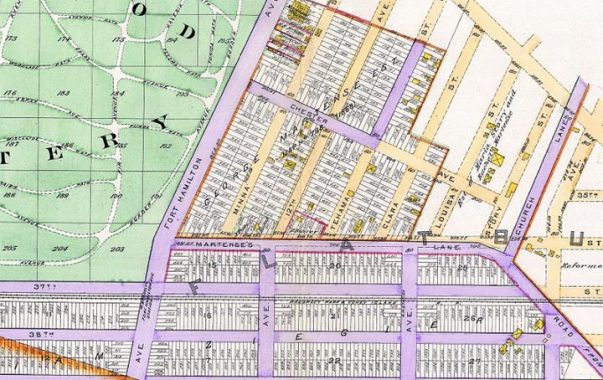 If we look at this E. Robinson map excerpt from 1890, we can see that already Borough Park was laid out and its streets paved, though there were few houses at that point. Streets have the same numbering they have today, though 36th Street is still tabbed as Martense Lane. Above it you can see property labeled "George Martense Est(ate)."
Martense is an old Dutch Kings County name. In the colonial era, Joris Martense (1724-1791) promoted the establishment of Erasmus Hall while maintaining the neat trick of supporting the patriots' cause monetarily while remaining cordial with the British. It's possible landholder George Martense may be a descendant, and his children were named Minna, Louisa, etc. There's a Martense Street and Court in the heart of Flatbush; and in 1923, horror writer H.P. Lovecraft, who spent a couple of unhappy years in Brooklyn, published The Lurking Fear, in which a group of subhumans descended from the Martense family carry out unspeakable horrors…
I'd like to meet the person at Google who's been poring over the old Brooklyn atlases.
Check out the ForgottenBook, take a look at the gift shop, and as always, "comment…as you see fit."
4/7/20