Brooklyn's Church Avenue runs from 37th Street between 13th and 14th Avenues on the Borough Park-Kensington border east and northeast to East 98th Street near Brookdale Hospital in Brownsville. The B35 bus runs the avenue's entire length, and when my mother or father didn't mind transferring buses (from the B16 on Ft. Hamilton Parkway), when I was a kid we would often ride it out to Flatbush Avenue, at least, which then as now was a prime shopping mecca. (There was a world-class candy store at Flatbush and Caton Avenues.) Oddly we did not go to the huge Sears at Bedford Avenue and Beverley Road, though we knew people who did. Very occasionally one parent or the other would ride the entire line with me out to Brownsville, but that was developing into a tough area even in the mid-60s. Just about every Saturday or Sunday, weather permitting, I loved to take a bus ride on the various routes near our house — the B16, B63 (5th Avenue), B37 (3rd Avenue), B4 (Bay Ridge Parkway), B64 (86th Street and Bath Avenue to Coney Island). What was I doing? Checking out the various street sign stylings, lamppost varieties, anything having to do with infrastructure — laying down the foundation for this web page.
Church Avenue was previously known as Church Lane and East Broadway east of Flatbush Avenue. As we'll see it is named for the First Dutch Reformed Church at Flatbush Avenue, a congregation that has existed since the 1650s and a building in existence since 1799. The road itself is a very old road going back to the first European presence in Long Island. Originally it was a conveyance for cattle and hay wagons to and from the salt marshes that originally constituted a great deal of East Flatbush. Salt hay was an important cattle feed. Later, as the Reformed Church gained in importance the road was named for the church. Today's Church Avenue follows closely its original path until about Utica Avenue; after that it turned northeast dramatically into the town of New Lots.
I began my Church Avenue walk with a few stops in Borough Park, which I'll expound upon in a future page. To reach the west end of the avenue, I turned the corner at 13th avenue and 37th Street, where a housing project named for the old Culver Elevated is going up.
This particular spot not only used to be beneath the Culver El, it was also on the right-of-way of the freight-only South Brooklyn Railroad, which was used to get Transit Authority supplies and equipment from the waterfront docks to the Coney Island Yards. The trackway ultimately ran down the center of McDonald Avenue. After 1980 a track connection from the Cross Harbor Railroad to the (present-day) D train tracks south of 4th Avenue took over the at-grade route. I look at Brooklyn's waterfront railroads on this FNY page.
My primary memory of this space, however, isn't railroad-related. The SBR ran infrequently, maybe once or twice a day, and the tracks were mostly unused. Therefore the local Italian guys took over the space and played bocce, a variety of lawn bowling. The old man and I would occasionally take in a game or two in this spot. Today many area parks have bocce courts.
An inauspicious beginning indeed for one of Brooklyn's historic roads and main shopping streets. Church Avenue, identified by one bent street sign, begins as a sidewalk-free space between buildings on 37th Street. In case you are scoring at home, Church Avenue is the only street in Brooklyn that intersects both 37th Street and East 37th Street, and 36th would duplicate the feat if East 36th Street wasn't replaced by Brooklyn Avenue.
Here's a mid-century view of the #35 trolley playing a route between 36th and 37th Streets en route to Church Avenue just up ahead. It's really a right of way space between buildings without sidewalks, but today is marked as a prt of Church Avenue. More on the trolley below. Photo courtesy Al Ponte's Time Machine (facebook)
This 1890 plate from a Kings County map shows the original west end of Church Avenue. It was a fork in the road from Martense Lane (today's 36th Street) and Old New Utrecht Road, two pieces of which still exist. On this map, property and lot lines are indicated, but the only existing roads were shown in purple; the rest were still on the planning boards. Note that 14th Avenue paralleled Church Avenue; today, it intersects Church Avenue at 35th Street. Story Street was  lengthier then, and now runs north-south.
The Clara, Tehama, Louisa and Minna street names are supposed to have been the daughters of a local developer, but he has never been identified. In this context Story is a Dutch family name, and the street is named for the family's local holdings. See the notation "Est. of Maria Story."
A short piece of the unusually named Old New Utrecht Road intersects Church Avenue and 36th Street; it was unmarked by the Department of Transportation in December 2015, though I imagine it will soon gain new signs in the Clearview font. The only street in NYC beginning with "Old New," it is an ancient colonial-era road in its own right. I gave it its own profile in an early FNY page.
Here 14th Avenue intersects Church Avenue as the street grid of Gowanus, Park Slope, Sunset Park, Bay Ridge and Bensonhurst runs into the street grid of Kensington, Flatbush, Coney Island, Gravesend, Sheepshead Bay and Canarsie. The former features numbered streets and avenues with no "East" Or "West" prefixes as a rule, while the latter has those, plus lettered avenues running east and west. In the early 20th Century some of the lettered avenues were given British-sounding names to add an air of sophistication.
Kensington Dental Care, corner of Church Ave and Story Street, has marvelously hand-lettered front and side signs. The neighborhood of Kensington is named for a western borough of London; there are many British-sounding place names in the area, mostly by design since in the mid-1800s, when the region was developed, a patina of sophistication was desired. There were scattered farms around until the 1850s when the Coney Island Plank Road (Coney Island Avenue) was built and some dwellings began to concentrate at Coney Island and Church Avenues, as well as the northern end of the area near Ft. Hamilton Parkway. As early as 1851, the street pattern began to appear.
Kensington's borders are generally accepted to be Ft. Hamilton Parkway on the north, 18th Avenue on the south, 36th Street and Dahill Road on the west and Coney Island Avenue on the east, though some demographers fudge a little, saying separate areas called Dahill (defined by a triangle formed from FHP, Dahill Road and 36th Street) and Albemarle (the northern extent from FHP south to Church Avenue) are subsections.
While Story Street runs for just one block, its offshoot, Story Court, is one of the shortest streets in Brooklyn. But that's not the most unusual thing about it.
The intersection of Story Court and Street is marked by a pair of 1964-vintage black and (faded) white vinyl street signs that the Department of Transportation has forgot. I fully expect these two to vanish in the next round of Clearview-font replacement street sign purges. Maybe not, though. Note that Story Court is marked "private property" and thus, the court may be outside the DOT's power to replace the signs. The next year or two will tell the er, ah, story.
Returning to Church Avenue, a lengthy storefront at Dahill Road is unmarked for the most part, except when it's open on weekends. Then it's known to Kensington kids, and enthusiasts around the world, as Buzz-a-Rama, the world capital of slot car racing. The mecca has been operated by Frank "Buzz" Perri, now nearing 80, since 1965. For those unaware, slot cars are guided by miniature 12 volt D.C. motors set in the underside of model cars along a central groove in the track in which they run. Racing buffs, young and old, bring in their own cars, or rent them here, and rent space by the hour.
Astoria Bank, formerly Astoria Federal Bank, at Church and McDonald Avenues.
Astoria Federal Savings was chartered as Central Permanent Building & Loan Association in 1888, and became Astoria Federal in 1936, which seems about right for the date this branch at McDonald and Church Avenues was built. This branch was formerly the Greater NY Savings Bank, purchased by Astoria in 1996.
It's streamlined, as buildings started to be in that era, but architects were still able to add touches like the beaver, a symbol of thrift as well as of New York State (let's not forget the bank's namesake, John Jacob Astor, the USA's first millionaire, made a smash as a fur trader and initially, as a dealer of musical instruments.)
In late 2015, word came that Astoria Bank will merge with New York Community Bank, and drop the Astoria name.
McDonald Avenue was laid out as Gravesend Avenue in the mid-19th Century (it plunges south toward that neighborhood) but was renamed in the 1930s for John McDonald, a chief clerk in the Kings County Surrogates Court, who had choked on a chicken bone. If such an unfortunate occurrence happened today, McDonald would probably get his name on several signs along the street's route, but the Gravesend name would probably be retained.
There are three Church Avenue subway stations, one each for the old IND, BMT and IRT designations. This is the only one that is a terminal as it is the southern end of the G train, a line that has had both its terminals changed seemingly serendipitously over the years. Formerly the GG local, it used to run between the Smith-9th Street station and 71st/Continental in Forest Hills, Queens. Most of its Queens trackage was reduced to tow stops as other local trains took its place on the Queens Boulevard line. The Smith-9th terminal was convenient only for train dispatchers, so the MTA deigned to extend the service south to Church Avenue, and it can now free-transfer to the R at 4th Avenue. Rarely, when there is trackwork on the F, the G is extended south to Coney Island, where a transfer exists to the D, Q and N.
1890 map of Church Avenue east of McDonald Avenue. Essentially the street layout is the same today, though Avenue B has become Beverley Road and has gained a Church Avenue intersection.
The curving Beverley Road intersection with Church creates a strangely-shaped plot and a building with an oval shape.
This is what remains of the Beverl(e)y Theatre at Beverley and Church. The theater opened for business in 1920 and closed in 1981. It's the first of two defunct theaters along Church Avenue, the other being the Kenmore near Flatbush Avenue. There's a great picture of the Beverl(e)y at cinematreasures in its 1970s grindhouse glory days (also note the Muhammad Ali-Ben Foster bout on closed circuit TV) next door to an Ebinger's bakery.
Meanwhile, on the same block, I seem to remember an Italian restaurant, Scarola's, where I attended a bachelor party in the 1980s.
Frank Torre Place, Church Avenue and East 2nd Street was named for a local realtor and civic leader (1923-1991) in 1993 and not, to my surprise, the former major leaguer and brother of NL All-Star and great NY Yankees manager Joe Torre. The street between Church and Beverley received the designation in 1993, when the city was still installing blue and white street signs for honorary subnamings.
Church Avenue storefronts/residences. These likely went up in the Teens or Twenties. The original roof treatments are intact, painted a different color for each building.
I was unaware of a Polish presence in Kensington, but it's here, at least.
The handsome synagogue at East 5th and Church is officially known as the Flatbush Jewish Center, though Flatbush pretty much centers around its namesake avenue, about 20 blocks east. Kensington can be considered part of "Greater Flatbush" along with neighborhoods like Midwood, Parkville and East Flatbush.
The Conservative congregation was organized in 1921 as the Jewish Center and Congregation of Kensington. When the present building was completed in 1924, the name was changed to the Jewish Center of West Flatbush. In 1926, the name was again changed to the Flatbush Jewish Center. In the 1960s, it merged with Ahavath Achim and Shaare Torah to become the Flatbush and Shaare Torah Jewish Center.–Matthew X. Kiernan
Classic wood-lettered "Cleaners" sign on Church, east of East 5th.
Church Avenue fattens up into a multi-lane behemoth on the two blocks either side of Ocean Parkway. Was this a short-lived attempt by the city to turn it into an expressway, as the Prospect Expressway was extended north from Church avenue to the BQE? No. This was the former route of streetcar line #8 (later #35), which ran from a  former ferry at the end of 39th Street in Sunset Park along Church Avenue to Hegeman Avenue in Brownsville.  photo: brooklynpix.com
To avoid crossing Ocean Parkway Church Avenue's trolley tracks were placed in a tunnel. After the streetcar was discontinued on Halloween 1956 (one of the last trolleys to run in Brooklyn) the tunnel was filled and to my knowledge, no trace remains.
Ocean Parkway is the oldest major north-south route in southern Brooklyn. It was constructed between 1874-1880 as a broad wagon and carriage route by its chief engineers, Calvert Vaux and Frederick Law Olmsted, the architects of Prospect and Central Parks. It retains its bike and bridal paths and is one of Brooklyn's fastest auto routes with synchronized stoplights on the at-grade surface.
North of Church Avenue, Ocean Parkway becomes the Prospect Expressway, bruited through Kensington, Windsor Terrace and Park Slope by traffic czar Robert Moses to link Ocean Parkway and the Brooklyn-Queens Expressway between 1953-1960. Moses, I have read, desired to turn Ocean Parkway into either an open-cut or elevated expressway, but was rebuffed, though I'll have to check my Robert Caro about this. Ocean Parkway was given a Landmarks designation in 1975, so it cannot be altered that way in the future.
State Route 27 eventually reaches Montauk Point in Long Island, but in Kensington and Flatbush, it travels along Caton Avenue and Linden Boulevard and several directional signs appear in the neighborhood. At this juncture it's doubtful if any motorists pursue a strict path on Rte. 27, but I imagine the state is legally bound to mark the route.
Although Church Avenue remains a shopping and business strip, it is on the northern end of a residential section, and east of East 8th Street, it's actually in a landmarked district. However, #200 at West 8th is an outlier. Its closest neighbor is a car wash.
Coney Island Avenue is also a very old north-south route and appears as the "Coney Island Plank Road" on late 19th Century maps. Photos from that period show it, and its steam railroad tracks, seemingly receding into infinity in an otherwise empty landscape. The steam railroad became a streetcar line and ultimately, the B68 bus.
At the corner of Coney Island and Church Avenues and running east to East 10th Street we see three different philosophies in store signage. Andrew's Coffee Shop (not to be confused with the former Manhattan coffee shop franchise) is quite "busy": plenty of text, address, phone number, partial menu, etc.
Then we have the motorcycle shop next door. You have to squint to see the name of the store, prospectcycles.com, on the door. The name of the store in this context isn't important; the Yamaha and Kawasaki bikes inside are.
Next to that is a blank sign with just one word: "WHEATED." Since I'm unfamiliar with the place, I'll guess that it's a breakfast and lunch place serving bagels, cereal, etc., that kind of thing.
OK, after looking at the online menu, I find it's a pizza place. It displays none of the iconography usually associated with pizza places, which usually are brightly lit with signage in red, green and white, the colors of the Italian flag. Thus: I'll infer Wheated is looking for pizza aficionados — but not the sort of pizza aficionados who go to the dollar slice stores. A blank, or nearly blank, sign indicates that they are looking to build up a clientele who has heard about them elsewhere, but they are not going to resort to 'loud' signage to bring in walk-in customers. The fare is not conventional pepperoni, anchovies, etc. but somewhat more creative (think octopi), and it serves liquor instead of fountain Diet Coke. Online reviews are good.
Proceeding east from Coney Island Avenue just south of Church Avenue is Albemarle Road, part of a development known as Prospect Park South.
Prospect Park South was developed at the turn of the 19th-20th Century by upstate New Yorker Dean Alvord, who purchased a parcel of land in Flatbush from the estate of Luther Voorhies and the Dutch Reformed Church in 1898. Alvord, with the aid of architect John Petit, set about building sumptuously-appointed buildings for the well-to-do. By 1898 Flatbush had evolved from farmland into a well-established community that boasted good schools, decent local trolley lines, and the Brooklyn Rapid Transit Company, the precursor of the BMT (Brooklyn-Manhattan Transit) offered easy transport to Manhattan via the Brooklyn Bridge on what was once a steam line called the Brooklyn, Flatbush and Brighton Beach Railroad that evolved into today's B/Q train.
Alvord's idea was to extend Prospect Park South and adapt it to residential use. He foresightedly buried utility lines underground (other Brooklyn neighborhoods are marred by overhead utility wires) and paved the streets in an age when many were still dirt roads or Belgian-bricked. Streets were given British-sounding names. Grand houses of every description appeared: neo-Tudors, French Revival, Queen Annes, Italian villas, Colonial Revivals, Mission styles, and houses designed to individualistic styles and bearing no relation to previous forms. Undoubtedly, many of the houses bear a resemblance to the grand southern plantation mansions.
Neighborhoods south of Prospect Park South such as Ditmas Park, Beverley Square, and Fiske Terrace sprung up shortly after Prospect Park South's development, and adhered closely to Alvord's vision. Prospect Park South homes have featured in movies of recent decades such as Sophie's Choice and Reversal of Fortune. In the early 20th Century, the Vitagraph Studios in Midwood was the epicenter of filmmaking in the USA and many film stars made their homes in Prospect Park South and the neighborhoods to the immediate south.
In 1977 Prospect Park South was designated a NYC Landmarked District.
"Corvington" lamps with the same design as the ones that first appeared in the 1910s have been installed along this section of Church Avenue. The NYS 27 sign directs traffic to turn left here at Stratford Road to pick up the state road at Caton Avenue. When Dean Alvord laid out Prospect Park South and commissioned brick pillars bearing the street names, he likely didn't envision state roads for combustible engine traffic.
I continue to have a keen eye for store signs like this hand-lettered number between Stratford and Westminster.
A sampler of some of the beautiful homes visible on the side streets of Prospect Park South. These ate within a short walk from Church Avenue or even border on it.
The Temple Beth Emeth (House of Truth) at Church Ave and Marlborough Road was designed and opened in 1913; the congregation was established two years earlier. Its construction marked the beginning of Jewish religious activities in the Flatbush area, and today parts of Flatbush remain heavily Jewish.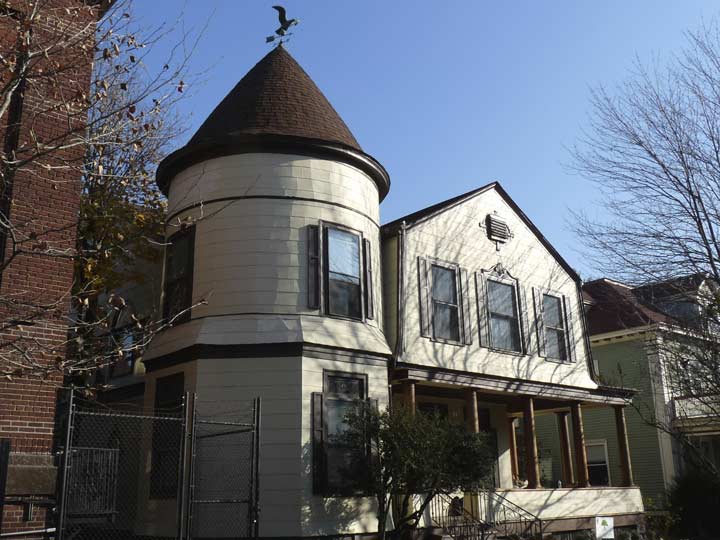 #91 Marlborough Road, adjacent to the synagogue, was built in 1901 and features a corner tower and small shutters that are strictly ornamental.
The Church Avenue station for the B and Q subway lines is the second one the avenue encounters traveling east. It's a BMT express station serving the B (express) and Q (local) and can trace its existence back to the surface steam railroad Brooklyn, Flatbush and Coney Island Railway, which first ran in 1878.
What became the Brighton Line had its beginnings in 1877 when it was planned as just one of a group of steam railroads that connected downtown Brooklyn, or its outskirts, with the hotels and resorts at Coney Island and Manhattan and Brighton Beaches. At the time, most of Kings County was a rural enclave with farms and small towns connected by roads like the Old Flatbush Turnpike, later straightened and renamed Flatbush Avenue, and Kings Highway, which followed an old native American path through the woods.
In 1877, the Brooklyn, Flatbush and Coney Island Railway was incorporated, opening the next year in 1878. It originally ran from the Prospect Park entrance at Flatbush and Ocean Avenues south to the Brighton Beach Hotel, built near the water's edge. Until 1899, steam locomotives were the rule on both the elevated and surface railroads. In 1899 elevated trains began running on the Brighton Line, in addition to steam service, but all steam was done away with by 1903.
Beginning in 1905, the Brighton Beach was brought to its present-day arrangement by eliminating all grade crossings. The northern part (now the Franklin Shuttle) would be on an elevated structure; south of about Prospect Place, trains would run in an open cut; and south of Foster Avenue, trains would run on an embankment created from land excavated to submerge the Bay Ridge Branch of the LIRR in its own open cut. Many cross streets would be depressed to travel under the embankment, but some, such as Avenues I and X, would stop at the embankment, vexing travelers to this day. Brighton Beach BRT service continued along the parallel LIRR Manhattan Beach branch (later closed in 1924) while the grade crossing elimination project was underway.
In 1913, the NYC Board of Estimate and the NY State public service commission approved a plan for subway expansion known as the Dual Subway Contracts. The Dual Contracts, named for its BRT and IRT components, expanded the NYC subway both by building new lines and incorporating older surface railroads and upgrading them by submerging them into tunnels or running them on new elevated structures. As part of the Dual Contracts, a tunnel was constructed beneath Flatbush Avenue — joining the IRT tunnels already there — to join the Brighton to lines crossing the new Manhattan Bridge.
This Church Avenue station first opened in August 1907 and no doubt looked a lot different than its present, 1980s-vintage bland exterior. In the present configuration the B runs only weekdays and joins several other lines in Manhattan and the Bronx, never having any part of track to itself. The Q travels up the Broadway and Astoria lines.
At Church Avenue and St. Paul's Place is the school associated with the venerable Anglican/Episcopalian parish, first established in 1836. The now-venerable church building was built in 1877 a block north, and it's worth a look. Of course St. Paul's Place and Court were named for it.
After skirting the northern edge of Prospect Park South, Church Avenue has entered its busiest shopping district as it approaches Flatbush Avenue. Square foot for square foot this could be the borough's biggest retail district. East 19th ends at the Brighton Line open cut.
The former Kenmore Theater takes up half the entire north frontage on Church Avenue between East 22nd Street and Flatbush Avenue. The theater, which had a distinctive black marquee with white letters (like the Albee on DeKalb Avenue downtown) opened in September, 1928 and closed in 1999 with "The Matrix" on the bill. Cinematreaures has a photo of the Kenmore in its heyday. In the last decades of its existence the Kenmore was not exactly safe, due to gang activity and crime.
East 21st Street was formerly called Kenmore Place (a short landmarked residential area issuing from it is Kenmore Terrace, seen on this FNY page).
Beverley Road is a block south and the owners of the large bridal emporium at Church Avenue and East 21st have cleverly named it for Beverly Hills, California.
Next week: the church of Church Avenue
1/10/16