I have referenced Child's Restaurants often in Forgotten New York; the former chain was still active when I was a kid and perhaps even into my young adult days, since I remember a Child's in the Times square area in the early 1980s when I was wandering around one day. I composed an entire page of former Child's locales: most are distinctive because of their use of terra cotta to depict oceanic images like flying fish, sea horses and King Neptune. A magnificent Child's flagship on the Coney Island boardwalk depicts hundreds of seafood images.
On that page, I noted the history of the chain:
The Childs restaurant chain was the creation of Samuel and William Childs. They revolutionized the American restaurant chain by creating a uniform look to each of their branches in order to make their restaurants recognizable. Their "brand" relied heavily on the portrayal of their establishments as sanitary, clean, and modern; the interiors were outfitted with white tile floors and walls, and even the waitresses and other workers dressed in white uniforms. The Childs brothers were also the fathers of the modern cafeteria, influencing another bygone NYC chain, the Horn & Hardart Automat. They would probably bristle if you compared them to McDonalds or Burger King, as the fare was more upscale than that, but it wouldn't be outlandish to compare them to, say, the old Howard Johnson's chain.
Child's Restaurants peaked in the 1920s and 1930s, and William Childs lost control of the company after a revolt from investors after he imposed his own vegetarian preferences on the menu. Child's became the Hotel Corporation of America in 1955 and was acquired in 1961 by the Riese Organization, which today operated restaurant chains like T.G.I. Friday's and Applebee's.
According to an article in the Sunnyside Post a few years ago, developers have their eye on one of the more prominent ex-Childs restaurants, a classic at Queens Boulevard and 60th Street. As luck has it I photographed this building in mid-March 2020, on my last foray outside my Little Neck-Douglaston-Great Neck environs before the Coronavirus Crisis struck.
Not only would the old terra cotta design go, but it would also spell the end of a fine example of mixed uses that has been the norm on NYC streets for over a century. I'll explain that but first, have a look at the gorgeous terra cotta work that hasn't faded a bit in the near century since its installation:
Beige and green fish and shell.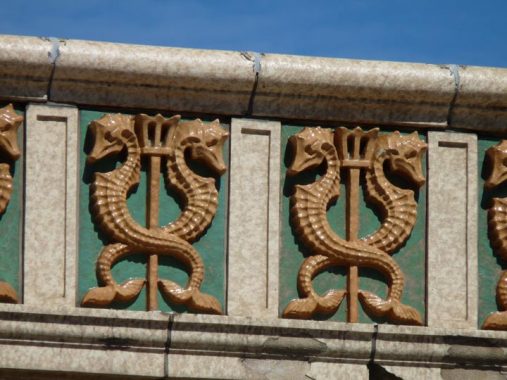 Child's restaurants were known for this seahorse-and-trident motif. There is some artistic license because sea horse tails are prehensile, missing the tail fins of other fishes.
On corners, Child's restaurants often included decorative urns and heraldic crests.
Though the Child's restaurant closed in this building decades ago the old facade now supports a number of businesses: a laundromat on the Queens Boulevard side; a corner bodega ran by the Shriji Corp. on the corner; on 60th Street, an Irish pub (judging by the shamrocks) Charlie's Sports Bar; and the Woodside Pizza Restaurant with a slice joint on the 60th Street side and a sitdown restaurant on the 44th Avenue corner: many pizzerias in NYC have this arrangement, notably L&B Spumoni Gardens in Gravesend.
This sort of mixed use is dying out in NYC, as developers have deemed it to be declassé. As the article says, 'Winzone Realty, is pitching the location as a "Prime Area For Hotels, Long Term Residence Hotel, Buildable Condos/Retail Space."' Thus, what would go there is supposed to be a single use condo building, presumably with its own laundry room, and the people who patronized the bodega, pub and pizzeria are not thought important enough and would have to drink beer and eat pizza elsewhere, making room for richer residents of whatever high rise condo goes there.
As I've been saying… Sick transit, Gloria!
Check out the ForgottenBook, take a look at the gift shop, and as always, "comment…as you see fit."
5/19/20