From beginning to end, from Brooklyn through Queens and into Nassau County, Linden Boulevard is one of NYC's lengthiest thoroughfares, running a total of 12.3 miles. However it's also unique among NYC's longest streets. It's made up of varying widths, from a one-lane trickle to a 10-lane superbehemoth to a regular two-lane street. Alone among NYC's major named streets, it roars for miles, comes to a stop, begins again in fits and starts before roaring to a close. Though I don't drive at all, I've always been fascinated with this unique thoroughfare. Through the magic of Google Street View, I have been able to survey it beginning to end without taking the better part of a day it would entail to walk its entire length. (I've done screen shots and left in the Google tags on the photos.)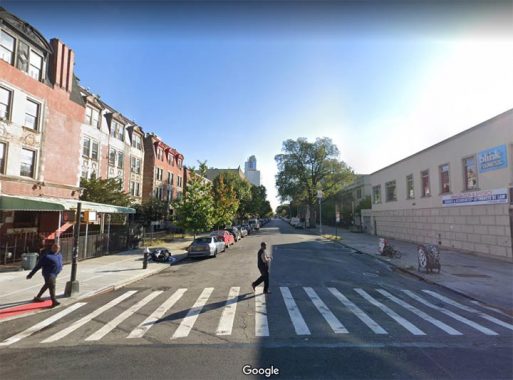 My first encounter with Linden Boulevard was through bus rides one or the other parent would take with me when I was a kid. One of them involved taking the B35 bus which runs, then as now, down Church Avenue. We would get off at Flatbush Avenue and walk around, checking out the shops (a particular favorite was a huge candy store at Flatbush and Caton, long gone). I first noticed Linden Boulevard then, and later as a Cub Scout we would periodically take bus trips out to some location in Queens or Long Island (for me, the best part of the trips was securing a window seat, and looking out the window at the lampposts). For some reason one day the driver took Linden Boulevard and I was utterly absorbed at how it widened and lengthened the further east you went on it…
Here's a map of the center of Flatbush in 1873. Until the 1890s Flatbush was a separate town in Kings County, with its center at the Dutch Reformed Church at Flatbush and Church Avenues. Gradually the City of Brooklyn absorbed the Kings County towns, and in 1897 Brooklyn narrowly voted to join Greater New York City, which it did, on January 1, 1898. Linden trees abounded in the area, hence the name.
On this map the overall street grid still holds true, but most of the roads have been renamed (East Broadway to Church Avenue, for example). Not so Linden Boulevard, which I have circled in red. In 1873 it was known as a Boulevard, but it became an Avenue for several decades, finally settling on Boulevard again in the 1920s.
A sampler of attached multifamily buildings on Linden Boulevard between Flatbush and Bedford Avenues. For one block, Linden Boulevard is one-way eastbound.
Looking westbound at Linden Blvd., Bedford Avenue and Caton Avenue. Here, NYS Route 27 joins Linden Boulevard and will be coterminous with it as far east as Conduit Boulevard. Route 27 runs west from here along Caton Avenue, East 5th Street, and the Prospect Expressway as far as I-278 at the Gowanus Expressway.
123 Linden Boulevard, west of Rogers Avenue, is a 26-story luxury residential building, under construction in 2020, that towers over its neighbors. It stands on the former footprint of the New York Congregational Home for the Aged.
Linden Boulevard at East 35th Street. Though the road was originally laid out to a lengthy width (100 feet) in Flatbush and East Flatbush, the city has restricted it to two lanes by painting a wide center median.
The center was a grassy median at one time but those have since been eliminated.
There are reminders, here and there, that Linden Boulevard is coterminous with NYS Route 27. To this day, an east-west expressway has never been built across Brooklyn, and the window of opportunity for that is more or less closed. The Belt Parkway, far to Linden Boulevard's south, remains the sole express east-west auto route in Brooklyn south of the BQE, and it is closed to trucks — leaving Linden Boulevard as the main east-west truck route in these parts.
The game changes for Linden Boulevard where it meets Kings Highway and Remsen Avenue, where its width changes to 170 feet across, and it gains multiple lanes of traffic, giving it a total of 10.
The online history is sketchy about this alteration. This much I know:
In the 1920s, at the dawn of the automobile age and before Robert Moses built the Belt Parkway, there was a perceived need for a better traffic flow in Brooklyn. Kings Highway and Linden Boulevard were selected for expansion, and construction, into multi-lane boulevards. Prior to the 1920s, Kings Highway had been a rutted farm road running generally northeast from Gravesend to Brownsville, where it met the Hunterfly and New Lots roads, other colonial-era highways that have largely disappeared. Linden Boulevard, for its part, didn't exist east of East Flatbush…
I have excerpted this very early Hagstrom map from 1922. That year, Linden Boulevard was still known as Linden Avenue and ran east, then jogged northeast, to its ending at East 98th Street. Many of the streets depicted here were "paper streets" that were only built at a later date.
Traffic engineers decided to extend Linden Avenue east and make it into a wide boulevard. I have traced its new path on this map in blue. The new Linden Boulevard would scythe through the NW-SE traffic grid and then jog temporarily northeast to avoid the curve of the Long Island Railroad, which would ultimately be bridged over it. In East New York, Linden Boulevard would assume the routes of Hegeman and Vienna Avenues (later renamed Lorrain and then Loring).
While Kings Highway's widening was largely completed by 1929, Linden Boulevard lagged behind. You can see this by looking at various plates on the Belcher Hyde Brooklyn Desk Atlas, which shows Linden Boulevard mapped, but not yet built.
In the 1920s, traffic engineers were not yet ready to design limited-access highways and parkways in open cuts and elevated sections, likely because overall traffic was lower than today. So, at-grade highways such as Kings Highway, Linden Boulevard, and Roosevelt Boulevard in Philadelphia appeared.
In Comments, see photos of the new widened Linden Boulevard in 1934. Twin Type F lamps were originally employed for illumination.
But Linden Boulevard's story seems to indicate that even greater glory for it was stymied by the Depression, World War II, and horse racing….
The Canarsie Line subway (L train) crosses Linden Boulevard at Van Sinderen Avenue. The 2, L, 3 and A trains all cross Linden Boulevard at some point, but Linden Boulevard is likely NYC's longest street without a dedicated subway stop —mainly because much of it didn't exist when subways and els were built in the early 20th Century.
Private homes along Linden Boulevard on the north side, between Snediker and Hinsdale. When these houses were constructed they had been on Hegeman Avenue, but Linden Boulevard assumed part of Hegeman's route in this location. To this day there are relatively few addresses on the wide section of Linden, and very few residences.
Linden Park. Green spots are few and far between in East New York, and the park, between Vermont and Van Siclen Avenues on the south side of Linden Blvd., partially fills the bill.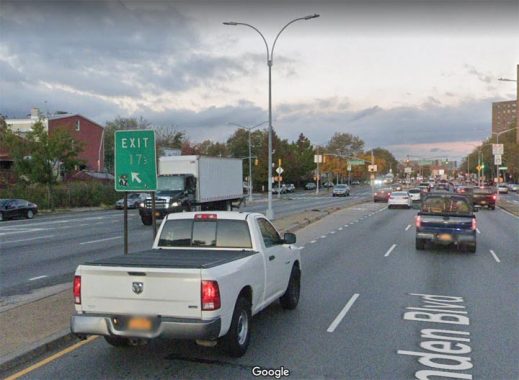 Linden Boulevard became part of NYS Route 27 in 1934, when the state route was extended west (that may be a clue as to what year the Linden Boulevard reconstruction was completed). And, as a NYS Route, it actually has entrances and exits despite it being an at-grade road. However, the NYC Department of Transportation has largely let these entrance and exit designations fall into disuse, and while there are a few older exit signs to be found such as here at Exit 17, they seem to be fading fast and will not be replaced.
The #3 train passes Linden Boulevard between Elton and Linwood Streets — or rather, the elevated trainyard servicing the #3, whose last stop is at New Lots Avenue. There has been some talk of extending service one stop south to Stanley Avenue using the trackage here, but that's not likely to happen.
Pink Houses for you and me. The Louis H. Pink Houses were completed in 1957 and named for the chairman of the NYS Housing Board and the official responsible for creating the NYC Housing Authority. Way back in 2005 I was on a ramble through Brownsville and East New York with Mike Epstein, who was at the time running a photoblog called Satan's Laundromat (the address of the laundromat near where he lived was 666 Fulton Street). When we got to the Pink Houses we were stopped by the cops and asked for ID.
Another diner on my list, the Lindenwood, at Linden Boulevard and Sapphire (78th) at the Brooklyn-Queens line. South of here, you're in The Hole, a forgotten neighborhood indeed, consisting of mostly unpaved streets with poor drainage; you can get a decent look at it on FNY's Elderts Lane page.
It's "exaggerated" modern with a zigzag roofline and amazing neon signage. I'm unsure of the make, but it appears to have been built in the 1960s. As stated this is a busy truck and auto route, with the entrance to Conduit Boulevard, which accesses the Belt Parkway, just to the east. Open for takeout during the 2020 Covid Crisis.
East of the diner Linden Boulevard's traffic and Route 27 flow into Conduit Boulevard, which upon crossing into Queens becomes North and South Conduit Avenues. And, a bit further east, the Conduits (named for former underground conduits to Ridgewood Reservoir a few miles north of here) become the service roads for the Belt Parkway.
Previously this entire stretch of road was called the Sunrise Highway when it was first constructed in the 1920s. However, Sunrise Highway today begins at the Laurelton Parkway in Queens and runs coterminous with NYS 27 on alternately at-grade and express highway sections along the south shore of Long Island out to the Hamptons.
But the Linden Boulevard story isn't over: the weird part is just beginning.
In Ozone Park there are actually two stub sections of Linden Boulevard, one at Pitkin Avenue and Sitka Street, and the other on DeSarc Road between Sitka and Cross Bay Boulevard; the stub off DeSarc actually has one or two Linden Boulevard addresses. Then…
… a continuous section of Linden Boulevard begins in earnest, at Cross Bay Boulevard. What the heck is going on? On this 1922 Hagstrom map of Queens, Linden Boulevard in Ozone Park is marked as "135th Avenue." This section of Ozone Park is decidedly weird, with a number of diagonal, grid-defying streets that have kept their old names and never been numbered.
As far as I can ascertain, at the same time Linden Boulevard was expanded and attached to the Belt Parkway in the 1920s, there was also a plan to continue that expansion all the way through Queens. To do that, some sections of Linden Boulevard would have to be built, while some of it was to run along pre-mapped or pre-existing streets. But in Ozone Park, things never proceeded past those two stub ends. Since the plan called for a continuous Linden Boulevard all the way out to the Southern State Parkway, the roads were indeed renamed, but apparently the money ran out (the Depression, WWII, or both) you now have a lot of disconnected streets called Linden Boulevard.
All of which is standard in Queens, were groups of disconnected roads are all part of the same numbered avenues and streets!
The Ozone Park section of Linden Boulevard (here at 95th Street) runs about one mile between Cross Bay Boulevard and Centreville Street. In 2019 the roadway was repaved and the sidewalks given curb extensions that lessen the distance for pedestrians.
The A train, bound for the Rockaways or mid-Brooklyn or Manhattan, passes above Linden Boulevard. The nearest stop is at Aqueduct Racetrack.
Linden Boulevard, Centreville Street and Peconic Street all come together opposite Aqueduct Racetrack and the Resorts World Casino. Peconic's name has always perplexed me; it's a Native American name, and Peconic Bay is nearly 100 miles away at Riverhead, Suffolk County–why would there be a street named for it here?
Mid-20th Century maps show Linden Boulevard running straight through the Aqueduct Racetrack grounds. Were it to do so it would clip the northern stretch of the actual track! Thus this extension never materialized.
Linden Boulevard resumes again, on the other side of the racetrack, at Rockaway Boulevard and 113th Street, and this time it's for good: it continues from here uninterrupted to the city line and beyond. However, this wasn't always Linden Boulevard…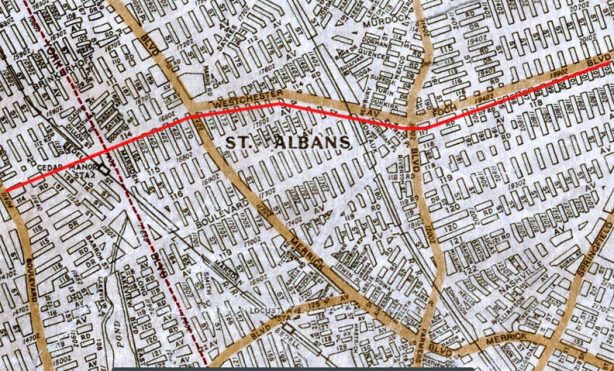 On this 1922 Hagstrom map of Queens, I've highlighted the current route of Linden Boulevard in red. That year, Hagstrom tabbed Linden Boulevard as 114th Avenue, Westchester Avenue, and Foch Boulevard. In the probably Mosesian aspiration to extend and widen Linden Boulevard out to meet the Southern State Parkway, at some time after 1922 (I'd say certainly by the 1930s) this entire stretch was renamed Linden Boulevard.
Foch Boulevard's namesake is Ferdinand Foch, Marshal of France in World War I. In 1919, a new road constructed between South Ozone Park and South Jamaica was designated as Foch Boulevard in honor of the distinguished allied commander. Four out of five boroughs have streets honoring Lafayette, and an avenue in the Bronx for Rochambeau. Foch Boulevard is the only road in New York named after a French World War I commander. The piece that still exists today runs between Rockaway Boulevard and 126th Street a few miles east to Merrick Boulevard.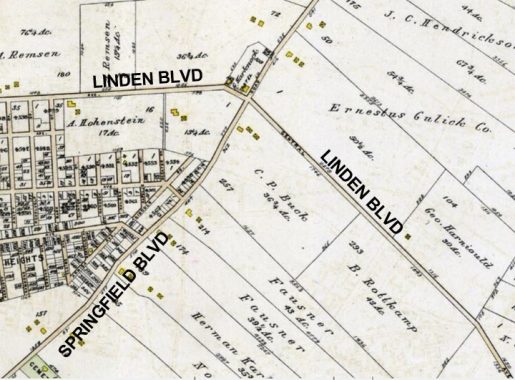 If we go back even further, the present-day stretch of Linden Boulevard was named Central Avenue in 1909. You can see that the present-day street grid was just a mote in the eye of future developers.
As Linden Boulevard runs above the Van Wyck Expressway, the StreetView camera caught a two-car AirTrain set speeding above the expressway, annoying motorists no end who sometimes have to sit in traffic en route to the airport. The express rail system opened in December 2003.
When you think of jazz, you think of New Orleans, Chicago, Harlem, or even Greenwich Village. Queens doesn't come immediately to mind. Yet, some of the greatest jazz and big band names were either born, spent a great deal of their lives, or died in Queens. In the mid-20th Century, some of the biggest names in jazz and pop, including Count Basie, Ella Fitzgerald, Lena Horne, Milt Hinton, Fats Waller, James Brown, and baseball's Jackie Robinson flocked to buy the trim Tudors in Addisleigh Park in southern St. Albans. Brown's home in the 1960s, at Linden Boulevard and 175th Street, is shown here.
Mural depicting famed residents at Addisleigh Park at the St. Albans LIRR station at Linden Boulevard.
At Linden Boulevard and 190th Street in St. Albans, I spotted a metal framework above a brick building on the NW corner. I immediately suspected….
…that this could be a former theater, and I was correct. Cinematreasures is unsure when it opened and closed (this is a 1940 photo) but in the comments, it says that Gary "US" Bonds ("Quarter to Three," "This Little Girl") played the theater in the 1960s.
A Tribe Called Quest was a rap/hip hop group formed in St. Albans by Jonathan "Q-Tip" Davis, Ali Shaheed Muhammad and Malik "Phife Dawg" Taylor and active from 1985-2017, recording two #1 albums along the way.
"[W]ithout question the most intelligent, artistic rap group during the 1990s", further stating that the group "jump-started and perfected the hip-hop alternative to hardcore and gangsta rap." Music Citic John Bush at allmusic.com. After Phife Dawg's death in 2016, the corner of Linden Boulevard and 192nd Street was subnamed for him and a mural celebrating the group was painted on the side of Nu-Clear Laundromat.
Storefront sampler, Linden Boulevard between 196th and 197th Street.
Just past Laurelton Parkway, Linden Boulevard roars out of the undefended city line and into Elmont in Nassau County. However, the NYC street numbering and house numbering system continues merrily along for a short run, as here at 238th Street.
Further into Elmont, Linden Boulevard takes on amore suburban cast.
After 12.3 miles heading east, Linden Boulevard ends at the Southern State Parkway. The roadway on the left is a parkway off ramp, while the right roadway becomes Central Avenue, which runs south toward Valley Stream.
Check out the ForgottenBook, take a look at the gift shop, and as always, "comment…as you see fit."
5/26/20