During the Coronavirus Crisis, my scuttling meanderings have been limited to the immediate neighborhood surrounding Forgotten New York headquarters in Little Neck, so I have been walking in ever-increasing concentric circles into Douglaston, Great Neck, Lake Success and I may roam south into Floral Park. I'm cut off by geography (Alley Pond Park and Little Neck Bay) from points further west. However, I have begun to "drill down" and pay more attention to northeast Queens and its history and infrastructure more than ever, as sketchily presented as it is in publications. The Douglaston-Little Neck Historical Society is a boon, with its collection of newsletters, but these only appear twice a year at best, and the site itself is poorly maintained, with missing maps and images. You take what you can get.
Of additional help is the 60-page pamphlet Little Neck Then and Now by Loys Gubernick, published in 1982; local libraries may carry it, but its scarcity makes it expensive to purchase. Of help will be the upcoming Arcadia publication on the neighborhood by the redoubtable Jason Antos (who has published several times on Arcadia), but as of May 2020, it hasn't been published yet. Some Little Neck scenes are in my (and Greater Astoria Historical Society's) Forgotten Queens from 2013 on the Arcadia imprint.
Thus, this will be a shorter page (I know, I always talk about making the Sunday pages shorter) but I'll be showing plenty of photos of today's Little Neck, and marveling to myself what a nice neighborhood I stumbled into back in 2007 when I bought a co-op in Westmoreland Gardens.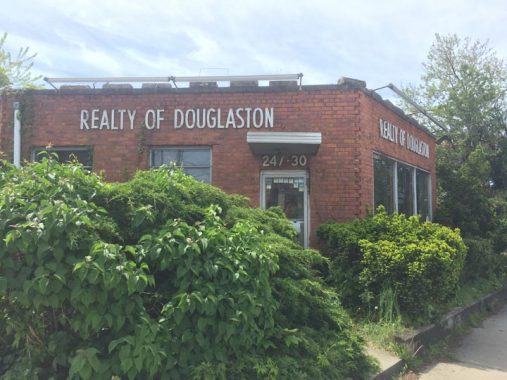 I hate to open up a can of worms but here goes. Here's Realty of Douglaston at Northern Boulevard and 248th Street (which I always see as "Reality of Douglaston" and these days, it could be better). I'd say this is about as far east as you can be and still be identified as being in Douglaston. I've always made the undefended border of Douglaston and Little Neck as 247th Street north of Northern Boulevard (which is actually the western border of the old Marathon Park subdivision) and 248th Street south of Northern. Other commenters draw the line at Marathon Parkway, which leaves precious little territory in Little Neck.
What say you?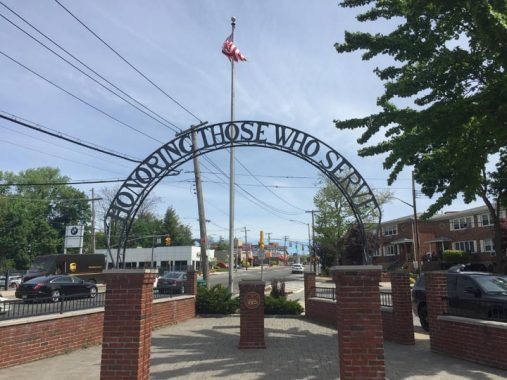 Little Neck doesn't have a single large war memorial, it has three small ones. This one is located in an unusual spot, at the far east end of the St. Anastasia (see below) schoolyard in the "V" formed by Northern Boulevard and Alameda Avenue. Smaller memorials are located at the Queens County Savings Bank, Northern and Browvale Lane; and at PS 94, Little Neck Parkway and 41st Drive.
The Kiwanis Club was organized in Detroit in 1914 by Allen S. Browne and Joseph G. Prance, who began an organization for professionals and businessmen to pool their assets to form a fund for health benefits. Kiwanis soon became an organization for members to promote businesses — the LinkedIn of its day — and also to organize and promote charitable giving. Kiwanis gained enough members for not-for-profit tax status and within a decade boasted 100,000 members. After decades as an auxiliary, women were allowed to join as full members in 1987.
The name "Kiwanis" was adapted from the expression "Nunc Kee-wanis" in the Otchipew (Native American) language, meaning "We have a good time," "We make a noise," or, under another construction, "We trade or advertise." Some persons prefer to pronounce the word "k-eye"; others, "kee." The organization adopted the name Kiwanis in its second year of existence.
The city needs ca$h—now more than ever—and cameras and speed detection devices are frequently found on the busier routes, some mounted on their own dedicated poles such as this one at the war memorial. The greenery across Northern Boulevard is part of Udalls Cove Park.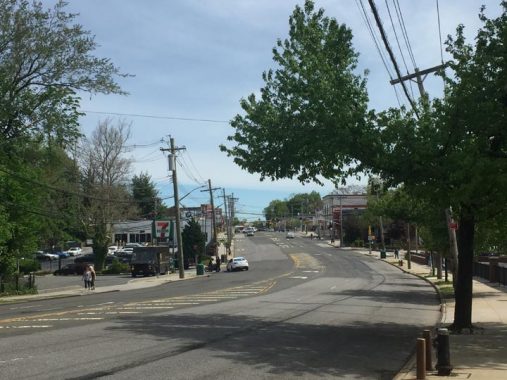 Northern Boulevard is a bit less busy than usual. A cop has just pulled over a guy on a motorbike for going the wrong way on 247th Street. He was likely exiting the 7-11 parking lot, but the cop is likely telling him he should have followed the one way sign and gone around the block.
Northern Boulevard has had a number of names in eastern Queens, including Broadway and North Hempstead Turnpike, and is co-named with NHT all the way to the Suffolk County Line. As Route 25A it extends to mid-Suffolk where it meets Route 25 and runs to Orient Point, the easternmost point on the North Fork.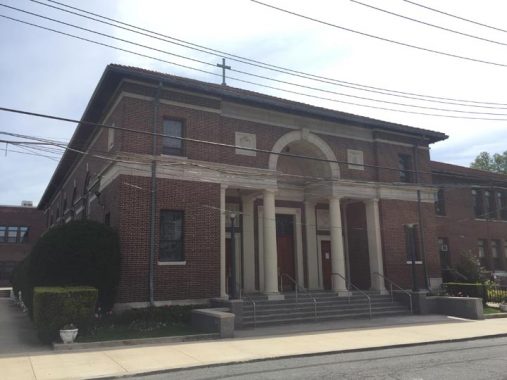 The Parish of St. Anastasia on 245th Street between Northern Blvd. and Alameda Avenue serves Little Neck Catholics. It's not named for the daughter of Czar Nicholas II, killed by the Bolsheviks but long rumored to have survived, or the Pat Boone song (no, I don't remember it when it was a hit but I'm an oldies aficionado) but for a martyr in Imperial Rome at the end of its "heathen era" in the AD 300s. Like many Catholic parishes, a small city surround the church, made up of parish houses, school, rectory (priests' residences) and cenacle (nuns' residences).
The parish was instituted in 1915 on a small building on Snell Avenue (now Alameda; see below). The current buildings were constructed in 1949 and consecrated a year later. A pair of patriotic inscriptions appear on the exterior as well as the phrase "Suffer the little children to come unto Me." (Luke 18:16). In the New Testament story, Jesus was rebuking his disciples, who tried to shoo away mothers who brought their children to him for a blessing.
A second Biblical inscription appears on the "Divine Wisdom Academy" (parish school) on the Alameda Avenue side, this time from the Old Testament: "He hath given his angels charge over thee" to keep thee in all thy ways." (Psalms 91:11).
Alameda Avenue
Alameda Avenue is a semicircular street beginning and ending at Northern Boulevard (at Hanford Street and 247th Street). It has a grassy center median and house for house, is among the more attractive streets in Little Neck, shaded by tall oaks over a century old. When it was built in the early 20th Century it was called Snell Avenue or Snell Boulevard; Frederick Snell owned Snell's Hotel at Northern Blvd. and Little Neck Pkwy where the Shaffer Funeral Home has stood since 1931. Snell also owned the Broadway Hotel in Bayside. (Info: Douglaston-Little Neck Historical Society)
The road has been known as Alameda Avenue since around 1930. Alameda Avenue likely got its name because it has a center mall; alameda means "mall" in Spanish. See Comments.
Side by side on Alameda off Northern Blvd. we have two different philosophies of residential housing, side by side. Both are set back from the street, but the frontages are completely different, with bushes, trees and flowers for the older house. The recently built house uses the space for two garages, with no trees and the ubiquitous Tuscan column treatment.
You can guess which house I'd own.
A sampler of the homes on the three blocks of 245th Street between Alameda and Thorn hill Avenues. Tudors abound as well as small cottages with stucco finishes. I'm surprised that there are more than a few people who don't like stucco.
At Rushmore Avenue, 245th Street makes a sidewalk-free jog before resuming its course, with sidewalks. I believe the connection through to Rushmore is relatively new: if you look at the map, 243rd and 244th hit dead ends before reaching Rushmore.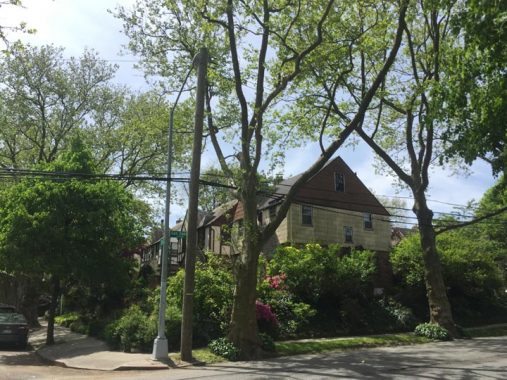 Van Zandt Avenue and 245th Street. Colonial-era Douglaston landowner Wynant Van Zandt is interred in the Zion Church family vault beneath the cemetery; Van Zandt had held local services in his home before the church was built in the 1820s on present-day Northern Blvd.
Thornhill Avenue at Overbrook Street, which was built directly above Gabler's Creek, which is in a culvert below the street. The creek surfaces further north in Udall's Cove. I don't know why it was laid out as a busy 2-lane street yet was never bridged over the Long Island (Horace Harding) Expressway, where it dead-ends.
Louis Pasteur Park, behind Middle School 67, on 248th Street at 51st-52nd Avenues. The park is named for the French microbiologist (1822-1895) who discovered that fermentation, in which fruit juice and other substances containing sugar become alcohol, comes from the influence of microbes. Through his work, heat treatments were applied to surgical instruments to sterilize them, and to milk to "pasteurize" it, ridding it of harmful germs. Middle School 67 is subnamed the Louis Pasteur School, influencing the name of the park and playground behind it.
On 54th Avenue, azalea bushes and a small traffic triangle where it meets Thornhill. Just before moving to Little Neck, I found an old Pac-Man console and an ancient Queens street sign on 54th Avenue; both are long gone in 2020.
Some like their new houses to look like this, though I can't quite fathom it, on Marathon Parkway south of 54th Avenue. Marathon Parkway, which runs for a couple of miles from Little Neck Parkway and 42nd Avenue south to Grand Central Parkway, has nothing to do with November's New York City 5-Borough Marathon. That race spends minimal time in Staten Island, the Bronx and Queens; most of it is in Brooklyn and Manhattan. Marathon Parkway is instead a remnant of a late 19th-Century-early 20th Century development called Marathon Park. In that era, it was fashionable to lend an aura of class by applying classical names, and hence you had in Queens alone Marathon Park and another nearby region, Utopia Park; the parkway by the same name was its only reminder by 2008.
I had forgotten about the presence of the North Hills Branch of Queens Library on Marathon Parkway just south of the Long Island Expressway, constructed in 1987, but I marvel at it anew every time I pass by. A circular structure with a domed roof and a cupola, decked out in bright red, blue and yellow primary colors, and a yellow snow shovel over the door? Who could ask for anything more…
Compare to the nearby buildings, which were built by architects when sober. Southern Little Neck is completely dominated by garden apartment buildings, block after block after block. This is where the city that never sleeps, sleeps. Zzzzzzzzzz. I'm glad I live in the small stretch of Little Neck along Northern Boulevard that comes with a bit of history.
Why the library is called the "North Hills" branch is unknown, since the community of North Hills is a couple of miles east, just past Lake Success in Nassau County.
South of the LIE along Marathon Parkway we are once again in Garden Apartmentville, the territory described in FNY's Little Neck to Forest Hills walk from January 2020. Not putting the knock on garden apartments—which are located in 2 or 3-story buildings spread out in parklike settings over wide swaths of territory: I live in a small one myself, Westmoreland Gardens.
Deepdale Gardens is defined roughly by 57th Avenue, 63rd Avenue, Marathon Parkway (in effect it takes the place of 250th Street) and 255th Street. It's self-described as the largest Federally sponsored cooperative development constructed for veterans returning from WWII and was developed in the 1950s. In general Queens' garden apartment complexes are constructed on the sites for former country clubs and golf courses which were, in turn, developed from former farmland.
Of all of Queens' numbered avenues, what makes 61st Avenue unique? It's not that it runs in one continuous stretch, from Douglaston Parkway east to the Grand Central Parkway at 162nd Street. Its singularity is that it does not exist at any points west of Douglaston Parkway. East of Queens Boulevard, the Long Island (Horace Harding) Expressway occupies the roadbed 61st Avenue would; and west of Queens Boulevard, 61st Avenue is replaced by Eliot Avenue.
Only one of Deepdale Gardens' roads is given a name: Herb Flachner Drive. Flachner is the longtime director of operations of building maintenance at Deepdale, serving more than 40 years.
Tall towers stand behind Challenge Playground at 61st Avenue and 252nd Street. As far as I can gather the towers are owned by the Federal Aviation Administration. To me they resemble H.G. Wells' Martian war machines.
Watch manufacturer E. Gluck Corporation at 61st Avenue and Little Neck Parkway occupies the space formerly held by the Leviton electric wiring factory, which also had an older facility in Greenpoint.
Created more than 60 years ago, E. Gluck Corporation has become a major force in the United States and the worldwide watch industry. The cornerstone of the company's success is to bring every consumer, innovating design and superb quality. America's top retailers consider E. Gluck Corporation one of their top vendors. Having the ability to ship thousands of quality watches everyday makes E. Gluck Corporation a valued partner for retailers like Macy's, Kohl's, Walmart, Dillards, JCPenney, Nordstrom, and Lord & Taylor. E. Gluck Corporation's worldwide headquarters is in New York City. The company's brand names include many of the most recognized names in the fashion and watch industries, including Anne Klein New York, AK Anne Klein, Armitron, Nine West, Badgley Mischka, and Vince Camuto. [E. Gluck]
Little Neck Parkway at the LIE. Here, and in several other stretches, the LIE has sound bafflers to cut down on traffic noise; perhaps other expressways around town should also get them?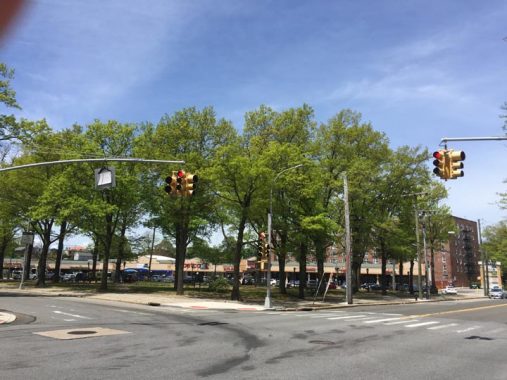 The wedge of greenery between the LIE, Nassau Boulevard and Little Neck Parkway is called the Nassau Mall. Nassau Boulevard is a short remnant of a longer surface road that stretched from Queens Boulevard into Nassau County; it was later renamed for Robert Moses crony, traffic engineer Horace Harding; and it was fashioned into an expressway, running in a trench, at grade, and in elevated sections, in the 1950s.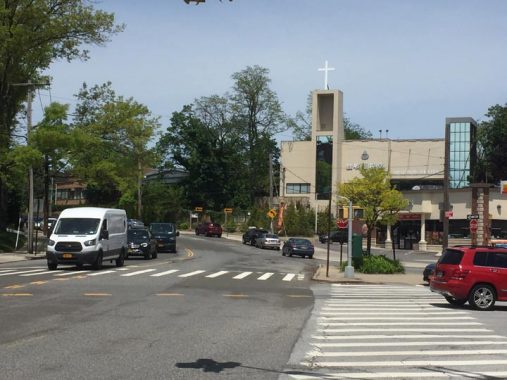 A large Korean church dominates the northbound view on Little Neck Parkway at Nassau Boulevard. A few years ago, the church replaced a farmhouse that was believed to date back to the colonial era.
Temple Torah is the largest synagogue in the immediate area, and doubles as an event space and school. I had been unaware that synagogues had Sunday services, or even could.

See Andy Sparberg's comment below.
Leeds Road at Northern Boulevard. Like many other areas around NYC, developers gave streets British names to add an air of sophistication. Leeds is medium sized city in England, located on the Aire River in Yorkshire in about the direct center of the island of Great Britain encompassing England, Wales and Scotland. Originally a major industrial center due to large nearby coal deposits, it has become one of England's foremost cultural centers. A Who concert recorded at the University of Leeds on 2/14/70 became one of the band's best-received live albums.
Once again, I'll present two side-by-side residences on Little Neck Parkway at Leeds Road. I'll let the reader ascertain which is the older one, and which one was more recently developed. Hint: Developers didn't build residential houses like catering halls until fairly recently.
A pair of cottages on Little Neck Parkway between West End Drive and Annadale Road, one in poor condition (it has been like this since I arrived in 2007) and a restored one, home to doctors' offices.
Lately, I've begun to pay more attention to infrastructural elements such as highway, guide and directional signage. PDFs of all the different types of such highway signage can be found at the Federal Highway Administration website. About twenty years ago, I noticed a subtle change in the color of NYC's school crossing signs. Previously pure yellow or at least orange-yellow, they were changed to a mix of lime green and yellow. The FHA PDF concerning school signs still shows yellow as the standard color, with yellow-green as an alternate. Thus the decision to switch colors was probably made by the NYC Department of Transportation.
Stay tuned in FNY for more area exploration as well as more citywide ones….
Check out the ForgottenBook, take a look at the gift shop, and as always, "comment…as you see fit."
5/25/20