This spur track off the "Culver elevated" serving the F train at McDonald Avenue and Cortelyou Road is one of the only tangible reminders of the Culver Shuttle that connected the West End and Culver Els until 1975.
The shuttle used to run here, as did the freight-only South Brooklyn Railroad, which connected the waterfront in Sunset Park with Coney Island Subway Yards and some businesses in between. That railroad ceased operations in 1978 or 1980, depending on what account you read. The exposed tracks ran down the center of McDonald Avenue.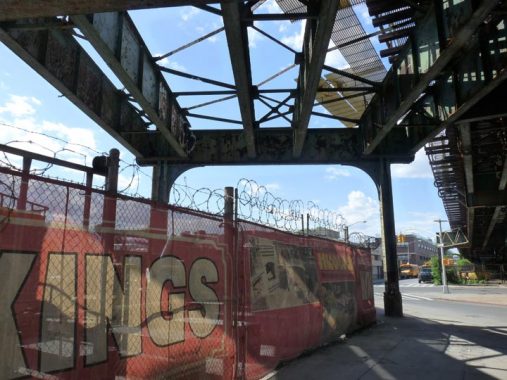 In 1954, the now-F train was connected with IND tracks via a new ramp. The Transit Authority made use of the Culver tracks by making it a shuttle in 1960, connecting it with the now-out of use lower level of the 9th Avenue BMT station (now serving D trains) and the McDonald el. The entire Culver el was so called because it replaced a steam railroad founded by Andrew N. Culver in 1889. Want a look at the 9th Avenue Culver station? It stands in for the 42nd Street BMT subway station at the finale of Crocodile Dundee (1985).
In 1975, citing poor ridership, the Metropolitan Transit Authority stopped service on the line. Unfortunately, I had never gotten the chance to ride the structure. I did, though, inherit a number of photos of its demolition — which didn't happen until 1985, a good decade after the shuttle closed!
Check out the ForgottenBook, take a look at the gift shop, and as always, "comment…as you see fit."
6/6/20